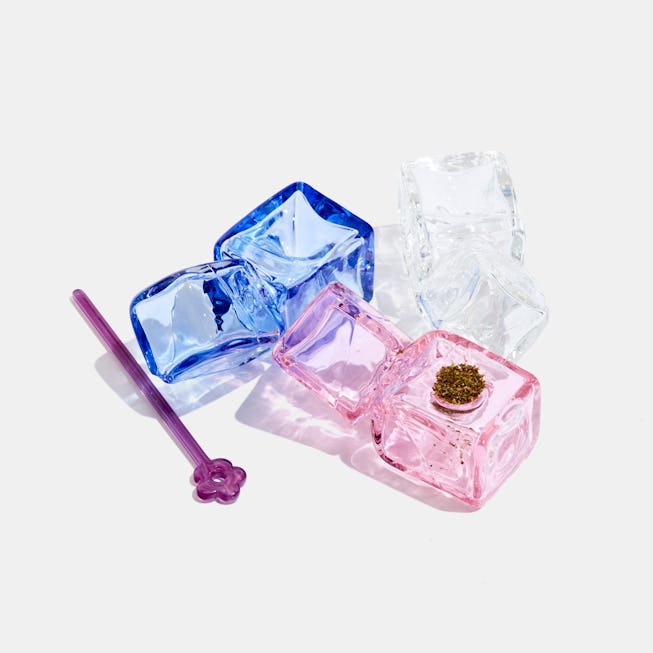 Edie Parker's Latest Ice Pipe Collection Is High Art
Edie Parker Flower is making the most fun stoner accessories in the game.
In an oversaturated market of aesthetically pleasing drug paraphernalia, nobody makes weed accessories that look as good on a coffee table as Edie Parker. The brand's beloved pipes and smoking accessories have always toed the line of stoner kitschiness and high-end decor. Now, they've released their most delicate and delightful pipe yet: the Ice Bowl.
Available in blue, pink, and clear, the pipes are constructed to look like two (or three, depending on the size) adjoining ice cubes, as if you plucked them straight out of a tray. The glass is made of borosilicate, a specific type of glass that can handle extreme changes in temperature — meaning it won't suddenly crack or break when you hold your lighter next to it.
Edie Parker Flower, the brand's line of cannabis collectibles, launched in 2019 at the peak of the Kinfolk for stoners Broccoli Magazine era of marijuana, a time when weed enthusiasts got an updated aesthetic, and people started embracing gorgeous, one-of-a-kind stoner accoutrements. It's a trend that Edie Parker designer Brett Heyman was at the forefront of.
"We talk a lot about destigmatization, so I think we try to make things that are meant to be proudly displayed, that are meant to be gifted, that are meant to be shown off," Heyman told NYLON in April. "So I think they that really serve that purpose, as well as being smoking accessories, are what we find people respond most positively and enthusiastically to."
The Ice Pipe is the latest Edie With Flower offering, but it's a collection that's as fun as it is expansive. (In fact, the website is probably best browsed after a bowl.) Some of our favorites inlcude glass-blown heart-shaped one-hitter, 90s inspired necklace, glass pipes in the shape of cherries, grapes, and bananas, tabletop lighters, satin clutches rolled up like joints, and acrylic technicolor storage cases.
The Ice pipes are available at edie-parker.com and range from $85 to $115, coming in two sizes depending, on whether you take your drinks with two ice cubes or three.