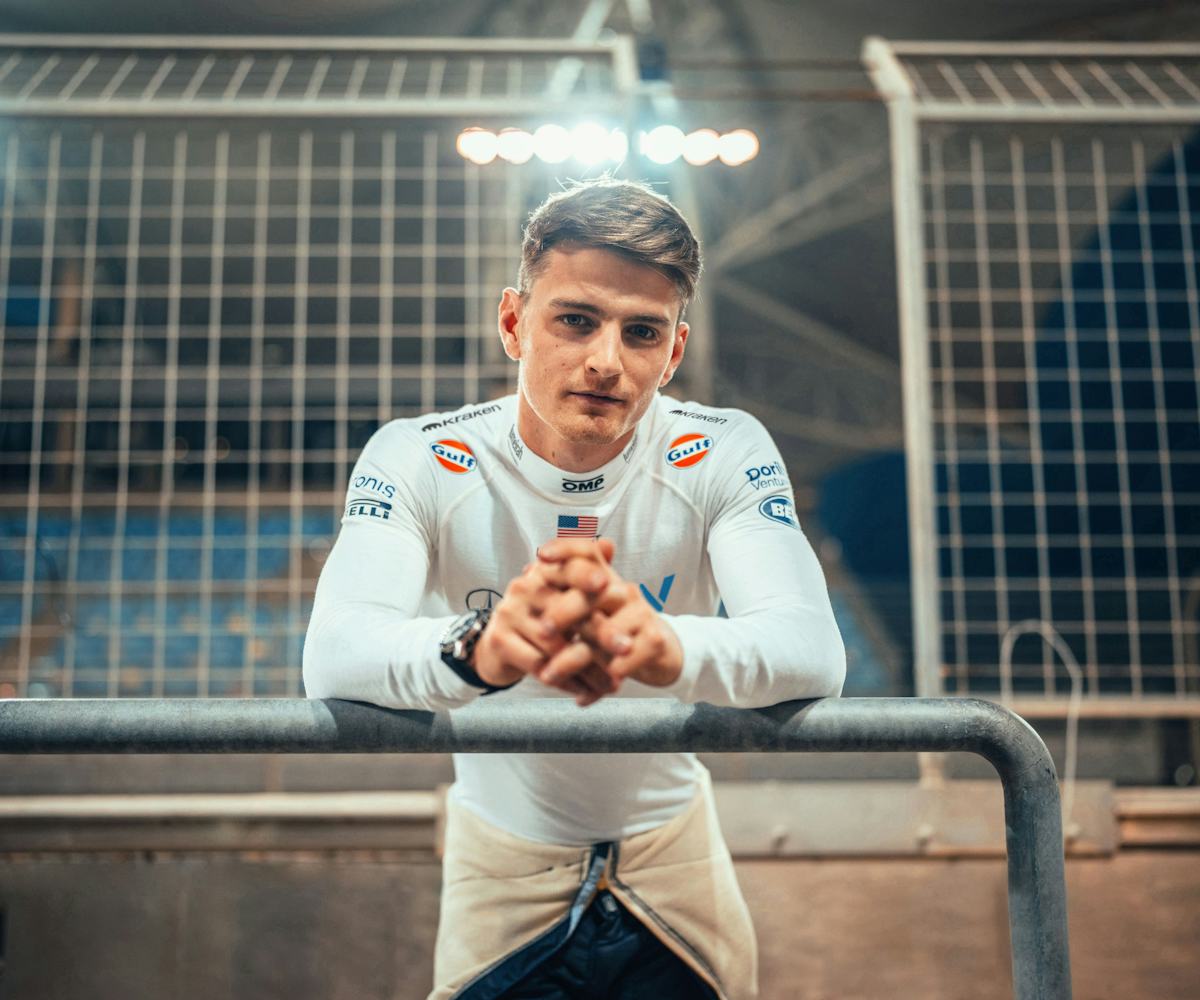 Photo: Courtesy of Williams
Logan Sargeant Is Cool, Calm, & Collected
Despite a rocky start to his Formula 1 career, the 22-year-old Williams driver isn't sweating his seat on the team for 2024.
Logan Sargeant is a man of few words. Settled in a leather booth at the Roxy Hotel in Tribeca, Sargeant emanates such a palpable sureness that it feels almost intimidating to sit next to him. Sargeant's stop in the city is for only a day, for on a hefty press schedule before heading off to Texas for the Austin Grand Prix — as both a fan and driver favorite on the Formula 1 calendar.
"It's a pretty busy media day here before Austin this weekend," he says. "I feel like we live on an airplane, but that's okay."
The 22-year-old Williams motorist is currently in his debut F1 season. After ranking fourth in the Formula 2 series, he took the second seat replacing Nicholas Latifi, and all eyes were immediately him. He's not just entering his first-ever year into the highest level of motorsport, but he has big shoes to fill as the first American driver since 2015, especially amid the global Drive to Survive hype. With Alex Albon as a teammate (who's scored all points for the team so far), Sargeant's role for next season is uncertain as he's the only driver on the grid who has yet to receive a contract for 2024.
But in person, Sargeant doesn't come off as an athlete who's worried about the future. In fact, he cooly sips his orange juice before confirming how little he's sweating it. "I still have an amazing five races left in the season. I'll keep trying to perform better and better. That's always the goal," he explains. "I'm lucky enough to enjoy every chance I get to get in the car. But from my point of view, it's just about progression. I'm just trying to get better until the end of the season, wherever that leads me."
Read more as he chats with NYLON about his first season in F1, below.
You mentioned you're traveling a lot, and I can only imagine how difficult it is. How do you manage such a rigid travel schedule?
I've been okay with the traveling, but I feel like jetlag is the most significant thing to get over. It's something we put a lot of effort into this year — getting over jetlag as quickly as possible — while traveling across the world and still sleeping well through it all.
I find that the longer flights are a chance to get some much-needed alone time, so that's nice. We usually get help from doctors and trainers. Some apps can help, and melatonin is a huge help. Light exposure is a huge factor — when to get light, when not to get light — as well as eating, consuming caffeine, and everything to help your body shift towards wherever you're heading. That's not always easy, but if you follow these things consistently, it makes a difference.
From your perspective, how has your rookie season been? How are you feeling going into the final five races of the 2023 season?
I already knew everyone within the team, considering I was in both its young drivers program and driver academy, so no shifts were needed. Despite the ups and downs, I've enjoyed every chance to drive in an F1 car while visiting many incredible places this year. This season has flown by, but it's been impressive, and having the US Grand Prix in the last five races gives me that extra energy to try and finish the year strong.
Speaking of your rookie season, you have family members who have raced in other racing series. What's the best advice you've received from them while adjusting to F1?
I started karting in America, and while going through the whole process, I got to the point of looking for where the best competition was, which happened to be Europe. Once I started racing in Europe, I was on the F1 path. My brother, Dalton, ran in NASCAR, which are two very different routes. It was difficult being two kids from America moving to Europe and living there because, at times, we wanted to head home to see our friends and family. I'm fortunate to have had a sound support system to help keep me going, and it all paid off. The best advice I received came from my brother after he stopped racing. At the end of his racing career, he guided me on the right path to try and essentially toughened me up.
There are three races in the States, with the next two being Austin followed by the new track in Las Vegas. Do you feel a sense of responsibility to perform well here, especially as the only American driver on the grid?
I think there's always pressure since it's Formula 1; there's pressure no matter what, and I feel it as well. I'm putting more pressure on myself than anyone else regarding what's expected. Of course, I'm very privileged to represent America, and it's more of a pleasure than stressful. I will always strive to do the best for myself, the team, and America.
The Austin Grand Prix has its foundation. It's a fantastic track, the atmosphere is amazing, and it's just a really good weekend. Honestly, it's the one race everyone on the grid looks forward to, so that's always been a standout for me. When it comes to what to expect in Las Vegas, who knows? I think the event itself will be huge, but we'll have to see how the track turns out. Hopefully, it's good.
How has Alex Albon helped you while adjusting to F1 and the Williams team so far?
It's been super easy getting along. He's a good teammate — he helps me as much as possible, as he's also going through the same experience. Alex is also a talented driver to learn from. He's been performing amazingly, and we're good friends off the track. Everything's been very smooth.
This interview has been edited and condensed for clarity.