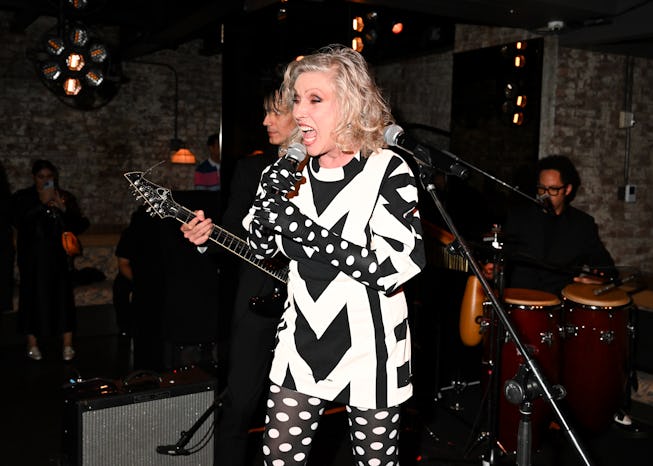 NYLON Party Report Card: Marc Jacobs' Soho Store Opening Was For Legends Only
From Kelela to Shygirl to Debbie Harry, the fashion and culture elite showed out for the Marc Jacobs Soho store opening.
Welcome to NYLON's Party Report Card, where we give you the Who, What, Where, Why, and When on this week's hottest parties — plus all the gossip you missed. It's the inside scoop you need to feel like you were on the invite list. Sorry in advance for the FOMO.
WHAT: Marc Jacobs Soho Store Opening Celebration
WHEN: Wednesday, Oct. 18
WHO: Marc Jacobs, Debbie Harry, Shygirl, Helena Christensen, Jenna Lyons, June Ambrose, Kelela, Lil Uzi Vert, Prabal Gurung, Sai De Silva, Tina Leung, Tommy Dorfman, and Ubah Hassan
WHERE: The Mercer Hotel's Sartiano's and Submercer, New York
WHY: Located at 127-129 Prince Street, the Marc Jacobs Soho store reopened on Sept. 19. Naturally, the designer celebrated with a blowout party. The brand has a deep heritage in Soho, with its inaugural store opening in 1997 and soon becoming an enduring fixture in the neighborhood. The party also marked the re-opening of the Mercer Hotel's private lounge, Submercer, reimagined by Scott Sartiano and the BOND Hospitality team.
THE VIBE: The five-hour event panned out exactly how you would imagine when you put a bunch of unfriendly fashion hotties in a dimly lit room together and throw in some live performances. In the basement of The Mercer Hotel, you could barely see anyone or catch any phone service, but with chic booths available for gossiping and the whipped-up vodka fizz cocktails flowing all night long, there was no need to scroll. The night's highlights were all about the music: Shygirl got the crowd going with a thrilling performance; Debbie Harry's sang an unforgettable rendition of "One Way or Another;" and acts No Vacancy Inn, Pedro Cavalieri, Mona Matsuoka, and DJ Pelvis kept people dancing from start to finish.
BEST DRESSED: Shygirl, with a perfect pixie cut and black, sequined, elbow-length gloves. She looked like a gothic angel while performing.
OVERHEARD: "We're gonna launch that flagship motherfucker," — parting words from Debbie Harry's performance.