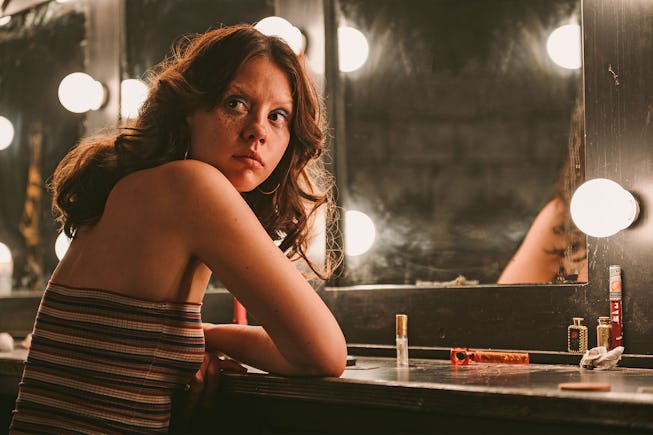 A24
MaXXXine Expands Its Cast List With Your Favorites
Mia Goth reprises her role as a murderess hellbent on becoming an actress in A24's sexy, addictive horror trilogy.
First we had the '70s porn shoot gone wrong X, then we had the crazed maniacal maggot-infested 1918 flu-era Pearl, and now, A24's sexiest horror trilogy will conclude with MaXXXine.
Ti West's horror trilogy has made Mia Goth a bona fide murderess star — a role she also took on in Brandon Cronenberg's Infinity Pool. While she's been busy feeding her kills to alligators and piercing them with pitchforks in the first two films, it's unclear what her character will get up to in the latest installment. The gore and intrigue between X and Pearl only raised the stakes, so it's safe to say we can expect some seriously disturbance of the status quo and bodily organs.
MaXXXine was confirmed in September. Until a release date is set in stone, find out everything to know so far about Maxxxine, below.
MaXXXine takes place in the '80s
While X took place in the '70s and Pearl took us back to 1918, MaXXXine takes our anti-heroine to 1985 — six years after the events of X, as we follow Maxine try to make it as an actress in L.A., as reported by Screenrant — and as is seemingly confirmed in the teaser trailer, which is in Miami-script fuschia and set to the synth pop staple "Obsession" by Animotion.
It has an insanely stacked cast
Everyone is jumping on the Ti West-A24 train, with a starry cast that includes Mia Goth, Elizabeth Debiki, Moses Sumney, Michelle Monaghan, Lily Collins fresh off Emily in Paris, Bobby Carnavale, and Halsey, in her first role since her acting debut at this year's SXSW's Americana, which she starred in alongside Sydney Sweeney. The cast also includes Giancarlo Esposito and Kevin Bacon.
It's likely Goth helped write the script
Goth and West wrote the script for Pearl in two weeks while quarantining in hotel rooms before traveling to New Zealand to film X. Pearl was never part of the plan, but West figured he could convince A24 to let him use the set to make two films, since they were going to be down there anyway.
"It was such a long shot. It was so unlikely. We just always said to each other, 'Well, worst case scenario, it's two weeks of wasted time, and we'll at least get to use this as backstory for the character, and it'll be very informed, and X will be better for it,'" West told NYLON in September. "That was the coping mechanism if it didn't happen – and now here we are talking to you about the movie we ended up making."