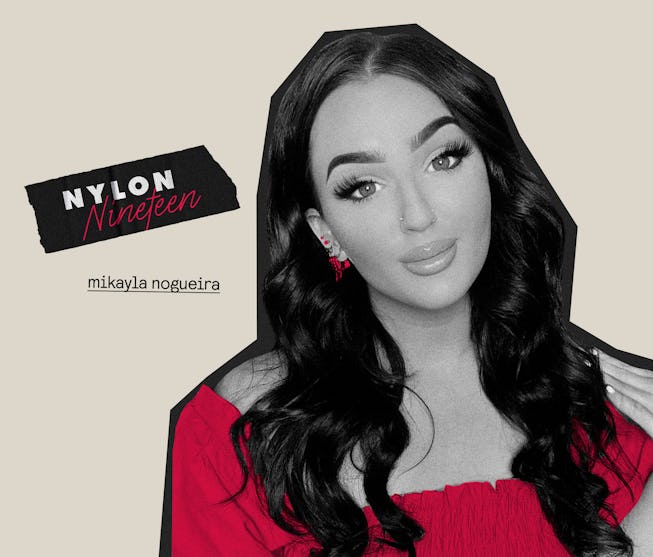 Mikayla Nogueira Is TikTok's Funniest Makeup Artist
The makeup artist and textbook Gemini has taken over TikTok with her winning personality.
When I heard my first-ever "What's poppin'!" delivered in an unapologetic Masshole accent, my TikTok For You Page — and life — was forever changed. Mikayla Nogueira's now-signature greeting lets you know what's coming: honest makeup reviews, a willingness to try any and all viral makeup trends, and slice of life moments, all delivered with an effortless sense of humor. TikTok has no shortage of professional makeup artists slinging their insights, but Nogueira's artistic prowess and genuine personality have amassed her both critical acclaim and a devoted viewership — 12.5 million followers, and counting.
Nogueira keeps her schedule packed, regularly recording and uploading multiple TikToks each day, which is exactly how she likes it. "I'm very happy with where I am right now. That's just sharing my passion for makeup every day," she tells me from her at-home makeup and filming studio over Zoom. "My dream was that I could show the world my passion for makeup, create a community of people that are supportive, and we have fun and have a good time. I did that. I accomplished that. I get to live my dream every day."
And now, with her supportive community in tow, Nogueira is ready take on whatever turns her makeup journey takes — one swatch at a time. But until then, she's taken the NYLON 19, where she reveals her ultimate makeup tip, her favorite meme, and her lifelong love for War of the Worlds.