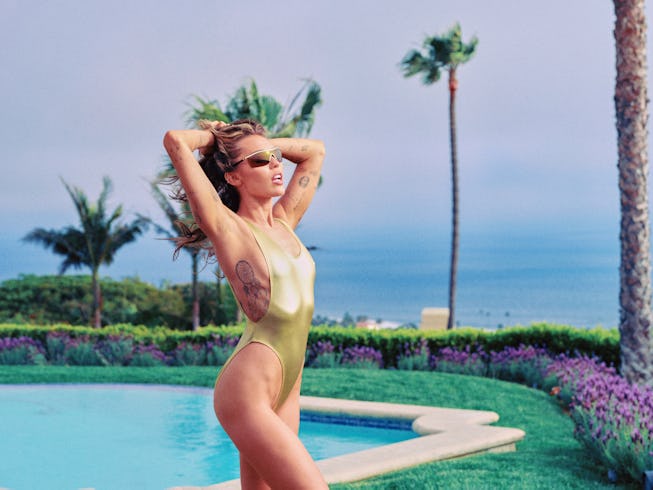 Brendan Walter
Miley Cyrus Gets Contemplative In "Jaded" Music Video
Watch the new clip for the singer's third single off Endless Summer Vacation.
Miley Cyrus' eighth studio album Endless Summer Vacation is a bonafide love letter to Los Angeles. The sensual, euphoric pop album might be the singer's best yet — and the music video for her latest single "Jaded" highlights Cyrus' powerhouse vocals against the endless blue backdrop of her city.
In the Jacob Bixenman-directed video for the track, Cyrus is keeping things intimate. It's the makings of a lazy, contemplative day in the California sunshine à la David Hockney; Cyrus rolls around in her bed, slinks off to the pool in a gold lamé swimsuit, and lets her gritty howls bounce off the palm trees and rolling hills.
"I know it was wrong, but never said I was sorry / Now I've had time to think it over / We're much older and the bone's too big to bury," Cyrus belts as "Jaded" swells to its chorus. "And it's a f*ckin' shame that it ended like that / You broke your own arm, but you'd never say that / We went to Hell, but we never came back."
The "Jaded" video also features Cyrus' spin on Cruella de Vil hair, which she premiered at the Daily Front Row's Seventh Annual Fashion Los Angeles Awards in April — and matches the dark, vulnerable tone of the record, if we're being honest. "Jaded" is the third single released from Endless Summer Vacation, following the Billboard chart-topping "Flowers" and "River." And while it's easy to pin the album as a response to the dissolution of Cyrus' marriage to actor Liam Hemsworth, Endless Summer Vacation is not a divorce album, notes NYLON music critic Margaret Farrell.
"Cyrus is at her sexiest and her darkest, showcasing sometimes an obsessive desire for control, which feels like truer vulnerability than she's ever shared before," writes Farrell. "The album is threaded with subtle reminders that Cyrus wants love, in whatever form, to last forever no matter what the cost."
Watch the music video for "Jaded," below.