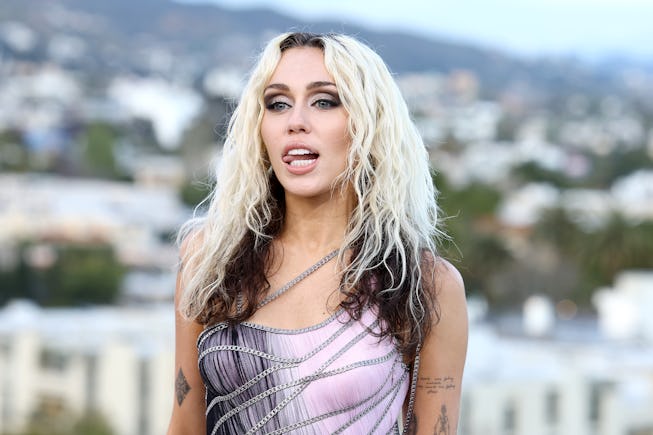 Arturo Holmes/Getty Images Entertainment/Getty Images
Miley Cyrus Is Putting A Rockstar Spin On Cruella de Vil Hair
The "Flowers" singer just revealed her new dark and edgy hair color.
At 30 years old, Miley Cyrus has already established herself as on of the hair chameleons of our time. Most often, new stages of her career and new music is accompanied with a major hair style change for the new era. But, because Miley first found herself in the public eye as Disney channel's Hannah Montana, where she played the titular blonde pop star alter ego alongside her teenage brunette self, there's alway a little extra fascination when Miley changes it up her hair color.
On April 23 at the Daily Front Row's Seventh Annual Fashion Los Angeles Awards, the "Flowers" singer arrived on the red carpet with notably darker hair than she's been seen with most recently promoting her Endless Summer album. The new look appears to be a modern take on the Cruella de Vil style, with the left side of her part a chocolate brown shade and the right side of her part highlighted with bright golden tone. (And it's probably no coincidence, considering her styling including the elbow-length gloves.)
Her hair was styled for the event by Bob Recine and her makeup was done by by James Kalliardos. The understated glam including messy waves and soft makeup balanced the vibe of her structured black Versace corset and pencil skirt.
Miley is no stranger to two-toned hair, having previously dabbled with '00s-inspired black lowlights. Her most recent hair color was also dual-color, bleached on the top with the under layers of her hair dyed a dark brunette peeking out from her lighter strands. However, this new hair look is the first time in a while we've seen the singer predominately brunette, and with long wavy hair, as well. It remains to be seen whether this new look is a transition step along the way for darker, moodier Miley, or if she's setting a new hair color trend for spring. Either way, we can't wait to see if a brunette era is in the future—and whatever that will mean for her next projects.