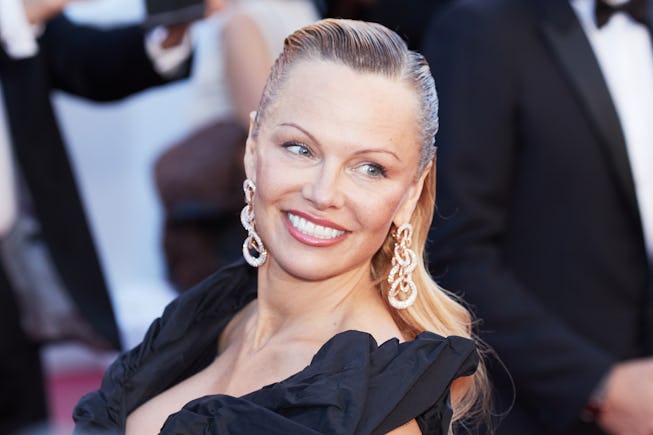 Epsilon/Getty Images Entertainment/Getty Images
Watch The Trailer for Pamela Anderson's Joyous Netflix Documentary
In Netflix's Pamela, a love story, Pamela Anderson takes back the narrative.
Last year's Pam + Tommy told the story of the sex tape that changed the internet, in a stylized, excellent miniseries for Hulu starring Lily James, Sebastian Stan, and Seth Rogen. Now, Anderson is telling her own story. Netflix's documentary Pamela, a love story, which premieres January 31, uses archival footage, and present-day interviews with Anderson to weave a joyful, nuanced portrait of the star.
Pam + Tommy was the first time the story of Anderson's life and sex tape had been told in narrative form. It received an abundance of accolades, including four Golden Globe nominations. But despite the miniseries being about Anderson's life, including how she got her start as a Playboy model and her rise to fame, Anderson didn't have any input in the series (though director Craig Gillespie says he was unable to reach her). Anderson described the show as "very, very painful," an understandable feeling given that watching a show about your life could echo the same loss of control and privacy the theft and release of the sex tape did in the late 90s.
In the trailer, set to an ominous cover of the Cardigan's 1996 hit "Lovefool," Pamela talks about how she survived such an egregious invasion of privacy. "I blocked that stolen tape out of my life to survive. And now that it's coming up again I feel sick," she says. "I want to take control of the narrative for the first time."
She continues: "I had to make a career out of the pieces left, but I'm not the damsel in distress. I put myself in crazy situations and survived them...I don't care what people think because it's the only choice I had. If cared what people like I wouldn't be here."
That's when the music turns picks up tempo, changing back to the original song. We see Anderson joyous and triumphant: hula-hooping with her family; hanging out with her son Brandon Thomas Lee (who helped produce the film); we see her in rehearsals (presumably for Chicago on Broadway, which she had a stint in last year.) We hear her ask: "Why can we be the heroes of our own life story?"
The film was first announced by Anderson on social media last March, via a picture of a handwritten note reading: "My life/ A thousand imperfections/ A million misperceptions/ Wicked, wild and lost/ Nothing to live up to /I can only surprise you /Not a victim, but a survivor /And alive to tell the real story."
The film will also be accompanied by the forthcoming memoir Love, Pamela, which she described as "raw and unfiltered," which will be published on January 31, 2023 by HarperCollins and Dey Street Books. Unlike many a celebrity memoir, Anderson wrote hers alone, describing it as an "unpolished attempt," without the help of a co-writer.
Watch the full trailer for Pamela, a love story, below.