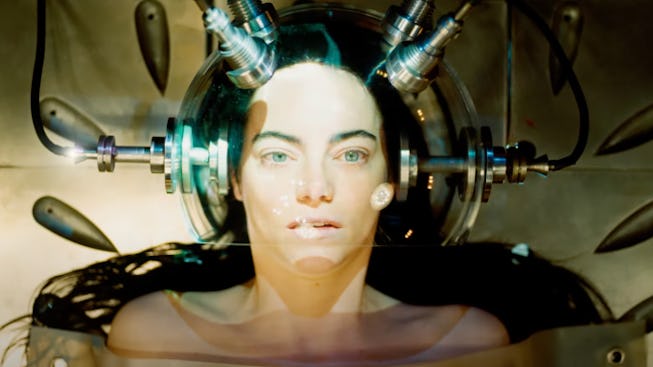 Searchlight Pictures
Emma Stone Is A Frankenstein Girl In 'Poor Things' Trailer
The actress is zapped back to life in the latest film from Yorgos Lanthimos.
Emma Stone is taking another stab at life in the first official trailer for Yorgos Lanthimos' next movie, Poor Things.
The film follows Bella Baxter (Stone), a young, Frankenstein-esque woman resurrected by the "brilliant and unorthodox scientist" Dr. Godwin Baxter (Willem Dafoe). Per Variety, Bella's brain is replaced with that of her unborn child — and now she's making up for lost time with a hunger for worldliness.
Set in quasi-Victorian times, Bella does what any girl with a new lease on life would do: embark on a whirlwind adventure across the world with a slick lawyer, played by Hollywood's most timeless hot man, Mark Ruffalo. With freakishly pale skin to remind us that she, like Buffy in Buffy the Vampire Slayer, was once resting in peace, Bella becomes focused on making the most of her time on Earth; she's free from the prejudices of her times, and steadfast in her purpose to stand for equality and liberation.
Ramy Youssef, Jerrod Carmichael, Margaret Qualley, and Christopher Abbott also star in the film, which is Lanthimos' followup to his Oscar-nominated film The Favourite.
Stone has been been relatively quiet on the acting front over the past few years. Her last feature was Cruella, Disney's 2021 origin story for the seminal 101 Dalmatians villain Cruella de Vil, and with Poor Things, her character — along with her IMDB page — are coming back to life. Poor Things marks the second of three collaborations between Stone and Lanthimos. In 2018, she starred alongside Rachel Weisz in his period drama The Favourite — and snagged a Best Supporting Actress Oscar nomination. After Poor Things, she'll star in Lanthimos' forthcoming film And, with Dafoe once again, as well as Jesse Plemons, Hong Chau, Joe Alwyn, Mamoudou Athie, and Hunter Schafer.
Poor Things opens in theaters on September 8. Until then watch the teaser trailer, below.