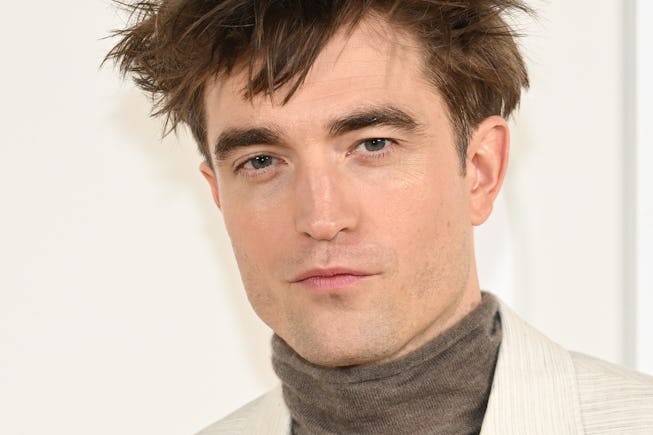 Stephane Cardinale - Corbis/Corbis Entertainment/Getty Images
Robert Pattinson's Next Role Is A Serial Killer Turned Politician
Pattinson continues to let his freak flag fly in Adam McKay's latest, Average Height, Average Build.
Robert Pattinson is beloved for playing little freaks — from his breakout role in Twilight to his roles in the Safdie Brothers' pre-Uncut Gems flick Good Time to his mermaid-obsessed role in A24's The Lighthouse. Even now that he's getting that DC money it's as Batman, undoubtedly the freakiest superhero.
So his latest role as a professional freak is only fitting: a politically-minded serial killer who tries to change the laws to make it easier to kill people in Adam McKay's upcoming film Average Height, Average Build. Robert Downey Jr. is also reported to have signed on, though the film has yet to find a home.
But it seems likely it will get made: McKay is best known now as the brain behind Don't Look Up, a seemingly designed to be viral film about the end of the world that's become Netflix's second most-watched movie ever, clocking in at about 360 million total hours viewed. McKay used to make films like Anchorman and Step-Brothers, but pivoted around the 2008 financial crisis, using Selena Gomez to help us all understand the recession, with The Big Short.
It makes sense that a serial killer could lobby the United States government, a famously corrupt institution, into passing legislation that would make it easier to kill people. It's probably even less of a leap than making it easier to get Taylor Swift tickets.
I, for one, am still thinking about Pattinson's GQ recent cover story, which included sleazy glam photos in which Pattinson donned gold teeth and bleached his roots in a public bathroom. In the interview, Pattinson talked about his favorite habit: lying for fun — a habit shared by both serial killers and actors, alike.
"I used to always come in as a different person, an American," he said. "I'd say, 'Hi, I'm from Michigan.' But then I was doing an audition for Transformers 2, right after Twilight had come out, and I went in as some guy from Denver. And they called my agent and were like, 'What's wrong with him? Why was he doing an improv? A really boring improv?'"
Other lies include, but likely aren't limited to: pretending to be a dealer who imported substances in floppy discs and pretending to be a fake furniture designer with a hobby of molding tiny chairs out of clay.