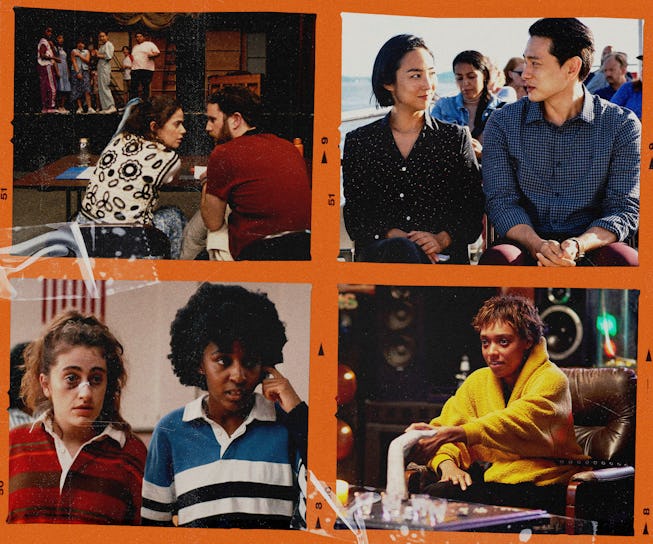 Nylon/A24; MGM: Searchlight Pictures
NYLON's Summer 2023 Movie Watch List
The NYLON staff is here to curate your must-see summer movies.
Summer may technically begin on June 21, but trust that the season officially kicks off the first time you step into a dark, cool theater to watch a movie. This has already been a great year for film, and 2023's summertime docket is continuing the streak, filled with everything from mega-blockbusters to twisted comedies to cult-classics in the making.
On one end, there's Greta Gerwig's Barbie, which has taken the term "highly anticipated" to a completely new level with a well-rounded cast of A-listers and buzzy rising stars, as well as a nonstop IV drip of paparazzi-fueled, behind-the-scenes moments, candy pink trailers, and existential crises. Wes Anderson is back in the picture with his latest twee offering, Asteroid City. A24, the little film distribution company that could (which is now churning out films at a rate that makes Letterboxd users shake with either glee or fury), is busy with its varied offerings, like the tender Past Lives and the haunting, cover-your-eyes-it's-so-scary Talk to Me. And for those interested in provocative comedies worthy of their R-ratings, look no further than Emma Seligman's sophomore directorial feature, Bottoms.
Ahead, see NYLON's editors' and writers' favorite film picks to add to your summer movie watchlist. See you at the movies.
Asteroid City - June 16
Wes Anderson's whimsical, whacky new film allows you to dissociate from your current reality while you enter Asteroid City, one that almost feels like the Twilight Zone, but with many, many familiar faces — Scarlett Johansson, Tom Hanks, and Margot Robbie to name just a few. — Kelly Reed, senior social strategist
Blue Jean - June 16
Georgia Oakley's debut is joyous and tense, and above all, visually stunning. Rosy McEwen is gripping as Jean, a high school gym teacher and out lesbian who must navigate Margaret Thatcher's increasingly hostile anti-LGBTQ legislation. Blue Jean is a transfixing film that stayed with me long after it ended, and one I'll continue to recommend throughout the year. — Layla Halabian, culture editor
Past Lives - June 23
This A24 drama will leave you pondering what could have been. It's rare to see an accurate depiction of the complexities of romantic love onscreen, but this one does it effortlessly. There's longing, there's philosophy, there's conversations around the immigration experience, and all the characters are extremely likable. — Laura Pitcher, beauty writer
No Hard Feelings - June 23
It's been a long while since we've seen Jennifer Lawrence on the big screen, especially in a comedic role, so we are happily anticipating her return in this raunchy romp that sees her getting hired to take a teen boy's virginity before he heads to college. Hot people? Hilarity ensuing? A largely unbelievable (and likely offensive) plot line? Sign us up! — Alyssa Vingan, editor-in-chief
Talk to Me - July 28
Another summer, another A24 horror movie to catapult your psyche — this time to unearthly dimensions. A24 has taken us to some scary places: Florida, a Swedish midsummer festival, Pete Davidson's parents' mansion. Now, they may take us straight to Hell in Talk to Me, which follows a group of teenagers who prod the gates of the underworld at a party. — Sophia June, culture writer
Promblemista - August 4
Problemista is another "make it big in NYC" film, but this one is from Julio Torres, whose quirky, weird, and surrealist brain makes this look infinitely hilarious and endearing. Plus, Tilda Swinton plays a demonic downtown artist? It's an automatic yes for me. — Steffanee Wang, music editor
Theater Camp - July 14
I've already seen Theater Camp and it's still my most anticipated movie of the summer. The script is brilliant, with blink and you-miss-them jokes, and the cast doesn't miss (Jimmy Tatro gives an especially standout peformance). I can't wait to snuggle up in the AMC air conditioning and laugh along with my fellow A-Listers. — Lauren McCarthy, executive editor
Barbie - July 21
With both a cast and soundtrack that feel like a fever dream — Ryan Gosling! Dua Lipa! Issa Rae! — a bubblegum pink universe with fashion that's just as sparkling and saccharine, and the promise of a Barbie (Margot Robbie) experiencing an existential crisis, there is nothing more that you could possibly want in a summer film release. — AV
Bottoms - August 25
I will watch any Rachel Sennott vehicle, and seeing as she's starring alongside Ayo Edebiri, truly, what more could you ask for? In what will be the film of the summer (I'm calling it now), Bottoms follows a duo of unpopular girls in dire pursuit of their cheerleader crushes' attention — leaving them with no choice but to start a fight club. — KR
Poor Things - September 8
Everything about Yorgos Lanthimos' Poor Things draws me in, from its lush aesthetics and Frankenstein-meets-My Fair Lady plot to its unbelievably star-studded cast (Emma Stone, Mark Ruffalo, Willem Dafoe, and Ramy Youssef). Dare I say it'll be the film event of the season. — SW