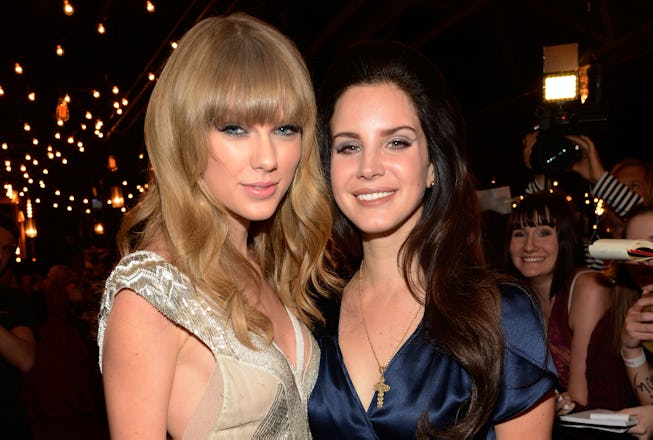 Kevin Mazur/WireImage/Getty Images
Taylor Swift & Lana Del Rey Benevolently Re-Recorded "Snow On The Beach"
"Love u Lana," - Taylor Swift, May 2023
The skies became a little bit brighter for the millions of Taylor Swift and Lana Del Rey fans, when two of the greatest songwriters of our generation released a song together.
"Snow On The Beach," the fourth track of Swift's Midnights promised to be the musical mashup of two of our saddest, most brilliant artists. I could scarcely think of a song that could shake up a heart more. But I think a lot of us can agree that it fell flat of our sky-high expectation, mostly because it's hard to hear Del Rey on there at all, save for a little harmony in the chorus — and that's only if you really listen.
Now, Swift has announced she's going back to the studio for another go, as part of the new Midnights (Til Dawn Edition) deluxe album. The album is available for pre-order now.
"You asked for it, we listened: Lana and I went back into the studio specifically to record more Lana on Snow on the Beach," Swift wrote on Twitter. "Love u Lana." Swifties may be devoted, but don't cross Del Rey fans!
In the tweet, Swift also gave love to another rising star: Ice Spice, who is featured on Swift's new version of "Karma," which is out Thursday at midnight ET as part of the album.
All of this while playing a tour so sold out it's threatening legislative change while dealing with the dissolution of a six-year relationship and a whirlwind, very public new romance? She really is unstoppable.
"I'm a massive fan of this brilliant artist and after getting to know her I can confirm: she is THE ONE to watch," Swift wrote on Twitter of Ice Spice, to which Ice Spice responded: "sweetest person ever thank u sm i love yuuuu," with some cute emojis. The announcement came with album artwork depicting a positively exalted Swift and Ice Spice standing on what appear to be the stairs to heaven holding the moon and Jupiter by a string, surrounded by a blue-purple twinkling atmosphere that looks like something out of Dune.
Nobody has ever benefitted so much from Twitter's decision to lift the 250 character limit; Swift also announced on Twitter that those going to the East Rutherford shows will have a new special edition CD available only on site on Friday — featuring a never-before heard Midnights vault track called "You're Losing Me." As if they weren't already lucky enough to see Swift live!