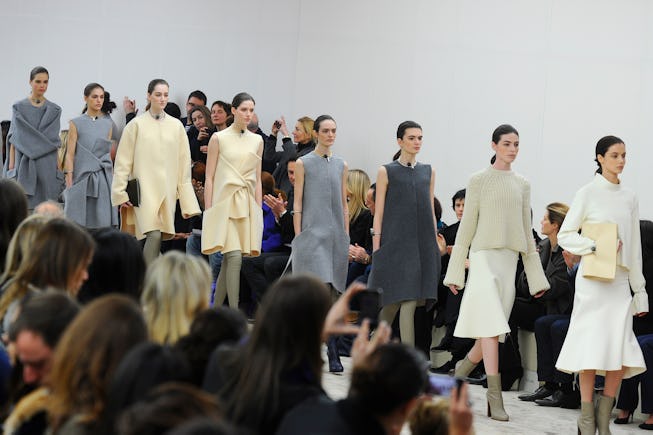 WWD/Penske Media/Getty Images
The RealReal Sees Spike In Sleek, Timeless Designs
The RealReal's latest data further proves that Y2K nostalgia is cooling down.
The Miu Miu Fall 2023 runway collection was a return to classics. Far from the gimmicks that have come to be associated with fashion week shows, designer and founder Miuccia Prada sent her models down the runway in matching twin sets, sheer slips and skirts, and skirt suits — simple silhouettes that have stood the test of time for a reason. Save for a flash of colorful beading, a floral appliqué motif, or a cheeky polka dot print, the collection was elegant and subdued, marketable without compromising Miu Miu's alluring DNA.
Miu Miu's latest collection also reflects rising trends at large. According to The RealReal, TikTok's obsession with "old money" style has translated into a boon for classic silhouettes and designs. Brands that put a spin on timeless classics like Khaite, The Row, Loro Piana, Max Mara, Phoebe Philo-era Celine, Jil Sander, and Nanushka have become go-tos to achieve the look of refined wealth. Gen Z is naturally fueling the trend; their searches for Khaite have jumped 65 percent, while their interest in the The Row saw a 44 percent increase in the past year.
How does this style manifest? Think long, luxurious wool and cashmere coats, loafers, sleek maxi skirts, crisp button-up shirts, and minimal shoulder bags. The strongest demand is coming from loafer lovers, who brought a 733 percent (!) jump to Reformation's loafers, specifically. Those who still don't have the purchasing power for luxe brands like Loro Piana or Khaite have been searching for Staud and Ganni, who are reigning in searches for knee-high boots and slouchy, classic bags.
As the demand for '00s fashion fizzles out, there is one remaining bastion of nostalgia: Tiffany & Co. The legacy jewelry brand has seen a spike in interest thanks to its recent influx of collaborations, from hype streetwear brands like Supreme to Italian luxury houses like Fendi, and beyond; the brand's signature, striking cuff bracelets are especially in high demand, with 83 percent of listed stock selling within 30 days. Nostalgia lives another day.