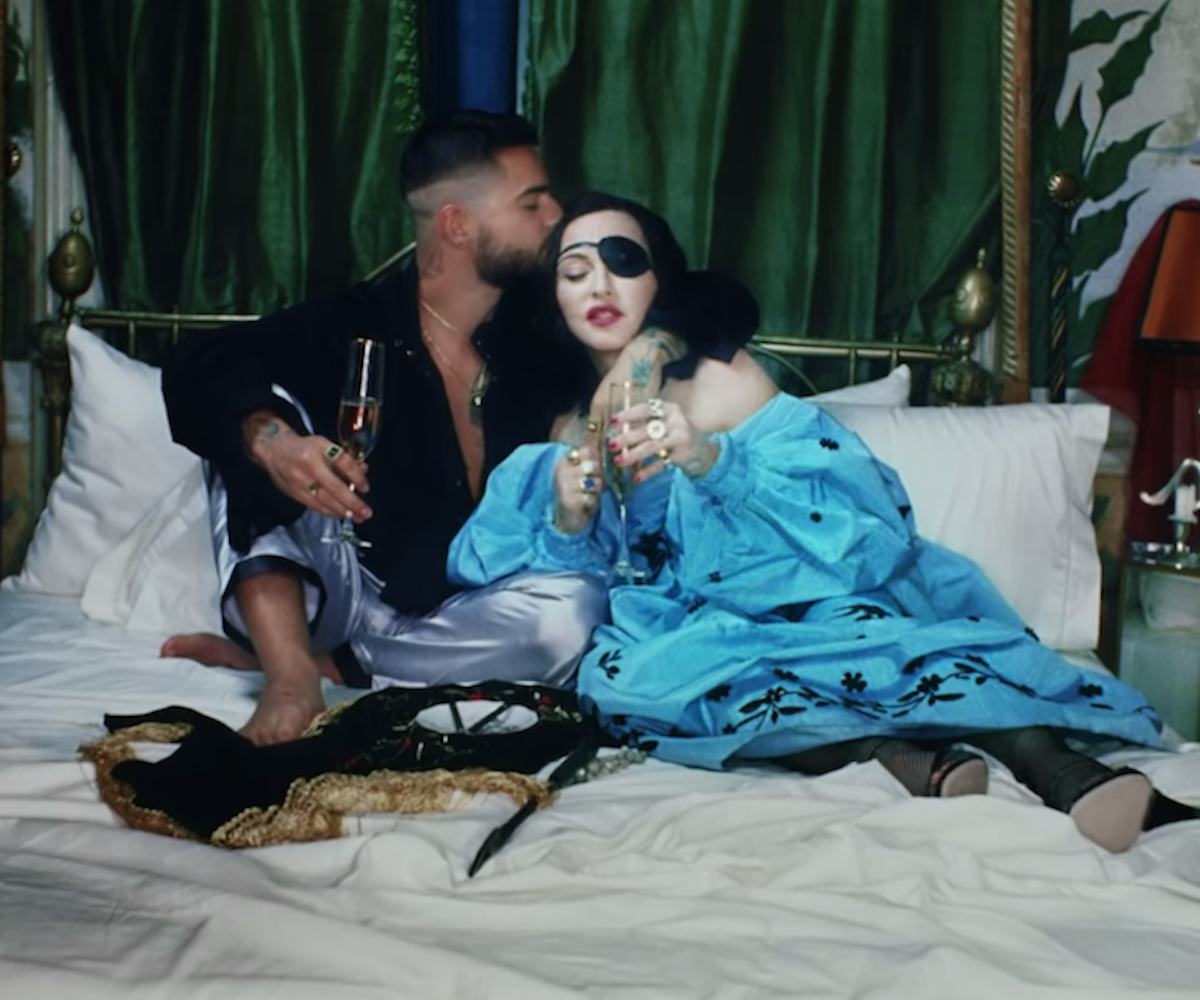 Screenshot via YouTube
Madonna Wears An Eye Patch And Licks A Man's Toe In Her New Video
Madonna has unveiled her new era, that of Madame X, with new music video "Medellín" featuring Latin pop star Maluma. The visual serves as an elaborate introduction to her forthcoming album, which, the pop icon's reps say, was born out of Madonna's years living in Portugal, and sees Madonna dip further into Latin-inspired music than ever before.
The video opens shrouded in darkness; it's not clear whether Madame X is in any real, physical danger or is simply worn down by the mistreatment of past lovers as she prays before running off to her over-the-top elopement with Maluma. "Dear God, how could I trust anyone after years of disappointment and betrayal?" she prays, asking, "How could I not want to run away again and again? From now on, I am Madame X. And Madame X loves to dance… Because you cannot hit a moving target." Who is trying to hit her? Is there going to be a dramatic chase played out a cross the album? Or is Madonna just being dramatic AF? Probably the latter, but I'm still intrigued.
The rest of the video is drenched in absolute excess and opulence; lounging in a formal gown alongside a silk-pajama-wearing Maluma (and licking his toe), to stomping down the dining table in a veiled cowboy hat to her new husband, flipping her skirt over her fantastically dressed guests' faces, before finally riding off into the sunset on horseback at Maluma's side. It was one hell of a party, but... Madame X must keep moving. She's a target, after all.
Watch the video for "Medellín" below. Madame X is slated for June 14 release.