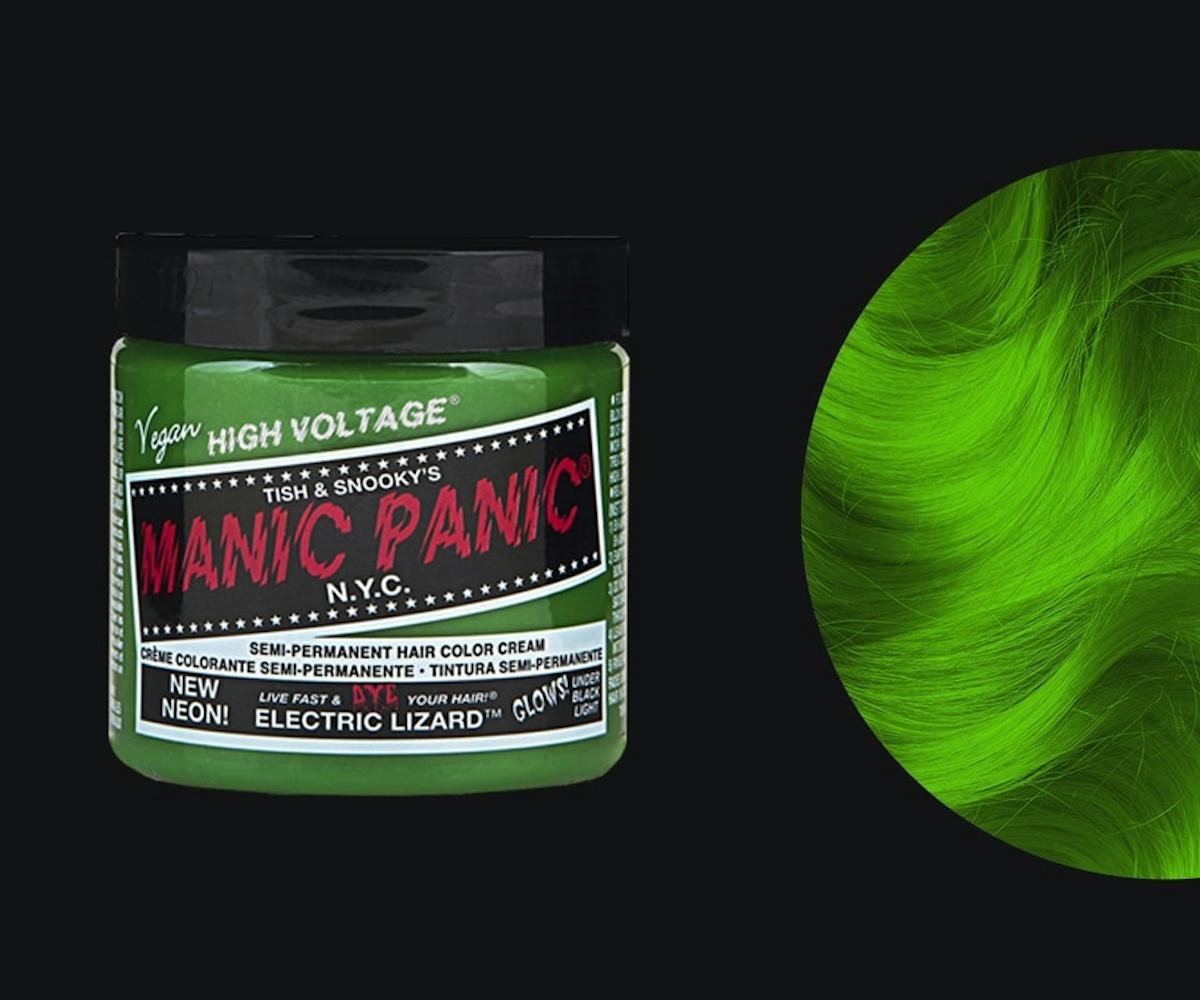 This Hair Dye Literally Has Me Glowing Up In The Club
Friends don't let friends miss out on all the cool, under-the-radar things they know about, like which little-known beauty brand is low-key making the best highlighter around. And because we consider our readers to be like friends, we gather together all our best finds in our Don't Sleep On Thisseries. Check in every week to see what things we can't wait to share with you.
Out of all the colors I have dyed my hair—ultraviolet, turquoise, pink, and just about everything in between—I never thought it'd be possible to have more heads turning my way. That wasn't my intention when I chose to dye my hair slime green; I'd just always wanted to try the color, and I knew my stylist would kill it. But just days after getting a fresh coat of dye on my bob, I wound up at a club and realized more people were turning their heads than usual. Why? I was *glowing* like a glow stick.
Under the black light, it turns out, a handful of Manic Panic's brightest dyes actually make your hair glow just as bright, if not brighter, than a classic white T-shirt. It's a sneaky little feature that only those who frequent clubs and concerts might realize—my stylist entirely forgot to tell me, and honestly, I probably wouldn't have realized had I not encountered a black light.
Because it's only under black light, that means that you won't be glowing at inconvenient times. Like, sleeping; no one wants to keep themselves up at night because their head is now a night light. As well, you won't garner any extra unwanted attention on the street from creeps. To be honest, the new influx of compliments has only come from the most wholesome tipsy concert-goers who just can't look away.
Luckily, the glowing feature isn't something that wears out with time. Even as my hair has faded through different shades of green, once I step inside a club, it still radiates a certain chaotic good energy. While it is unfortunate that no bright colors, even this slime green, are available as permanent dyes, I've found it super-easy to keep it looking fresh. Given that Manic Panic is so affordable, I've started mixing a little into my conditioner to add a little bit more green every time. No need to worry about added damage, too; Manic Panic is a vegan dye (and cruelty-free), so it's totally safe to add as often as you'd like.
If slime green isn't your thing (it isn't for the faint of heart), you can mix it into darker hues or opt for a few different colors from Manic Panic (like the perfect cotton candy pink) and get the same glowing effect. TBH, I'm probably going to aim to try out every single shade once I'm done with my reign as slime queen.
Manic Panic, Classic High Voltage Semi-Permanent Hair Color in Electric Lizard, $14, available at Amazon.
NYLON uses affiliate links and may earn a commission if you purchase something through those links, but every product chosen is selected independently.