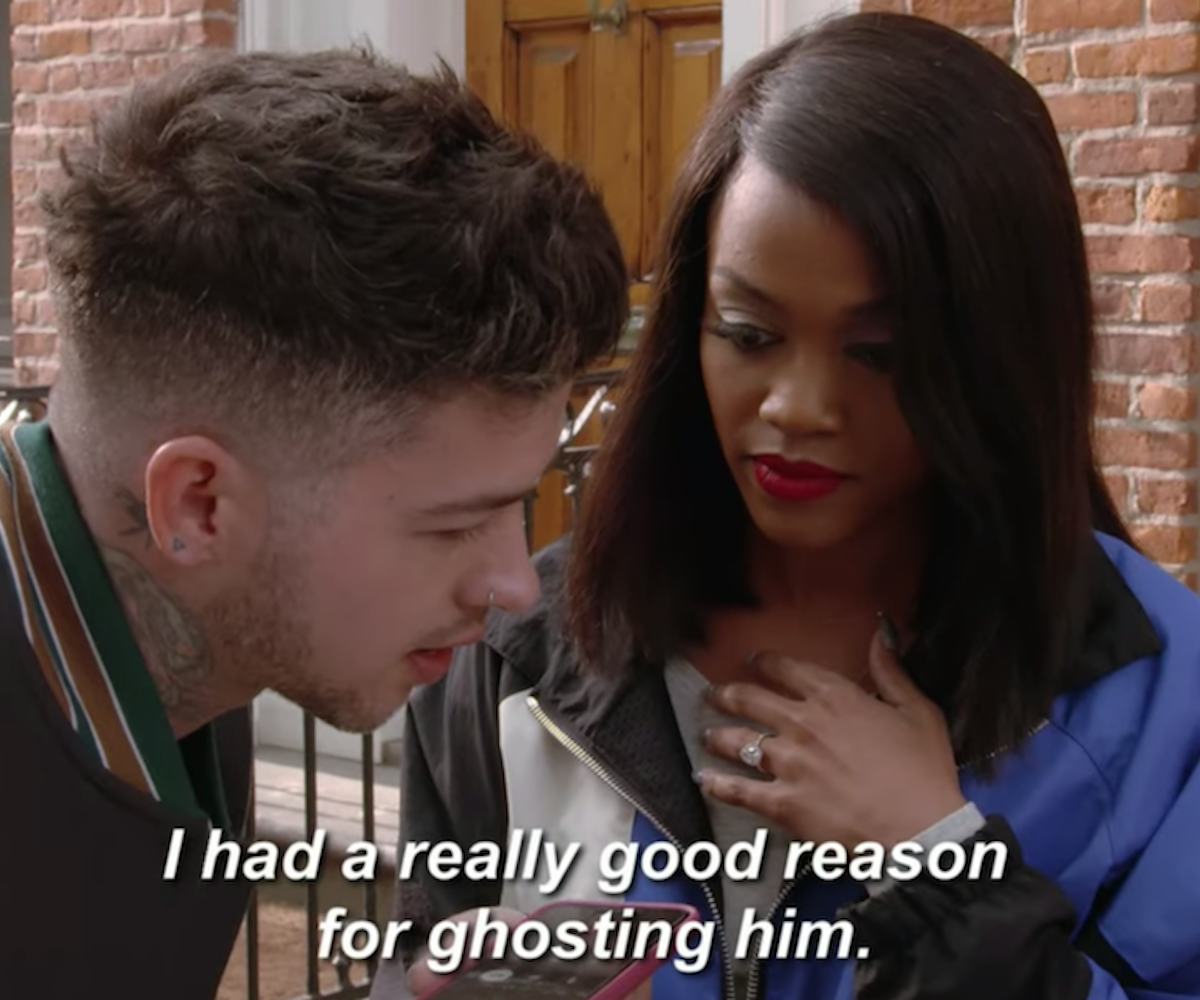 Screenshot via YouTube
MTV's New Show 'Ghosted' Is Called Out For Encouraging Stalking
Many people have *very* valid reasons for cutting off communication
MTV has revealed its newest series to debut this fall: Ghosted: Love Gone Missing. Said to be in the same vein as Catfish, the show will be hosted by former Bachelorette Rachel Lindsay and recording artist Travis Mills, who will help people who have been ghosted track down the friends and lovers who cut off communication with them. The idea is that once everyone gets together for a face-to-face conversation, closure will ensue. It sounds dramatic and messy—the makings for a great reality show—but the results could be truly dangerous for the ghosters.
Since revealing the trailer for Ghosted yesterday, many people have called out the show for promoting stalking and harassment on Twitter. "Could you imagine someone leaving behind a toxic relationship/friendship, healing, and then an MTV camera crew shows up in your face with that person. That would be super traumatizing for a lot of people," Twitter user @CentristsHateMe wrote. And they're right—sometimes the best way to break away from someone toxic is to cut off communication, and for a show to assist that person in tracking you down is messy and wrong.
Another pointed out that wanting to be on the show should be a clear sign that your ghoster had a valid reason for ghosting. "If you're the kind of person who tracks down someone that ghosted you, you're the reason people feel the need to ghost to protect themselves in the first place," @sarion_gamer wrote.
"Everyone I #Ghosted was because they are toxic and were harmful to me," @ChunaLuna wrote on Twitter. "If @MTV gives someone I didn't want around me, access to me, I'm fighting the cameraman and the producers." And, well, thinking back on the very few people I've chosen to ghost rather than break up with IRL, yeah, I'd be fighting, too.
Plenty of people know what it's like to have been harassed by someone you'd went on a date with just once, or even had swiped right on only to realize they were creepy. Ghosted only seems to be encouraging that type of harassment to continue.
However, writer Alicia Lutes pointed out that "both parties would 1,000 percent have to agree and sign shit ahead of time, á la Catfish, so the show's entire [concept] is basically bullshit." But even so, the pressure by a major company to reunite with someone you'd long parted ways from is kind of gross. "The legal release forms alone are probably the stuff of nightmares," @Entropy345 wrote, adding, "So if your ex comes back when the cameras are off and terrorizes you, promise us you won't sue?"
Watch the trailer for Ghosted: Love Gone Missing below and decide for yourself.