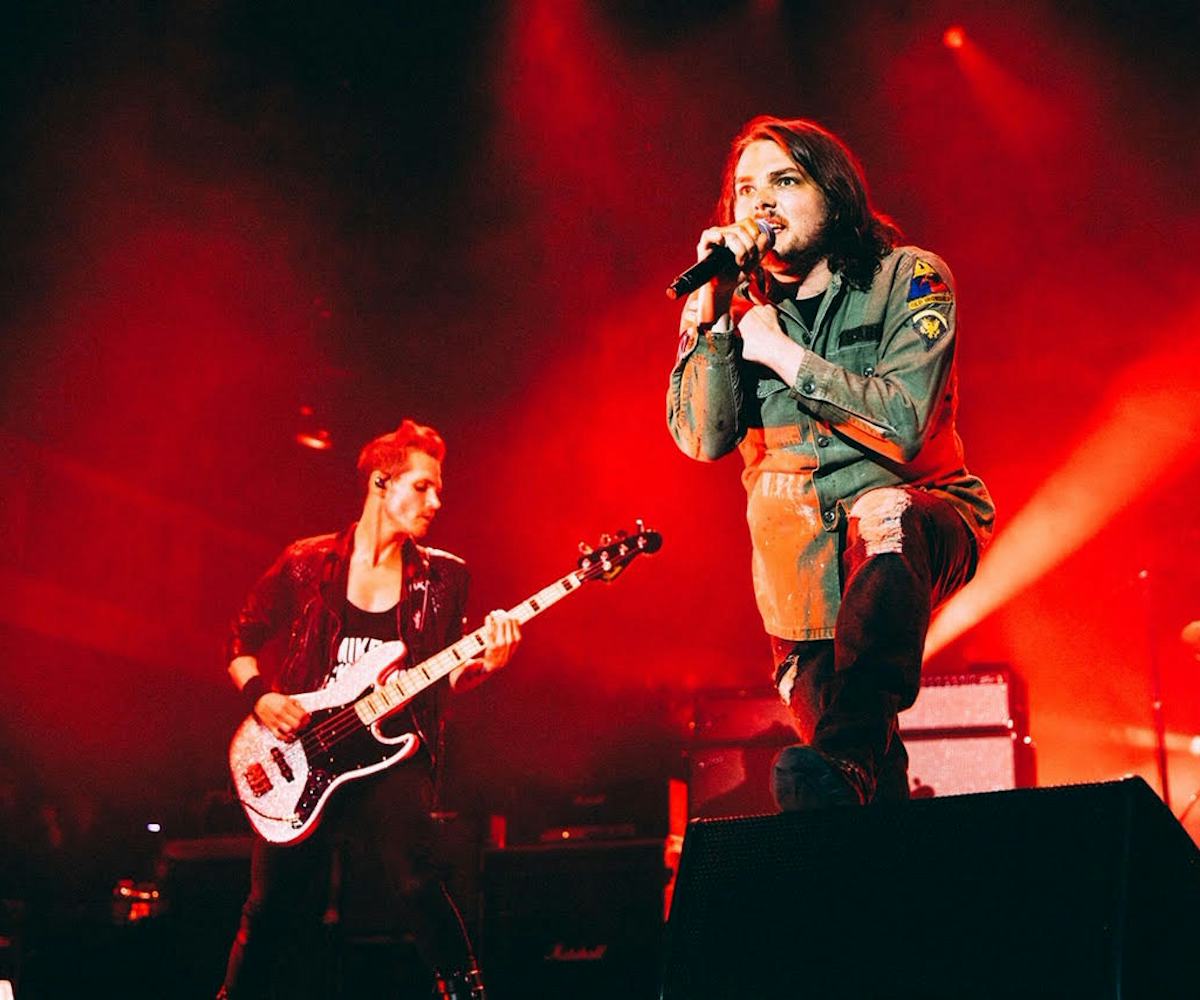 Photo by Pooneh Ghana
My Chemical Romance's Reunion Show Was A Needed Reminder To Carry On
For one night, we were all oh-f*cking-kay
It takes a lot to get a weary New Yorker in the midst of holiday madness to drop everything they're doing and fly across the country. And yet, last Thursday morning, I did just that, as I hopped off a plane at LAX, with a dream and a ticket to see My Chemical Romance reunite.
How did we get here? It was as simple as can be: I just wouldn't be OK to miss this seemingly once-in-a-lifetime experience. The very literal tears brought on by the band's reunion announcement back in November quickly were replaced by fervent trip planning, scheming a way to get myself across the country and into The Shrine Expo Hall. A few phone calls, mildly pleading e-mails, and out of office requests later, I was in.
And, approximately, three weeks later, I almost was actually in. Almost. At 7 p.m. PST, The Shrine — notorious for its chaotic entrance policy according to fan forums and online reviews — opened its doors, one and half hours before the show's listed start time (fellow emo band of the early aughts Thursday opened). Suddenly, those who had camped out for a string of nights were suddenly pressed against the barricade alongside others who had simply just picked up their tickets from will call, having lucked out beyond belief. And yet, miraculously, no one was upset by this — while the crowd grew and we began to sweat out of sheer proximity to one another, strangers quickly became friends, retelling how they came to arrive at the concert, if they came with anyone (many didn't), and listing off their dream set list in anticipation of what was to come in just a few hours. I naïvely had thought I'd be in the minority of fans who travelled thousands of miles, but next to me stood two girls from Pittsburgh who skipped their college finals to get there on time; behind me, an artist from Baltimore, Maryland, and a 15-year-old ballet dancer from Texas. She was only 7 when she first saw the band live.
After Thursday's opening set (good, but not what we are here to talk about), the anticipation spiked as the band hid the stage with a larger-than-life curtain bearing the angel statue imagery that has become a symbol of the band's return. Some began to cry; others simply couldn't stand still, so filled with frenetic energy were they, jumping and half-dancing to the music pumped through the speakers. I was oddly calm — a state which anyone who knows me would have not predicted of the scenario I was in — despite the jetlag and severe emotional attachment to the music ahead of me.
Then, it happened. With the drop of that ominous curtain, the opening notes of Three Cheers For Sweet Revengehit "I'm Not Okay (I Promise)" ringing out, seven years of coming-to-terms with MCR's breakup disappeared. That was also the last time my feet were directly underneath my body for the rest of the evening; we threw our fists up high and savored each brief breath of air and water bottle shared. The setlist satisfied nearly every craving fans had since even before the band broke up, reaching all the way back to their 2002 debut I Brought You My Bullets, You Brought Me Your Love — a welcome surprise — to play "Our Lady Of Sorrows", bookending it with a generous balance of tracks off of their three succeeding records. Rather than finishing with "Helena" with its apt "so long, goodnight" chant, MCR nixed that tradition for a second, more hopeful encore: "Welcome To The Black Parade".
Now all well into their late thirties and early forties (try not to think about it too much), in 2019, the band may have traded in their smudgy eyeliner and gothic attire for a more cozy-punk wardrobe, but the original aesthetics lived on in the crowd. Faces with X's slashed in kohl liner over each eye, modern takes on the raccoon eye — mine, glittery with flecks of silver and black, thanks to Kesha's new palette — and attire ranging from chains and platform boots to full marching band uniforms.
By the end of the night, all of that carefully applied glitter was for naught. I was a mess of mascara tears, drenched hair, and bruises, none of which would even register until I caught a glimpse of myself in the mirror at my Airbnb before getting the most sound sleep of my life. I wasn't even slightly bothered by breaking my film camera in the pit; it was par for the course, a worthwhile sacrifice. It was in that blissful aftermath that I finally was able to recognize my prior calmness in the pre-show pit as what it was: total contentment. Despite being very much not-okay in so many other aspects of life, tonight I was okay; we were all okay, together. There he was, Gerard Way, smiling through sickeningly cynical lyrics and screams, his eyes sparkling as he looked up to his children watching on from the balcony. Thousands smiled back at him from the ground.
What we all shared was not simply the cathartic singing-along to the music we leaned on when we were at our worst, nor was it an angsty reprisal of an outcast youth. It was a release of pure joy and energy. We were all a little bit more okay than we used to be, and we were not clinging to past fandom gone cold. We had found community in both nostalgia and hope for what has yet to come.
Even if it is technically "so long and goodnight" for now — the band has yet to announce any further tour dates in the United States, and has but a few festivals lined up across the globe in 2020 — there was no sense of finality as the band said their goodbyes. But it's not as if they were ever really gone; they lived on through every anthem played on repeat and every artist inspired to pick up the guitar in their wake. Regardless of what comes next for My Chemical Romance, I, along with the rest of the MCRmy, left the venue that night holding one truth close: We'll carry on.