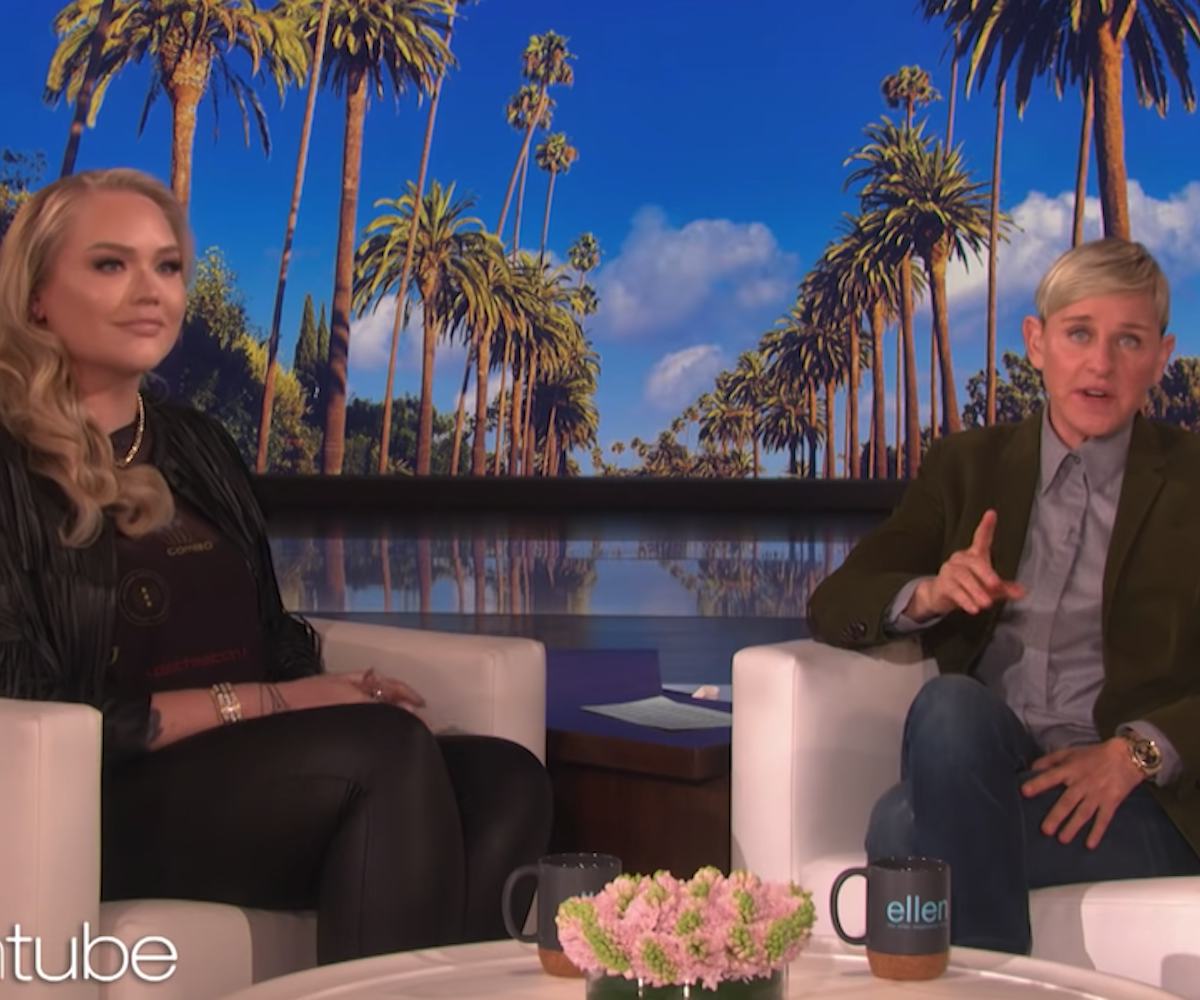 Screenshot via YouTube
NikkieTutorials Opens Up To Ellen DeGeneres About Growing Up Trans
"I just always was so confused"
One week after coming out as trans to her massive following on YouTube, beauty vlogger NikkieTutorials, real name Nikkie de Jager, sat down with Ellen DeGeneres to retell her coming out story and open up about growing up transgender.
When DeGeneres asked about the moment de Jager knew she was trans, she responded, "It's funny, because to me, I just always was so confused. I was like, 'Why do I have to wear that, or why don't I have long hair?'" Luckily for de Jager, her mother was incredibly supportive throughout her transition — "a queen," per de Jager. She stated, "Even when we went to the hospital to see what was going on, doctors were like, 'Don't push it too far. Let's see where it goes.' But then I came home and I was like, 'Mom, I really want to wear girl clothes.' And she was like, 'If you want to wear girl clothes, you're going to wear them.'"
De Jager's coming out video was initially prompted by what she said was a blackmailer, but she told DeGeneres that she "always wanted to come out" when it was the right time. But, as she said, "There's never the perfect timing." She added, "So, in a way — because I'm not thankful to the person who did this — I am thankful that it happened now. Now, I get to be free." In reflecting on the past week, de Jager took a moment to acknowledge her privilege: "I started when I was really young. I pass. I am blonde. I started when I was really young. I look cis. And I want to take this opportunity to hopefully inspire a lot of transgender people out there."
While it has only been a single week, de Jager's coming out was met with overwhelming support on social media. Of course, it wasn't without some negativity. Notably, Dani California, sister of TooFaced co-founder and CCO Jerrod Blandino made transphobic comments regarding de Jager on Instagram. Once her comments became known, though, she was swiftly removed from the company and Blandino offered an official apology to de Jager.
Watch de Jager's full interview with DeGeneres, below.