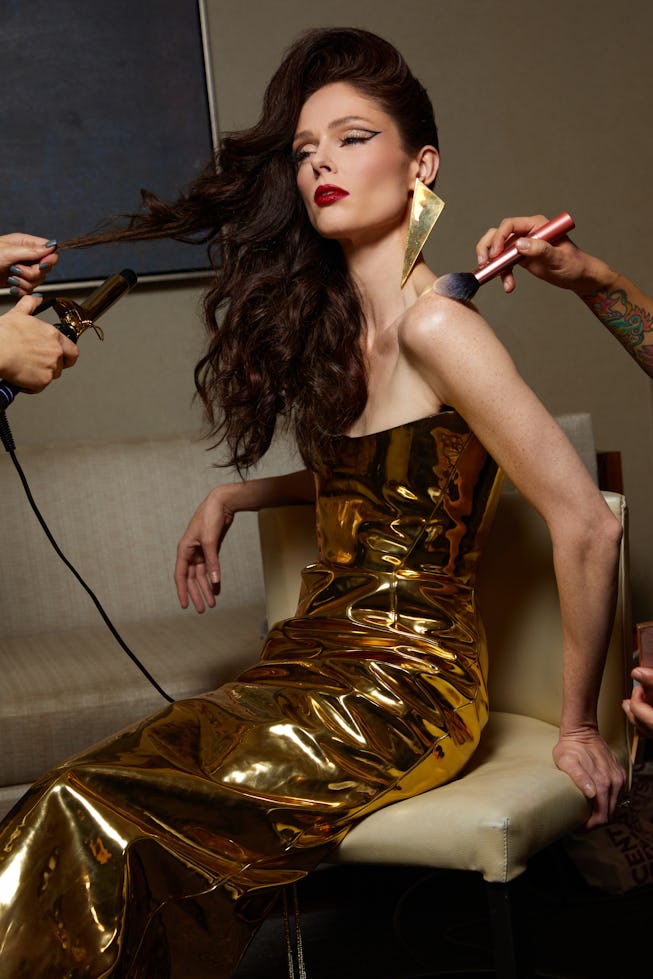 Jeanie Stehr
How Coco Rocha Got Ready For the Met Gala After-Parties
The supermodel had a night full of festivities, complete with multiple outfit changes.
The First Monday in May went well into the First Tuesday in May, with a reported 11 official Met Gala after-parties held all over the New York City. While just one would give you more star sightings than DeuxMoi's infamous Sunday Spottings, whats the fun in that? From Karl Lagerfeld at The Mark to EmRata's fête down in FiDi, black car drivers were certainly put to work well into the night.
Supermodel Coco Rocha planned to attend "at least three, and maybe even four," of the bashes — and in true supermodel form, multiple parties came with multiple outfit changes. Her first stop was The Mark, where she wore a Karl-inspired suit from the eponymous brand, before changing into a gold Bronx and Banco gown for Chanel's private event. Here, Rocha breaks down each of the looks and shares her juiciest Met memories.
Describe your look for tonight:
I've never seen so many parties at the Met Gala like this year! I'll be rocking a Lagerfeld suited look at the Lagerfeld party, and a gold dress that's giving off major Oscar vibes at the Chanel bash — literally, I look like the statue. After that, I'm changing into a bodysuit with a cape situation for the Janelle Monae after-party at the Boom Boom Room. And if my energy levels hold up, I might even sneak into Anne Hathaway's after-after-after-party for a fourth outfit change! It's going to be a long night, but totally worth it.
When was your first Met? What are your memories from that night?
My first Met Gala was back in 2007, and was a night I'll never forget. Jean Paul Gaultier was my date, and he was a true gentleman from start to finish. I remember walking out of the elevator to find him waiting for me in the lobby, wearing a black long skirt and a big smile on his face. He walked the entire carpet with me, holding my arm the entire time. Once we got to the dinner, we were unfortunately split up. He sat with the "grown-ups:" Anna Wintour, Karl Lagerfeld, and Mr. Valentino, while I was placed at what felt like the "kids' table," surrounded by other youngsters like Anna's daughter, Bee. But Jean Paul kept checking in on me throughout the night which was such a sweet gesture.
What was your favorite Met gala look you've ever worn?
I've had so many incredible Met Gala moments over the years, but one that stands out was when I wore a giant Zac Posen dress that he affectionately called the "cloud dress." This was back when everyone was wearing little cocktail attire, but I wanted to go big. I remember leaving my apartment and feeling how heavy the dress was, only to realize my little dog Peekaboo was riding on it down the hallway — he almost made it to the Gala himself! Another unforgettable experience was when the theme was superheroes, and American Vogue had me shoot the entire exhibit, which was so special. All of the iconic designers created custom looks for me to wear, and it was a dream come true.
What was your favorite Met gala look not worn by you?
I swear, if you look up "Met Gala" in the dictionary, there's gotta be a picture of Sarah Jessica Parker at the "Punk Chaos To Couture" Met Gala. That look lives rent free in my mind.
Describe your getting ready process for the Met afters?
The Met Gala can be chaotic, but I'm lucky to have an amazing team around me. My husband James handles all the logistics, and I'm always surrounded by my glam squad and photographer from Coco Rocha Model Camp. This year Altorrin is my incredible stylist for the night, and we all have a blast together - laughing, making TikToks, and sipping margaritas. It really feels like a family affair.
What is the craziest thing you've ever seen at a Met after party?
One Met Gala I found myself dancing with Mick Jagger — that was pretty crazy! Another time at about 3 a.m. as the Olsen twins were DJing at this underground club, a famous actor head-butted a designer in the face sending him to the hospital.
"Getting glam for a big night out. Fun fact, Carolyn and Corey are also part of our 10 person glam team at Coco Rocha Model Camp."
Full look for Lagerfeld!
Pants, shirt, and accessories by Karl Lagerfeld, jacket by Luchen, and shoes by Kat Maconie.
Really wanted to leave the party with this giant Karl head under my jacket.
Feeling like liquid gold and doing a quick touch up ready for the second stop of the night, the Chanel party.
Serving a little homage to '90s supermodels in a Bronx & Banco gown and Alexis Bittar earrings.