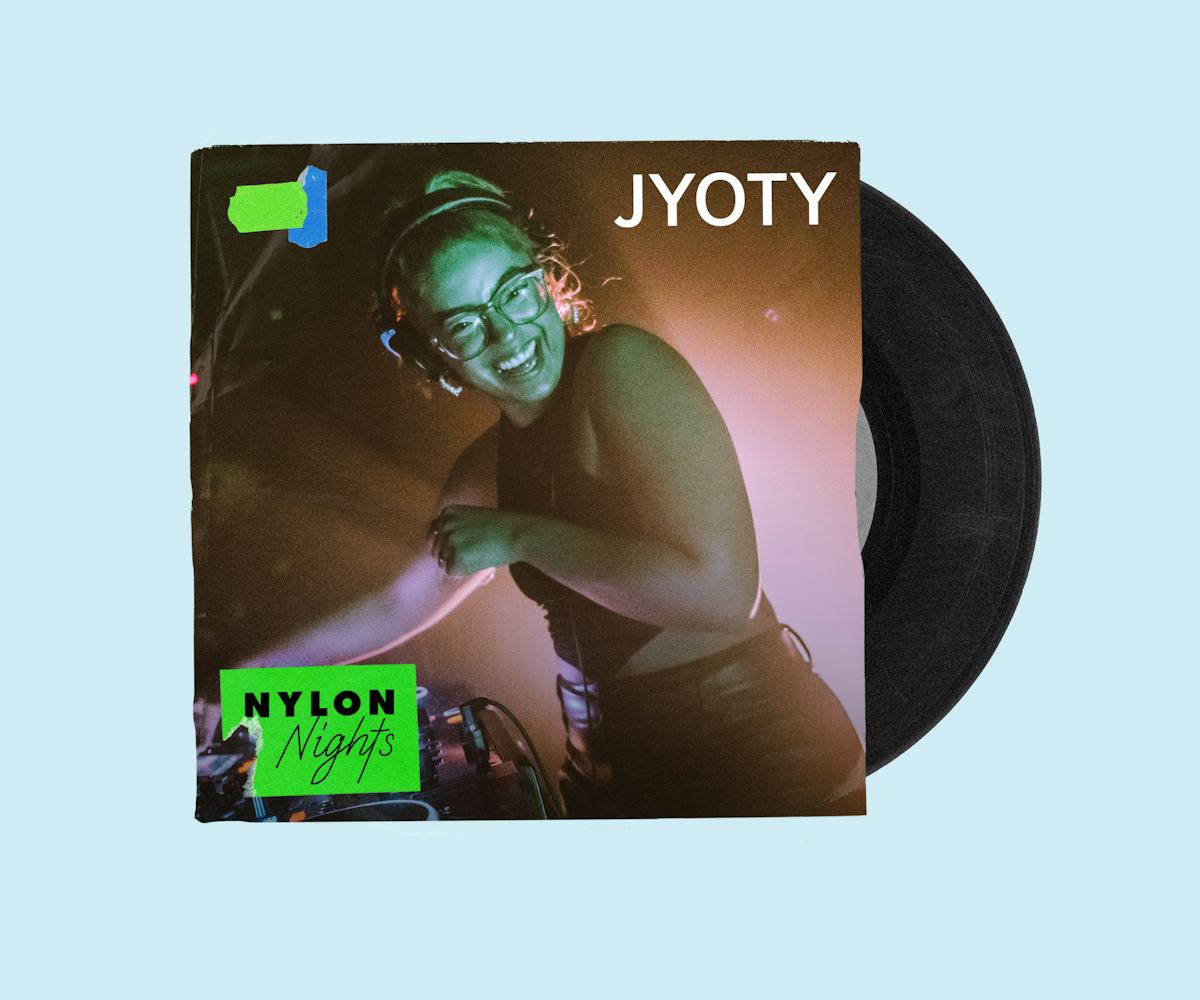 DJ Jyoty On The Songs That Always Work A Dance Floor
Hear an exclusive playlist from one of the most high-energy DJs in the scene right now.
Going out? Need a playlist? Then NYLON's NYLON Nights playlist is here for you. Each month we invite a guest DJ to curate an exclusive playlist that will keep you going from pre- to post-game. For October 2023, London-based DJ Jyoty dishes on the songs that get her running to the dancefloor.
Before Jyoty became a household name in the London rave scene she was a fan first. The 33-year-old Amsterdam native spent most of her early 20s working the door and coatrooms at dinky clubs around the city, making connections, widening her horizons, and going to every single set she could before a series of lucky moves landed her the radio show gig at Rinse FM that would kick off her DJ career. Fast-forward seven years and Jyoty has now become a superstar name playing warehouses and festivals across the globe from Sao Paolo to Australia to the U.S. One glance at her now-famous 2019 Boiler Room set will give you a clue as to why: she might be behind the decks now but her heart will always be shaking ass on the dance floor.
Attending a Jyoty set means being prepared to dance to everything, and you can use her hour-long Boiler Room stint as a brief example: her high-energy selections traversed Genuine's "Pony" and Snoop Dogg's "Drop It Like It's Hot," and vibrant carnival cuts, afrobeats, and Punjabi club deep cuts. The only seeming requirement is that whatever she plays has to hit hard, get your hands up in the air, and body moving. That quality persists even in the globe-spanning playlist she's curated for NYLON, which touches on Jersey Club, Brazilian funk, South African-inspired drums, all with classic heaters from Skrillex, Bicep, and Cashmere Cat spliced in between. As Jyoty writes, "[This is] what club dreams are made of."
Coming up, the DJ is set to join a superstar slate of headliners including Honey Dijon, DJ Koze, and more at Morocco's Oasis: Into The Wild music festival, kicking off Oct. 27-29. Hear her playlist below and read on for her thoughts about each of the songs.
"Tumult" - Kevin Kofii
My good friends' first original production as a release and it's just so perfect to play on a banging sound system. It's an ode to the sounds coming from South Africa and that inimitable log drum just hits better the more you hear it.
"Shake The Room" - UNIIQU3 ft. Dos Flakos
I haven't been able to let go of this track all festival season. Every single bit of it just demands that you run to the dancefloor. UNIIQU3's energetic vocals on the track tell you everything there is to say about the track: "We're gonna shake the room!"
"Infinity Club" - BAMBII
The closing track on her EP which is a total homage to club culture mixed with winks to soundsystem culture and it's just a perfect song. So good to mix in and out of, I just imagine a dark room with lots of moving bodies. What club dreams are made of.
"Angels In Tibet" - Amaarae
Perfect artist. Perfect album. Perfect song. A drum pattern that shouts Brazil, melodies that reminisce of a movie set in the far East, vocals that come from the future. Sexy, you can move double time or half time, fashion, runway, everything.
"Glue" - BICEP
Already considered a classic and recently found its way back into my sets (often as an edit with a pop vocal layered over it). Always gets the crowd into an ecstatic mood and well.. me too.
"Shai's Loop" - DJ Swisha
Swisha never misses and this upbeat, simple beat with the vocal chop of an R&B classic just puts a little pep in my step whenever I hear it!
"Selecta" - Bianca Oblivion
Bianca is the queen of the club in L.A. and is an absolute beast at producing too. Selecta is heavily influenced by grime but also Miami bass and is actually a favourite of mine to work out to.
"Inhale Exhale" - Skrillex, Aluna, Kito
Just can't get enough of this one. So dark, sexy and demanding a serious stank face. Aluna's pretty voice is the icing on the cake and I can't help myself from taking a bite!!
"Joga Bola" - Nick León & Luca Durán
The way they flipped this Brazilian anthem and made it even more of a 'global' club banger without losing the funk elements is just mind blowing. Hits every time, all the time.
"Crazy" - Doechii
Just the PERFECT song to absolutely RAGE to. Nothing else to say.
"Mirror Maru" - Cashmere Cat
What a time this was to be alive. You just had to be there. You can add it to your set as a DJ but if you never really LIVED this song when it came out, it will never play the same. This one will always find its way back into my sets and will make me emotional every single time. Wow.
"Designer (Jyoty Remix) - Major Lazer & Major League DJz ft. Joeboy
Okay, I had to add my first official release to this list! A dancefloor banger paying homage to speed bubbling: a sound I grew up with in the Netherlands in the '90s.