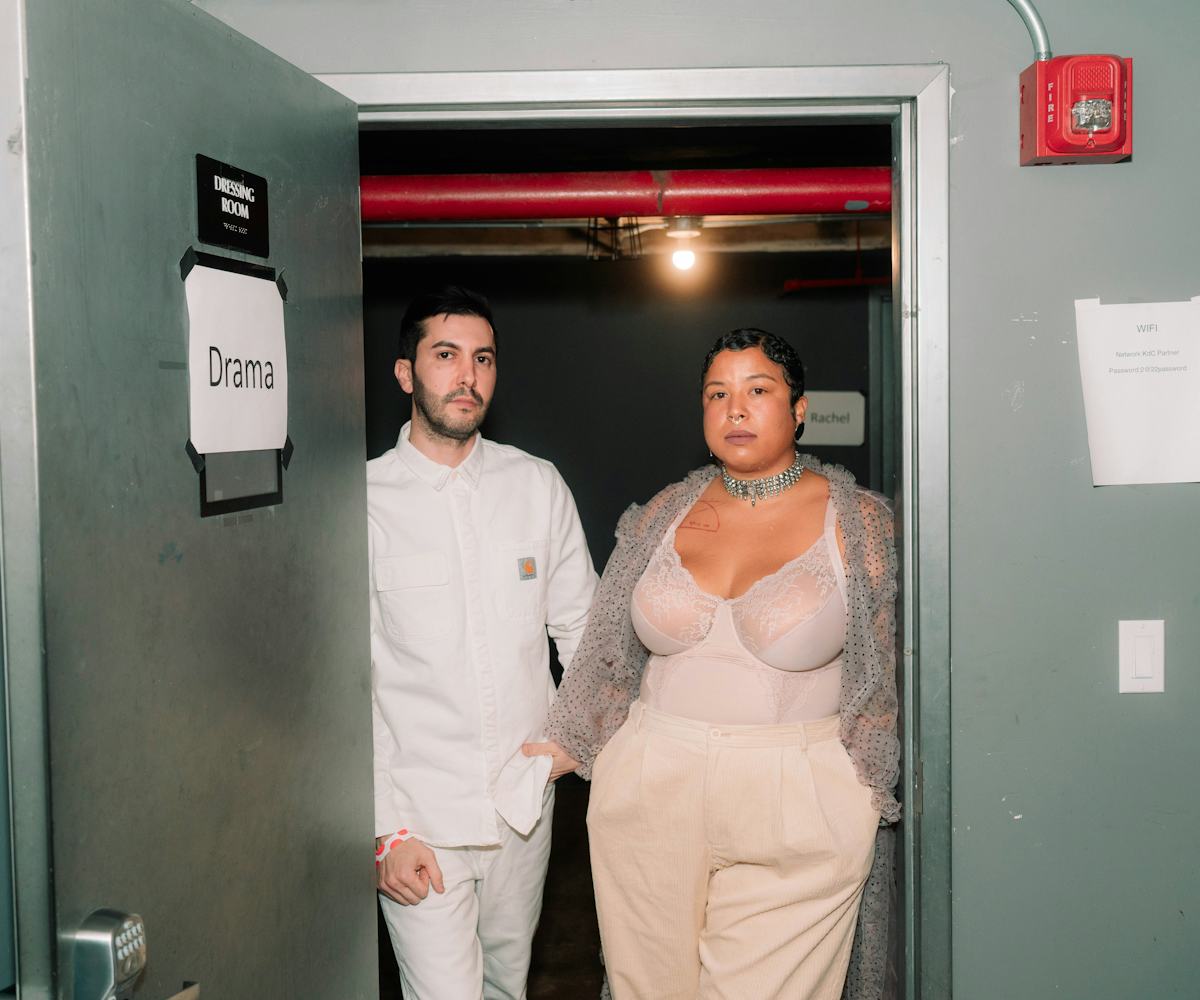 DRAMA Gets Ready For Their Biggest Show To Date
Featuring ginger shots and industrial athletic glam.
On a recent Thursday at New York City's Knockdown Center, a crowd of nearly 2000 is waiting to have their hearts broken and mended by the songs of electronic music group DRAMA. At 9:30 pm on the dot when the lights finally dim and the band walks out on stage, producer Na'el and singer Via Rosa in a flowy, gauzy gown, flanked by two backup singers, the energy in the room shifts into one of jubilance. For the next hour and half, under purple and yellow flashing lights, the room never stops moving.
DRAMA makes music for anyone who has a heart and has had it shaped by love or friendships. Over the near decade since they've been releasing music together, the Chicago-based duo has defined itself through passionate and tender "happy sad" dancefloor anthems: songs that dwell in the murky waters of complicated interpersonal affairs, breakups, and unrequited love. Their sound tends to straddle the intersection of yearning R&B and punchy dance, but on their latest release, the seven-track EP Till We Die, they bring out some of their clubbiest tracks yet. At their latest NYC appearance, that translated into one of their most energetic live shows, one that felt less like a conventional concert and more like a therapeutic communal dance session, as friends facing friends swayed with one another and strangers cheered strangers on, all with a drink in their hand.
For the rapidly rising duo, who played Coachella for the first time this past year, their Knockdown Center show became their biggest headlining event yet, a momentous midway mark in their Till We Die tour that's taking them across Europe in the coming weeks. Below, the band takes NYLON backstage as they got ready for the night with ginger shots and all-white industrial athletic glam.
NYLON: Describe your getting ready process.
DRAMA: Our getting ready process is all about simplicity. We go over our setlist notes with the crew, making sure everything is in order. Taking care of our bodies is a priority, so we start by having ginger shots or a nice cup of tea to prepare ourselves. And most important is a quiet dressing room!
You'll know if it's our green room based on if you see ginger shots & tea on the rider!
Na'el getting ready for the show, we like to keep a theme with our outfits when possible. For this New York show we went for all white.
How would you both describe your personal style?
Chic, streetwear, industrial, athletic glam.
What song(s) are you most excited to play tonight, and why?
We released an EP earlier this month called Till We Die so it's been fun to perform our newer songs including "As I Am". It's nerve-wracking to release new music into the world but it's a really special feeling to hear the crowd singing along, especially when you've only released a song a few days ago!
What's something most people don't know about performing live?
Every show is a unique experience for us, and we thrive on the energy of the crowd. We're constantly striving to make each performance better than the last. We believe in pushing ourselves to deliver the best performance possible and to keep elevating.
What's your post-show routine?
After the show, we always take the time to unwind and debrief – it's important for us to reflect on what went well and what we can improve on. We also love meeting our fans and hearing their perspective, it's a great way for us to connect with them on a personal level.