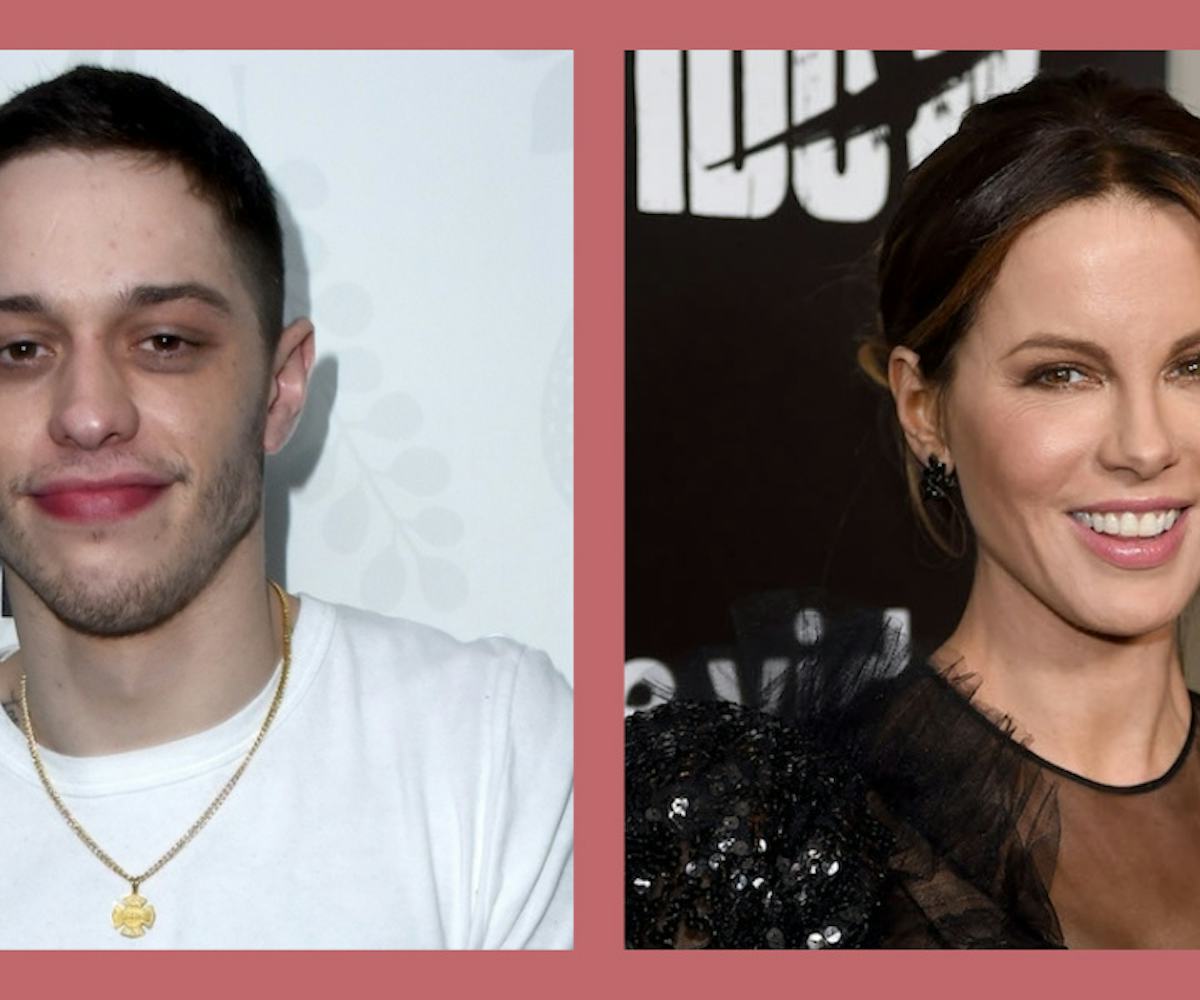 Photo by Vivien Killilea, Jamie McCarthy/Getty Images
Pete Davidson Shuts Down Critics Of His Relationship With Kate Beckinsale
And he has suggestions for who to chat with about relationships "with a big age difference"
Pete Davidson perfectly shut down anyone criticizing his relationship with actress Kate Beckinsale during "Weekend Update" on Saturday Night Livethis past weekend. Since plenty have focused on the age difference between Davidson (25) and Beckinsale (45), as well as their very public round of tonsil hockey, Davidson took a moment to call out the number of men in Hollywood who have dated much younger women and have never been subject to the same criticism.
"Apparently people have a crazy fascination with our age difference, but it doesn't really bother us," Davidson began. "But then again, I'm new to this." And it's true. Prior to May of 2018, Davidson was merely the background stoner-spokesman of SNL, but his relationship with Ariana Grande quickly changed all of that. We all had plenty of questions back then about the start of that relationship, but with Beckinsale now on his arm, the questioning has mostly centered around her being 20 years older.
"So if you have questions about a relationship with a big age difference," Davidson continued, "Just ask Leonardo DiCaprio, Jason Statham, Michael Douglas, Richard Gere, Jeff Goldblum, Scott Disick, Dane Cook, Derek Jeter, Bruce Willis, Harrison Ford, Tommy Lee, Alec Baldwin, Sean Penn, and whoever the president of France is, Mel Gibson, Billy Joel, Mick Jagger, Sylvester Stallone, Eddie Murphy, Kelsey Grammer, Larry King, Larry King, Larry King, Rod Stewart, and Donald Trump."
He has a point! DiCaprio and Disick have been dating their reported current girlfriends since before the young women were even legally allowed to consume alcohol, whereas my only actual problem with Davidson and Beckinsale is the number of times I've encountered their tongues on each of my social media accounts.
Watch Davidson's full clap back, which starts around the 3:25 mark, in the video below.