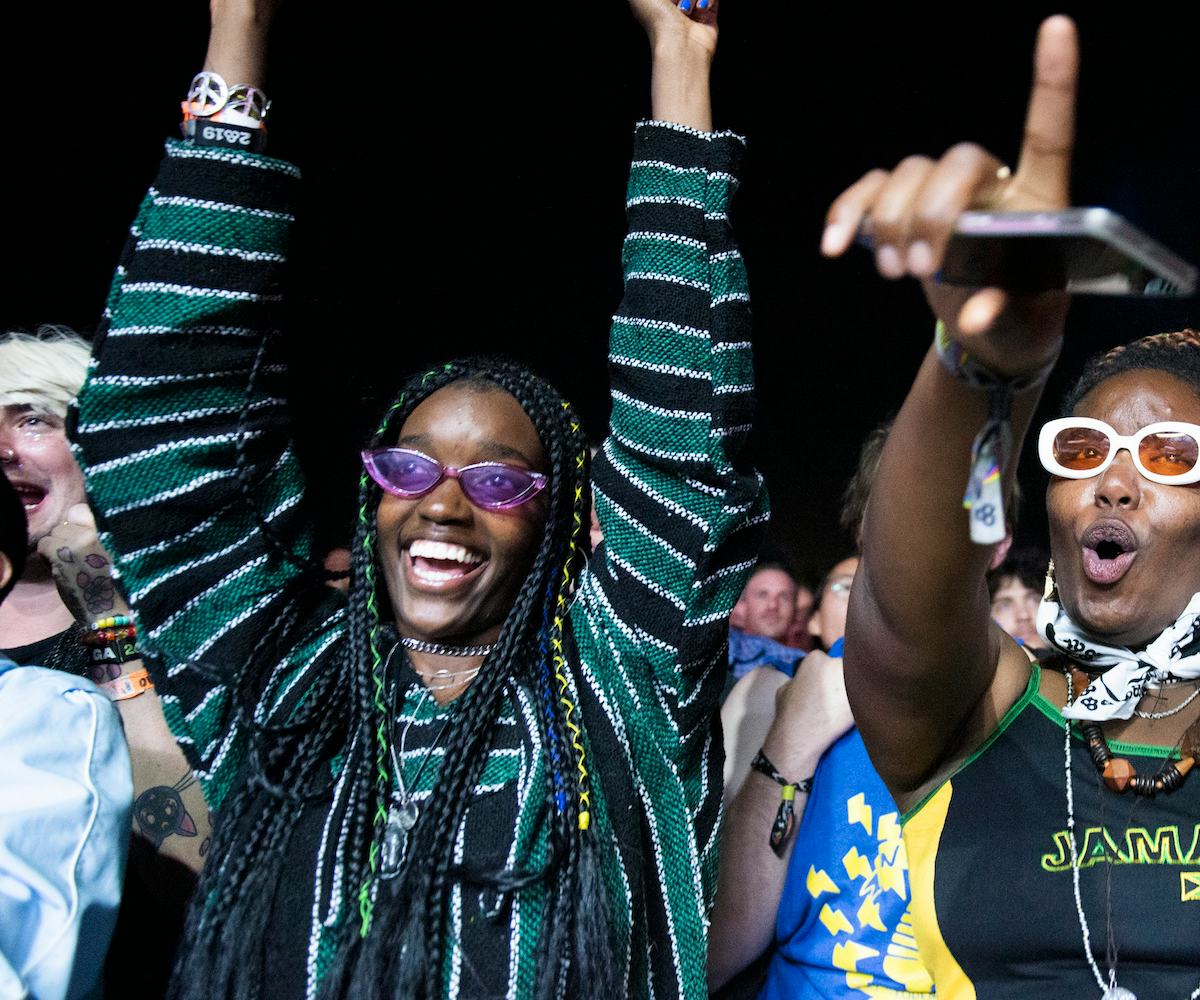 Photo by Lindsey Byrnes
Bonnaroo's Safe Space For Female-Identifying Campers Is A Haven—But Is It Enough?
SheROO is great, but more safe spaces are needed
Bonnaroo's thing is "good vibes." You hear it everywhere, and festival attendees do their best to embody it by giving high-fives to strangers, helping each other out back at the campgrounds, and making friends within moments of meeting.
But, even with all those good vibes and the best intentions, Bonnaroo—like all festivals—comes with inherent risks, particularly for women-identified and nonbinary individuals. These people need to ask themselves questions like, Will my camping neighbor be homophobic? Will they try to peek at me while I change? Take photos? Mess with my drinks? The fact that there are rarely definite answers to those questions has led many people to be wary of festivals and in search of safe spaces within them.
That's where SheROO comes in. For the second year, Laura Wise, founder of MOTHERSHIP Festival, has teamed up with Bonnaroo to "bring their experience as an inclusive community of women, claiming our power through workshops, art, and music to The Farm," per the original announcement. Each day, campers could fill their time leading up to artist performances in the afternoon with things like panel discussions, glitter adornment, self-defense class, meditation, and more, with dedicated time facilitated by SheROO to introduce yourself to your new neighbors for the weekend.
On the first day of Bonnaroo, as photographer Lindsey Byrnes began walking around and capturing SheROO moments, she listened in as campers shared stories of why they chose to try out camping amongst women and nonbinary attendees. She recalled two sisters, in particular, she photographed who'd chosen general camping the year prior. "There was a guy that kept watching them, particularly one of them, get dressed," Byrnes told me, noting that he'd hung out with them at the campground and exchanged numbers, only to immediately "send them both dick pics." So, of course, "when they heard there was an all-women's campground, they were like, Hell yes."
These stories weren't hard to come by; instances of feeling insecure, unsafe, and so on are the norm for women in public spaces. And it's not all intentionally predatory. One camper, Jennifer, shared with me an instance that occurred last year in general camping when a "random drunk guy didn't realize he wasn't in his own tent and tried to come in" as she slept. But, she said, "You don't have to worry about it here."
Each camper I talked to mentioned the space was also more body positive, something I'd already noticed. In the multiple times I'd wandered into SheROO from the general camping areas, it was evident that individuals were able to be much more comfortable and open, changing and applying sunscreen to bare bodies without the worry of a predatory gaze.
On the final day of the festival, I made my way around the campsite as tents were just beginning to be packed up to check in with campers on their experience; was it all they'd hoped it would be? Frequent Bonnaroo attendee Ashley stayed in SheROO for the first time this year not by choice, but because her friend done the planning for her, but she admitted she was a bit surprised by "how amazing" it had all been. "When you walk in, it feels different [than general camping]," Ashley shared. "It feels more homey. I've met some amazing girls, and they've offered me so much as well."
Despite not knowing what she was getting into (and a packed musical lineup to weigh down a schedule), Ashley tried to do as many activities offered by SheROO as possible. "Glitter, face paint, meditation, yoga, all that," she listed. Though these kinds of activities can be found similarly across festival grounds, separately and with the rest of campers, Ashley stressed, "To just do it together [with SheROO campers], it's another level." Unlike general camping, SheROO featured a larger, decorated tent at its entrance where campers could gather for these events, or simply to seek shade, fans, and maybe a quiet face mask moment.
In this uplifting space, I couldn't help but wonder what it could look like if the festival (or, any festival) were to do the same specifically for its queer attendees. It was clear the queer population was present—Bonnaroo's first-ever Pride Parade meandered through The Farm on Saturday afternoon, through the campgrounds led by House of Yes and a brass band, bulking up to be a huge crowd that would end its tour right at the Kacey Musgraves set, where the leaders would aptly hop on stage for their moment in the spotlight alongside the country queen and vocal LGBTQ ally.
For now, SheROO is meant to cater to all who don't identify as men, but perhaps with a hopeful growth of SheROO (both in size and publicity), there could be space made for more communities to find the same sort of sanctuary.
First-time Bonnaroo attendee (but festival-camping veteran) Raz and their partner Sutton (both identify as gender-fluid) chose SheROO easily, and told me, "It took the guesswork out of wondering, Am I going to be next to people that are homophobic? [I was] more comfortable from the start; it was easy to make friends with my neighbors and everything." Sutton added, "There's a natural sense of security you get. Just with the name and description," it could be interpreted as both "a queer space and a space geared toward women."
Sutton and Raz had both attended the Pride Parade and shared their reactions. "It was fun to have a lot of gay and queer people in one space," Sutton said, "and drag queens in full face and pads in this weather." True superheroes, these queens rocked it all in sweaty, sticky conditions under full sun and looked fabulous doing it for what felt like miles.
It was an emotional moment for all involved—I was not alone in tearing up at the sheer number of joyous attendees joining in. It was a visible reminder that your people were here enjoying the entire festival around you.
However, while, as a queer woman, I felt lucky to have the option of SheROO for camping, for those who don't identify as a woman, or who may have not felt comfortable enough to identify as such publicly, the safety and community would not necessarily be a given for them. Will my neighbor be homophobic? Will they be hostile? are questions that still persist.
SheROO's growth is a clear signifier of Bonnaroo's dedication to ensuring they keep extending the good vibes to all who enter The Farm, and in years to come, an ideal world would expand upon these communities to open them up to more campers, more identities, and create a safe, easily accessible multitude of options for all who seek them out—and I look forward to watching it happen.
Want more stories like this? Sign up for our newsletter.