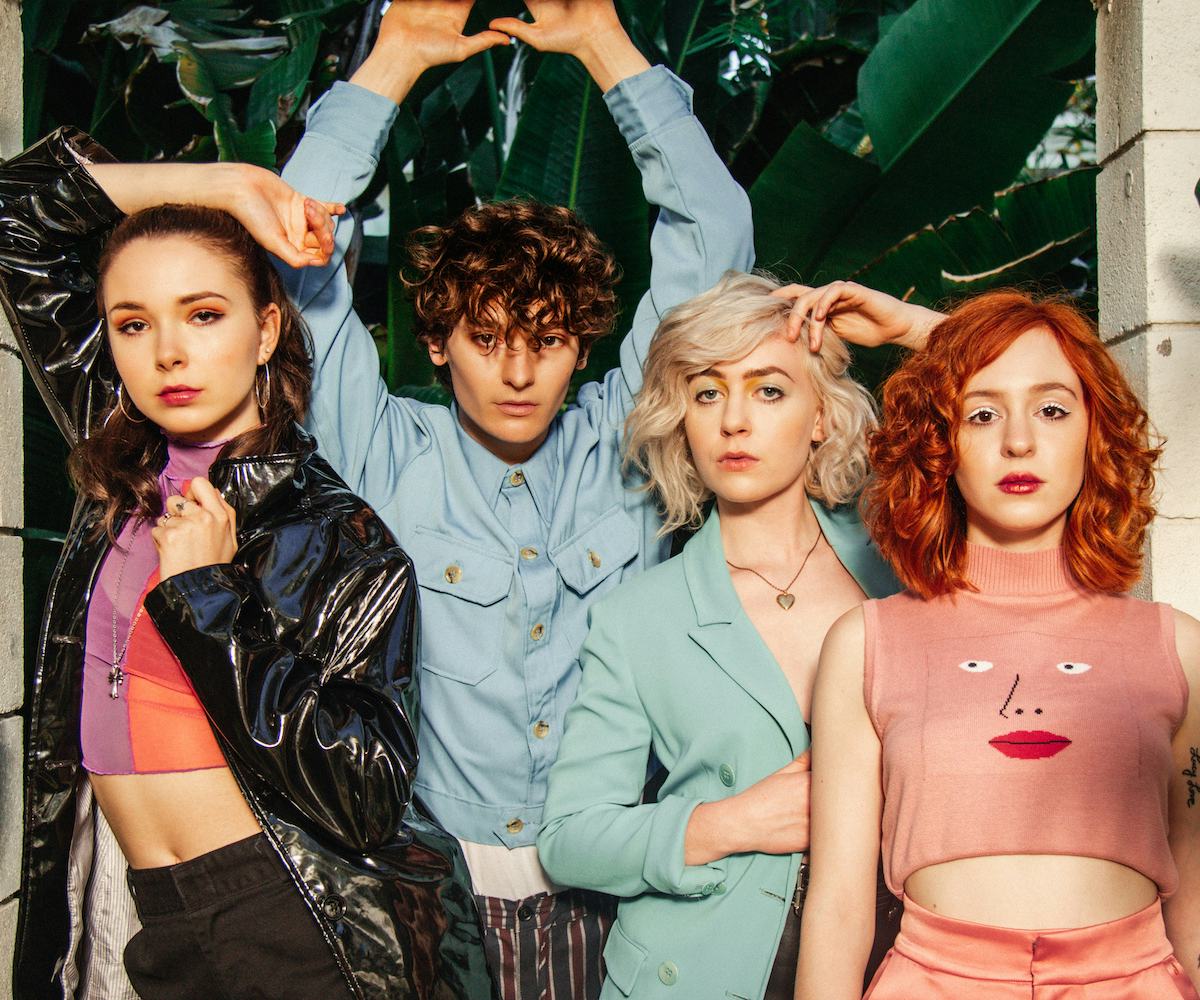 Photo by Claire Marie Vogel
The Regrettes Want To Know: 'How Do You Love?'
The Gen-Z riot-grrrls talk imposter syndrome, self-care, and more
Falling in love has been fertile songwriting ground throughout history, and The Regrettes frontwoman Lydia Night is carrying on in that tradition. But, that doesn't mean you should listen to How Do You Love? as a tabloid-ready outburst, filled with every detail from her love life. Rather, it's more conceptual than that—and broader, documenting the ins and outs of relationships both romantic and not.
"When this record was being written, I was starting to like someone who definitely was not the best for me," Night told me when I met her and the rest of the band for lunch recently. She decided to use that experience for this album: "I thought it would be really important to show the gray area in a relationship, instead of just telling a story of being happy or being sad. There's a lot of self-doubt involved and questioning happening."
But there's no questioning going on when it comes to the camaraderie of the current lineup of The Regrettes. Throughout our lunch, Night held down the majority of the conversation, but the rest of the group effortlessly finished each others' sentences, as in-sync IRL as they are in the studio. Night explained that, although different members joined the group at different times, with bassist Brooke Dickson joining when the album was almost done and drummer Drew Thomsen being there for the whole thing, "Nothing felt like we had to consciously shift the way we worked because it just worked better." Guitarist Genessa Gariano chimed in, "It just felt more comfortable when we had people who wanted to be there," and who actually wanted to tour.
It's not as though they're burning themselves out on the road, where they say they live in a manner that's actually "super healthy." They're not about the rockstar lifestyle, or at least, the one that's been popularized by film and television. That sort of lifestyle, to them "is super dead."
Night said, "We do see bands that party a lot, but we don't see them again because they're all tired." Having toured since she was just 13 years old, Night pays attention to the "very little details" that could easily affect her performance. Skipping out on caffeine and limiting dairy are as much self-care as they are career survival; partying would simply just not be worth it. "My body is my instrument, and it's even harder to manage physical, vocal, and mental health on tour," she said.
Without the rockstar lifestyle, they've managed to carve out their own electric rockstar swagger each time they hit the stage. Right after the 2016 election, I watched a younger version of The Regrettes hop onstage and give one of the most energizing performances possible in a time that felt cold and hopeless: Night walked the floor of the small club like she owned the place, dedicating their song "Seashore" to Trump, cathartically yelling out its "just go fuck yourself" hook.
For Night, cultivating a powerful stage presence is a work in progress, but it's a task she undertakes enthusiastically. "I'll write notes during shows, and I watch a lot of live performances on YouTube," Night said. "I've seen so many live No Doubt and Gwen Stefani concerts, and it's not about mimicking, that's just how you learn and grow as a performer." And if she's ever not feeling quite as ready as usual to kick ass, she says, "I'll be like, What would Beyoncé do?"
Night and Gariano—both having been in The Regrettes since the very start—still refer to confidence as a work-in-progress, whether or not we can see that through their glittery personas onstage. "There are still these little moments that creep in, and you have to think, You know what? Let's see what we've done. I am still here and there's a reason for that," Gariano said. "I am not a fluke." And with more collaboration and more time spent doing what they do, knowing and seeing their own accomplishments has become even easier.
"I felt like my voice finally came through as an adult on this album," Night said. "My literal vocal performance is the best it's ever been, and I'm really proud of it." She's not wrong. If the beauty in The Regrettes' debut album Feel Your Feelings Fool! was in the messiness, the frenetic pace and charming naivety, How Do You Love? finds its strength in the maturing done in the interim. Without losing the magnetic spark of the former, Night and co. have acutely refined their craft to ensure its longevity—there's no chance of this riot grrrl-esque group becoming a redundant thrill that fizzles out. How Do You Love? invites listeners to reintroduce themselves to an older and wiser band, and learn just how much they're capable of.
How Do You Love? is out now via Warner Records.