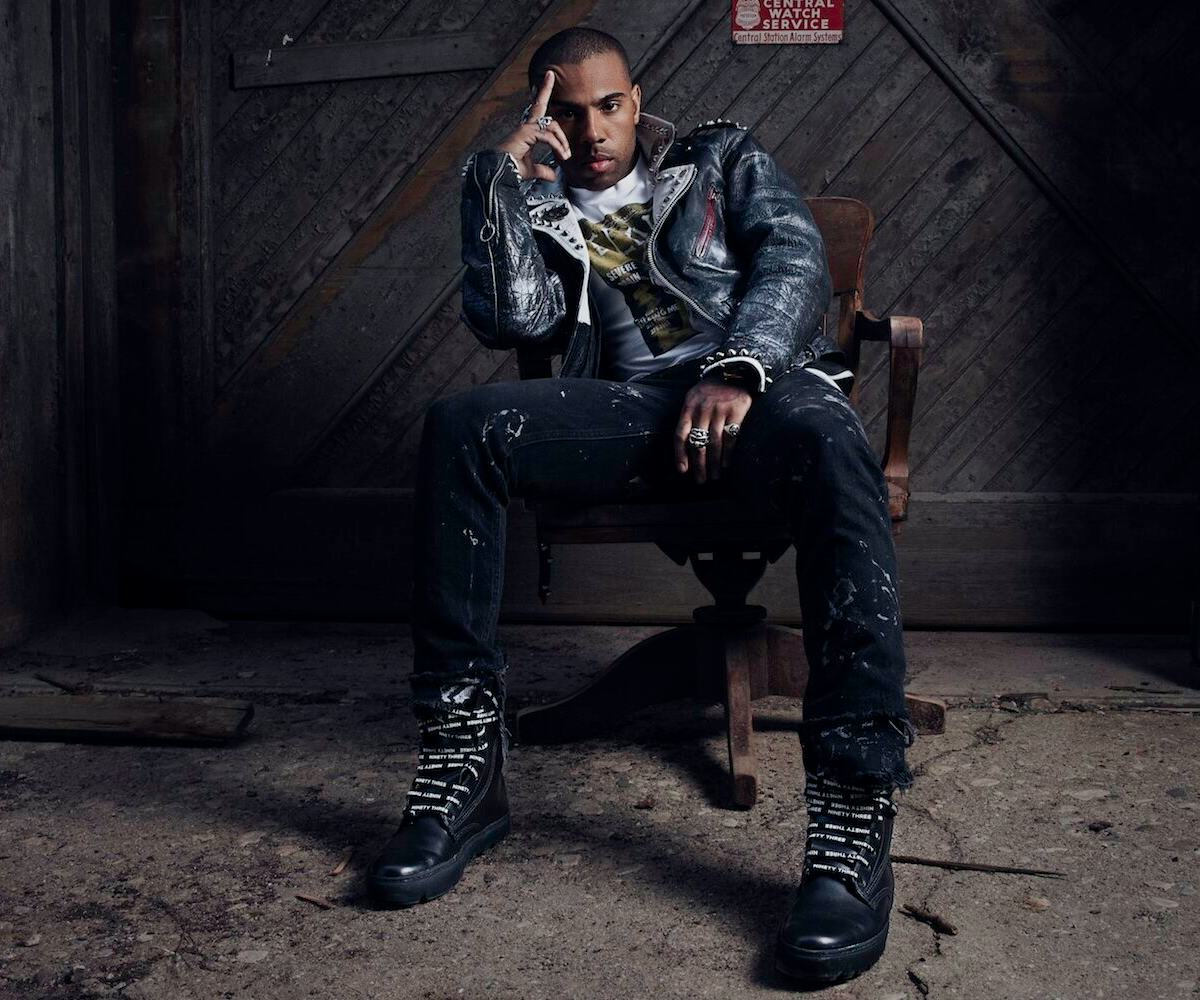 Courtesy of Wolverine
Vic Mensa Tells Us About His Shoe Collab And Forthcoming Music
We talk with the artist about skateboarding, and how he gives back
For Vic Mensa, fashion and music have always been intrinsically linked. When he was younger, skateboarding was an entry point to both of these things. "I got into hip-hop through skateboarding; I probably got into a lot of punk music through it too," he shared with me when we sat down at Wolverine's NYC office; we were there because he recently collaborated on a capsule collection of combat-inspired boots and shoes with the brand.
When he thinks of his biggest inspirations in both worlds, he mentions the same names. "My biggest style icons are musicians," he tells me, citing Prince and The Clash. The latter's influence can be seen in Mensa's shoe collab, and he tells me: "Punk is an attitude. It's a world view; a rejection of convention and limitation."
"Punk is an attitude... It's a world view; a rejection of convention and limitation."
The collaboration was a natural evolution for the musician, who tells me: "From our first conversations, I went and did some research on [Wolverine] and saw its history of creating boots for the military and having different eras and styles of work boots." Mensa says he wanted to bring a "rugged energy" to the boots, something "fearless." He explains, "I'm very into boots—it's pretty much all I wear—so it stood out to me as an area in which I could bring some ideas I've been having to life." Those ideas were fleshed out on the factory floor in Chicago; Mensa "went through a bunch of different swatches of leather, different wears and treatments" to perfect his combat boot-sneaker hybrid.
"I wanted to try to make something that you can fit into an everyday type of look. Me, I tend to wear the same outfit for a period of time," he says; he spends much of his time in the studio or on the road, too busy to shake things up each time. "I'll be wearing the same pair of shoes, or pair of jeans, for a while. And in making clothes, I often try to make things that would serve a purpose for me," he adds.
Another way this collaboration serves a purpose is philanthropically. A portion of the collection's proceeds will go to SaveMoneySaveLife, a foundation Mensa started last year alongside co-founder and executive director Laundi Keepseagle, whom he met at a #NODAPL protest. "We work primarily with the city of Chicago in the most violent areas," Mensa tells me. "One of our main programs is called StreetMedics. We train first responders in those neighborhoods—kids, principals, teachers, parents—on how to treat gunshot wounds. We're going to be training 11,000 kids this summer."
Mensa is in talks with Wolverine to continue merging fashion, function, and charity, but for now, his sight is set on his forthcoming releases with his own fashion brand 93Punks, and his forthcoming full-length album. And, just how punk is the album? Super punk, Mensa says: "Travis Barker is actually executively producing it."
Check out his collaboration with Wolverine, below.
Wolverine 1000 Mile x Vic Mensa, Combat High in Anthracite, $210, available at Wolverine.
Wolverine 1000 Mile x Vic Mensa, Combat Mid in Burnout, $200, available at Wolverine.
Wolverine 1000 Mile x Vic Mensa, Combat Low in Ink, $190, available at Wolverine.
NYLON uses affiliate links and may earn a commission if you purchase something through those links, but every product chosen is selected independently.