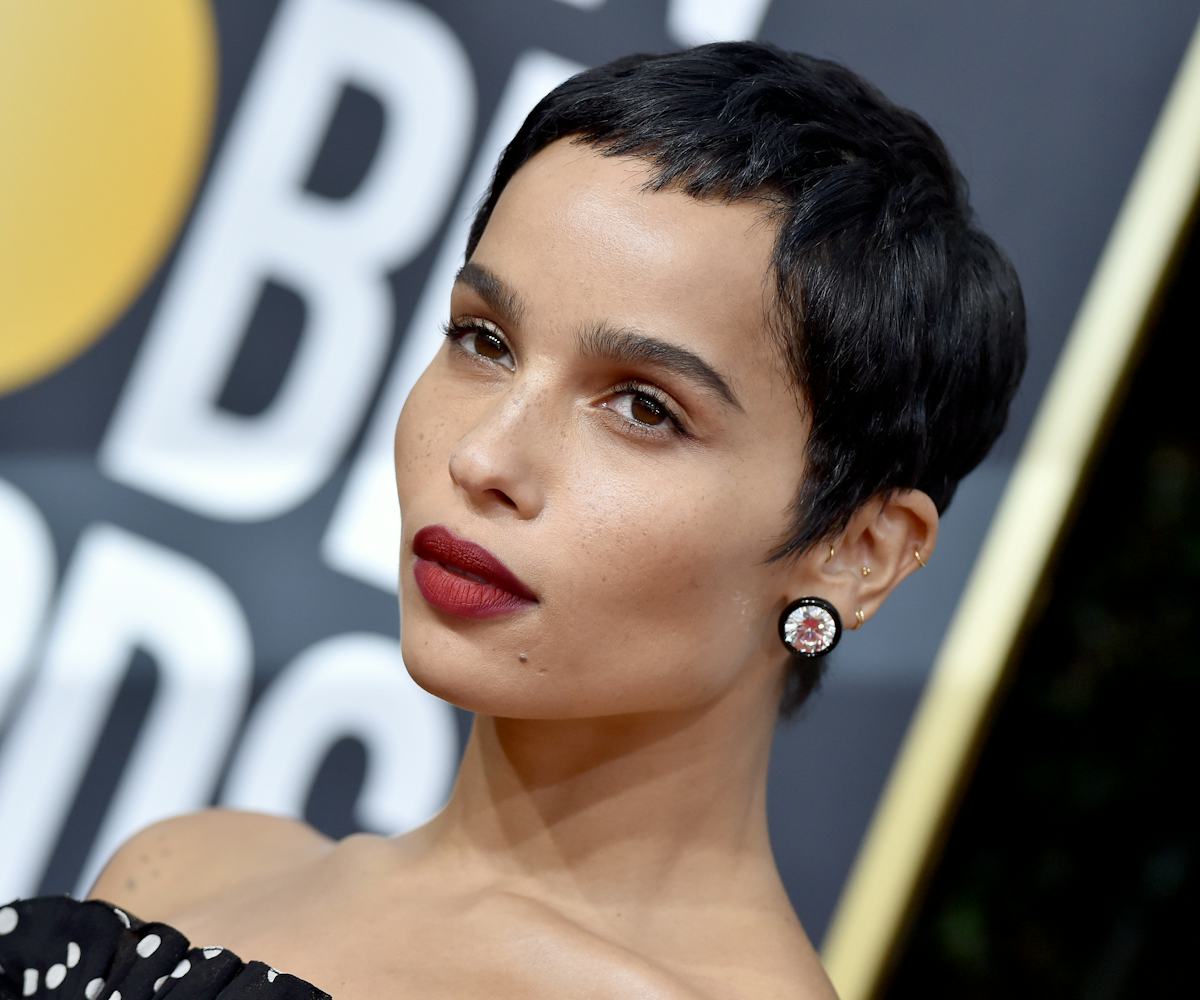 Photo via Getty
Zoë Kravitz Talks About Bulimia In New Interview
"I am very vigilant. It's a disease, and I never let myself forget that."
Most of us probably know Zoë Kravitz best as the glamorous actress behind Bonnie from Big Little Lies, Rob from Hulu's upcoming High Fidelity adaptation, and, of course, Catwoman to Robert Pattinson's Batman. She is a muse for Anthony Vaccarello at Saint Laurent (her Golden Globes ensemble is still stuck in my head) and an overall fashion icon. But in an upcoming cover story for the February edition of ELLE Magazine, Kravitz admits that, despite being the child of two A-List celebrities, things weren't always so glamorous — especially during a decade-long period of her life when she was suffering from bulimia.
"I didn't like my new school. I didn't feel like I fit in anywhere, and I was surrounded by an enormous amount of beauty and posturing," she tells the magazine about her teenage life after moving to Miami with her father, Lenny Kravitz. "I was a chunky, perfectly normal-looking 15-year-old, but I had this remarkably beautiful skinny mother and a father who was dating a supermodel, and I felt short and ungainly." Kravitz became bulimic, but was able to hide her condition from her parents for a long time, as she moved to New York shortly after developing the disorder. When they did eventually find out, she was forced to enroll in therapy. Thankfully, she's okay now, but as she says, "I am very vigilant. It's a disease, and I never let myself forget that."
The cover story, which will hit newsstands next week on January 14, also included the little-known detail that, at one point, Nicole Kidman was secretly engaged to her father. (Imagine Nicole Kidman being your stepmom?) The two, of course, eventually worked together on HBO's Big Little Lies, and Kravitz now counts not only Kidman but the entire cast as family. "Much as everyone would like us to have been bitchy and competitive, we all got along so well," she says. Kidman told the magazine that, although Kravitz acted like a "grumpy teenager" around her during the time she was seeing Lenny, she now feels "protective, like a big sister, toward her."
Kravitz also talked about her life as a newlywed; she married her husband, the Love actor Karl Glusman, last year. When asked about how it feels to be in a relationship with someone you can't see all the time, Kravitz responded, "Yes. I mean, Karl has his own career and needs to focus on that, but we've been together for a few years now, and we know where we are. If anything, the best part of being married is being able to have the odd fight and knowing neither of us is going to walk out the door. The commitment feels safe."
If you or someone you know has an eating disorder and needs help, call the National Eating Disorders Association helpline at 1-800-931-2237, text 741741, or chat online with a Helpline volunteer here.