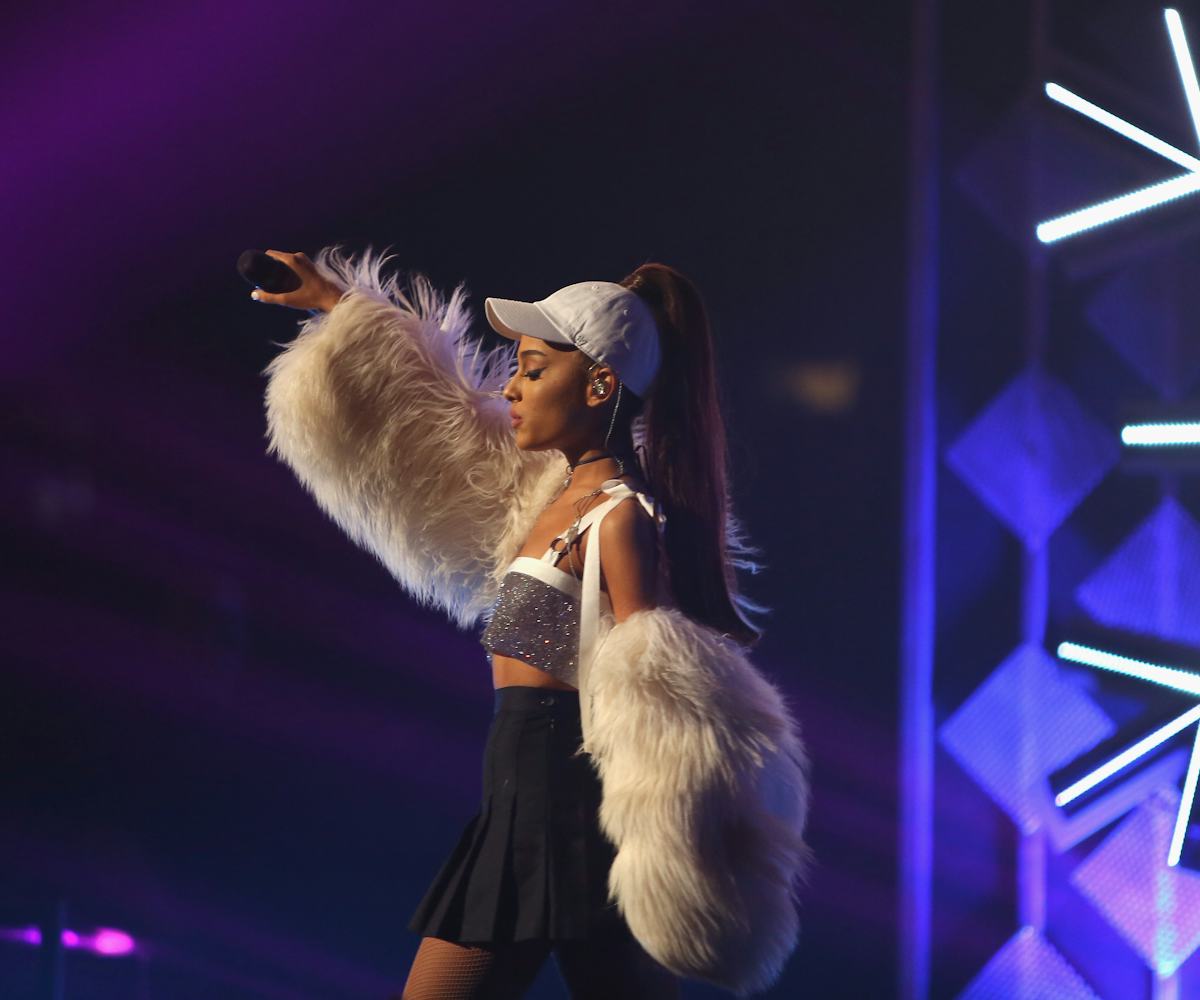 Photo by Tasos Katopodis/Getty Images
Ariana Grande's Triumphant Manchester Benefit Concert Is A Testament To Artists' Role In Social Change
"The only thing we can do now is choose how we let this affect us and how we live our lives from here on out"
Last week, a bomb went off at an Ariana Grande concert in Manchester, England. Leaving 22 dead and more than 50 others injured, the attack has since been proclaimed an act of terrorism. Now, families and victims alike must begin the long process of healing. Grande herself is stepping up to the plate to help in any way she can. With a heartfelt post on Twitter, Ariana has extended her hand to those affected by the horrific incident:
"My heart, prayers and deepest condolences are with the victims of the Manchester Attack and their loved ones," Grande began her letter. "There is nothing I or anyone can do to take away the pain you are feeling or to make this better. However, I extend my hand and heart and everything I possibly can give to you and yours, should you want or need my help in any way."
"I'll be returning to the great city of Manchester to spend time with my fans and to have a benefit concert in honor of and to raise money for the victims and their families," Grande wrote. "I want to thank my fellow musicians and friends for reaching out to be a part of our expression of love for Manchester. I will have details to share with you as soon as everything is confirmed."
"The only thing we can do now is choose how we let this affect us and how we live our lives from here on out," she continued. "I have been thinking of my fans, and of you all, non stop over the past week. The way you have handled all of this has been more inspiring and made me more proud than you'll ever know."
Grande's letter and her decision to hold a benefit concert in the very city that just suffered such a devastating attack shows that she's got both a lot of heart and a lot of courage. It also demonstrates something else. Grande's move shows a paradigm shift in the role of the mainstream artist. Now, pop stars, actors, musicians, visual artists, and other assorted creatives are agents of social change along with their duties as entertainers.
Although being a celebrity and being an activist haven't been mutually exclusive categories since at least the '70s, more recent backlash against social progress has forced a new generation of stars to take a stand. We've seen the shift happening over time, from the Spice Girls' loud support of girl power all the way up to Miley Cyrus' creation of a new LGBTQ homelessness charity—the Happy Hippie Foundation—and Lady Gaga's Born This Way foundation. Singers who have previously been rather apolitical are changing their tunes too: Both Katy Perry and Lana Del Rey have indicated that their latest works reflect our increasingly inhospitable political climate.
And it's not just pop stars either: Actors and actresses have been opening up about the increasing importance of being on the right side of history, from Meryl Streep's divisive Oscars speech to Leonardo Dicaprio's environmentalist advocacy. Tom Hardy (a Manchester native), another example of this phenomenon, is also launching a crowdfunding campaign to help victims of this recent attack.
Debates on the ethics about the role of politics in art seem to be moving to the wayside as social tensions throughout the world reach what at least feels like a total zenith. The question of whether art should be political at all now seems rather gauche—how could art not be political?
Either way, Grande has temporarily postponed her tour in the wake of the attacks. TMZ reports that sources indicate Ariana is planning on headlining her benefit show, alongside friends and other huge names in the entertainment industry, a week from this Sunday. All proceeds will be donated to the victims and their families.