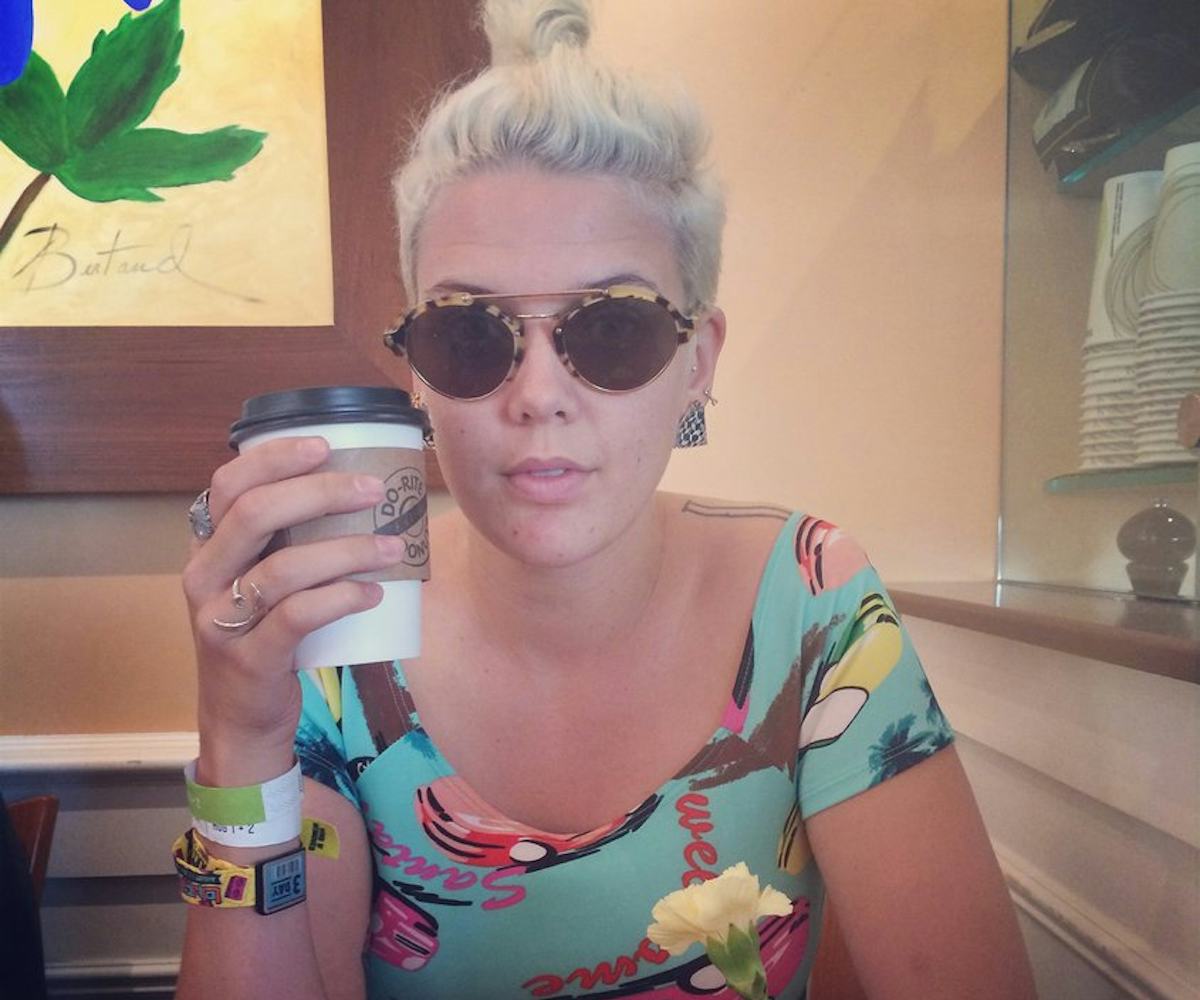 breakfast with betty who
see what we found out over coffee with the synthpop princess!
If you ever get the chance to get breakfast with Betty Who, take it.
When I go to meet Betty Who for breakfast, before she starts her day of Lollapalooza soundchecks and interviews, I have to wake up almost before the sun does. And, yes, I complain about it. So when Who arrives with her tour team--who happen to be some of her best friends--I'm surprised to find them all so bright-eyed.
Who's manager greets me and suggests that we take a taxi, since they've got a packed schedule and don't have a lot of time. But Who wants to walk. And after the travel experience I've just had (being trapped on a runway for two hours from NYC to Chicago), fresh air sounds like a good idea.
We arrive at Meli Cafe and Juice bar, a few blocks from where we met, and sit down to find an entire list of vegan options on the menu, which Who is pumped about. "Everything looks so good," she says. The waitress comes over and Who orders an iced coffee with soy milk; her best friends and I get some freshly pressed juices. While we wait for our food to arrive (Who, a veggie scrambler, and me, the farmland breakfast bowl), I ask the musician some of her favorite places to get breakfast in NYC. "Cafe Cluny in the West Village has the best sandwiches. They're just so good, I think they have a secret sauce. My alternate is Tartine; they have the best omelets."
But for the next few months, Who won't get to stay in the West Village for too long with her own tour coming up this fall and another with Katy Perry right after. With the intense travel I've just experienced, I can't imagine what touring that long is actually like. "You know, I think eventually you just reach a point where you're totally exhausted and you're just running on adrenaline, but you see the fans at your shows and this energy just kicks in," the Australian singer says. "This happened to me recently, where this fan gave me a 'Don't Worry Beyonce' shirt and it ended up being one of my favorite shows ever."
This idea of running on energy comes from passion--one Betty Who didn't have for playing the cello (her first music-making endeavor) but one she does have for making addicting pop jams. "I just feel like, if you're not pushing yourself to be the best, then what's the point?"
Our food arrives and we start talking about all the places around the world that Who is looking forward to traveling to. According to her, all of the places where she will perform for her fans on absolutely no sleep will be totally worth it: The House of Blues, Irving Plaza, Neptune, The Fillmore... She mentions how she's playing a huge arena in Sydney, where she grew up seeing Kylie Minogue and 'N Sync. "I met Lance Bass once, and I was like, 'I know all of the words to No Strings Attached so if you ever need help, please let me know.'"
But even though Who can sing all the lyrics to songs by her favorite childhood bands, she's also obviously got a voice that's all her own. "I always wanted to have a voice that stood for something and this feeling of acceptance is just ingrained in me," she says about having played at pride fests and LGBTQ events across the country. And while these fans have helped push Who into her own unexpected niche of success, she knows all of the words to "Slim Shady" and watches Orphan Black like the rest of us.
But the difference with Betty Who is that she's actually making a difference. And she's doing it in such a big way. Her fanbase has grown immensely in the past few years--a sure sign that this voice for everyone living in a "heartbreak dream" has someone who will stand up for them, through synthpop beats and lyrics that will stick with them for years to come.
If you ask me, Betty Who brings a breath of fresh air to the pop world, one that gives you the same feeling of walking to breakfast on a warm summer day after being stuck on a plane for far too long.
Our breakfast did not photograph well, but these juices and iced coffee look pretty!
One of Betty Who's tattoos, this one means "What Would Beyonce Do?" Even though her tattoos add to her summer style, Who says that her go-to look, especially while touring, includes cut-off denim shorts, a vintage Metallica tee, and a flannel wrapped around her waist.