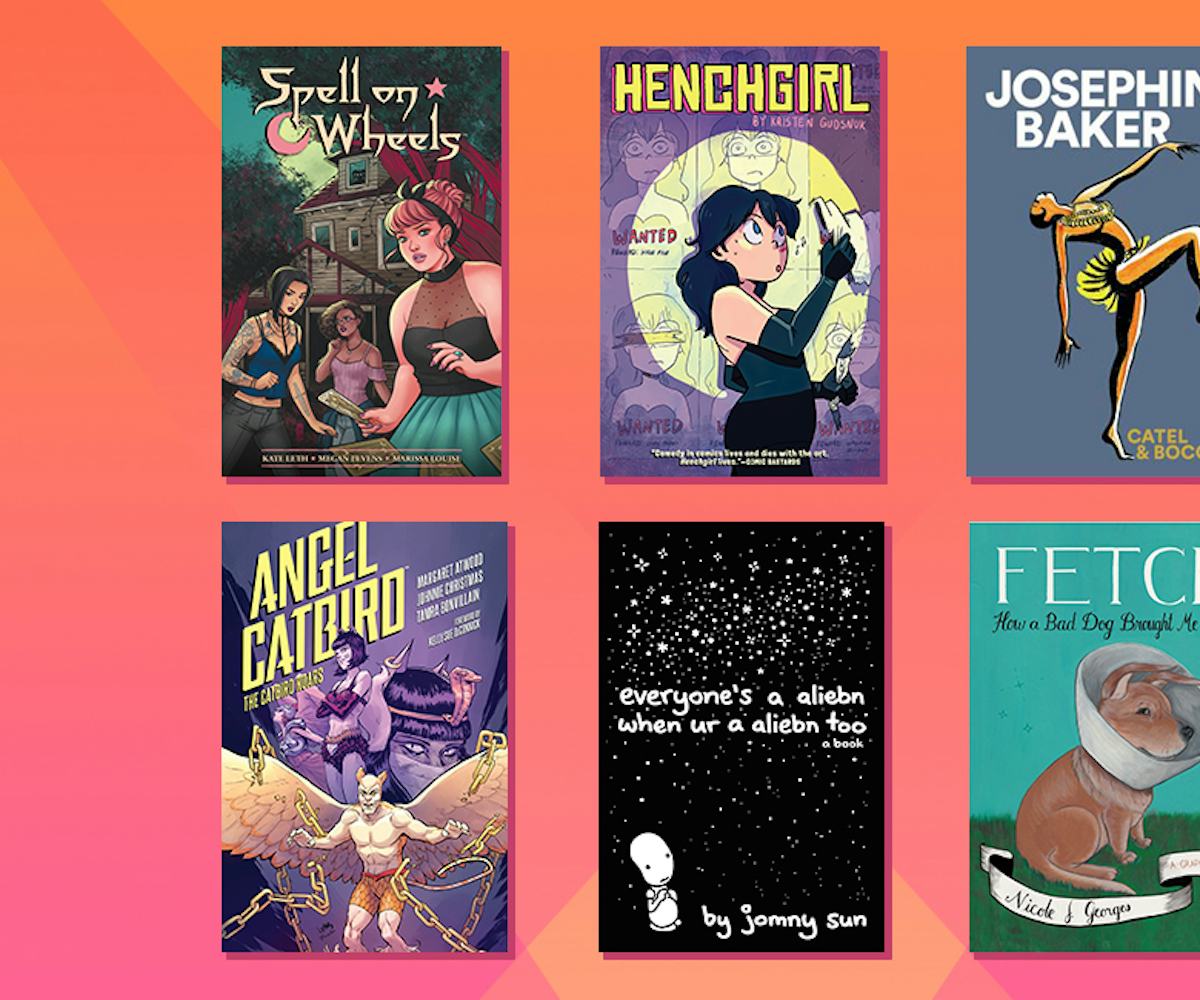 Graphic Content: The 6 Illustrated Books To Read Right Now
The latest Graphic Content roundup is full of action and adventure; some books are historically accurate, while others are totally fictional. There's an intimate memoir, like Fetch, which revolves around a woman and her "bad" dog and the surprise lessons that raising this challenging being offer about the woman's own life, and then there are larger-than-life historical narratives, like the artful tome that is Josephine Baker, which is not only a celebration of the star's life, but also an illustrated history of America, Paris, and the people and places Baker knew throughout the early part of 20th century.
Every book featured here feels empowering and fresh and has characters who are okay with being uncomfortable in order to better discover their truths; the people who live within these pages learn to celebrate the things that make them unique, and then realize that these differences are exactly what makes them powerful. 
And the variety of art styles available within these choices is pretty incredible, too! With nods to everything from the Golden Age of comic books to photo realistic illustration, each selection is distinct and remarkable. I was so impressed with every team involved with these stories, and hope you enjoy reading them as much as I did.
Spell on Wheels (Dark Horse); story by Kate Leth, art by Megan Levens, colors by Marissa Louise, cover by Jen Bartel
I started this series because I was so excited to see how my beloved comic industry continues to expand the range of showcased narratives and is creating characters that reflect an abundance of audiences. Spell on Wheels is exactly the story I was looking for, starting with the cover art, which features the three witches you'll soon meet within the pages: Jolene Nguyen, Claire Bettany, and Andy Highsmith. Jolene is Asian-American and heavily tattooed (and queer!), Andy is bi-racial/black-appearing with curly hair and glasses, and Claire is full-figured. Each woman is incredible and clearly portrayed—on the cover and on every page that follows—as being different but equally strong as shit. 
Legacy witches that went to the same college, Jolene and Claire, live together with Andy, who is also a legacy witch but whose powers are still developing. The troubles start when someone breaks into their home and steals a series of powerful talismans and magical objects. The items then start to appear on the magical black market, and the three witches set out on a road trip to collect what's theirs and find the person responsible, all before the new moon. The story that follows feels almost like a Joss Whedon show in the best possible way, with instances of misogyny, homophobia, and some outdated beliefs rearing their ugly heads only to be snuffed out by our gals, who often use their magic to defeat problems, even though it's their wits that are the true superpowers here. 
This volume contains issues one to five and is the perfect intro to what is shaping up to be a really awesome series.
everyone's a aliebn when ur a aliebn too-a book (Harper Collins); written and illustrated by Jomny Sun
Remember that feeling you had after you read The Little Prince for the first time, and found yourself wiping away tears generally saved for heartbreak, but you were kind of okay with feeling all the feels because the book was just so beautiful? If you're like me and are still recovering from this childhood trauma, get ready for the more nuanced adult version. 
This graphic novel, drawn and written by Jomny Sun, better known as @jonnysun on Twitter, tells the story of jomny, an alien sent to Earth on a reconnaissance mission to learn about "the earbth creatures… humabns." This trip turns into an achingly magical journey of self-discovery. On jomny's venture across the planet, he stumbles upon many "humabns," who turn out to be allegorical animals offering lessons to jomny, and the reader.  
I opened this book to read a few pages aloud as a joke with my partner in bed one morning, but this story was so quickly captivating we ended up completing the whole book. As jomny works through clearly universal issues, like the fear of the unknown, the desire for friendship, the trauma of always feeling apart from others, and the eventual acceptance that it's okay to feel peculiar… so did we. 
Henchgirl (Dark Horse); written and illustrated by Kristen Gudsnuk
This series started as a web comic and was eventually published in single issues by Scout Comics; this trade paperback, published by Dark Horse, is the first collection of issues one to 11 and a truly enjoyable adventure, rife with comedy, tragedy, and some good ol' lessons about life.
It's a tale as old as time: An older sibling rebels against her family because her younger sibling is the golden child. The trouble is, when you're Mary Posa and your family members are the most beloved superheroes in the world, the only way to rebel is to become a supervillain. Which totally sucks when you have a conscience… and goals and dreams of your own. 
MP is everyone who has ever worked a dead-end job, made up of long hours, low pay, and zero appreciation; she's a truly relatable anti-hero, trying to find her place in a world that continuously thwarts all of her best-laid plans. The action sequences are well-drawn and exciting, and the illustration style and color choices are a perfect combination of bubblegum anime-meets-Sunday morning funnies. 
My favorite part is the way relationships are addressed. There's only a whisper of a romance (refreshing!) between MP and another character; the concentration is almost completely on the nuances that exist in the myriad of connections we make with others. Friendships, "co-workers" (aka the other villains in the Butterfly Gang with MP), family, they're all here, and they're all complicated, but also their existence is integral in keeping our protagonist going. Her admittedly small support system is enviable, and a testament to the power of having a few good pals and a whole lot of acceptance. Mary makes mistakes, but her squad loves her through them and gives her what she needs—which is sometimes a stern talking to—to survive. 
Henchgirl even got me excited to ride the NYC subway again, which is saying a LOT, and I was truly bummed when I turned the final page and had to return to the sweaty cave of evening commuters all around me without having MP to keep me company.
Fetch: How a Bad Dog Brought Me Home (Mariner Books); written and illustrated by Nicole J. Georges
This graphic memoir had me from the first panel, which depicts Georges throwing a party for her dog's birthday—totally something I've done before. It's quickly disclosed that the canine central to the story, Beija, is special and requires a type of love and understanding as any human might also expect. As a result, Beija is usually misunderstood, mistreated, and written off as simply being "bad."
Fetch is a story about learning how to love. We meet Georges at varying stages of her life, starting when she's a teenager who rescues Beija from the pound with the intention of surprising her first boyfriend with the pup. Beija's special needs make themselves clear quickly, though, and Georges takes every step to try and "fix" Beija until she finally accepts her dog for the complicated being that she is. This acceptance results in a "Beija Manifesto," a page that's dog-eared in my copy because it beautifully outlines rules of consent that should be read by everyone and applied to all animals AND humans, in my opinion. 
Meanwhile, around the book's central narrative, is the parallel story of Georges herself growing up, coming out, discovering her talents and callings, and learning to love herself. That this all happens with Portland, Oregon, in all of its '90s DIY, indie/punk rock glory, as a backdrop is just that much more fun, making the book both a time capsule and, thanks to Georges' beautifully detailed illustrations, a work of art. 
And if you've ever self-published a zine, started a band with your friends, created a mixtape, or all of the above, prepare yourself for all the nostalgia feels while reading this wonderful book.
Angel Catbird Volume 3: The Catbird Roars (Dark Horse); story by Margaret Atwood, illustrations by Johnnie Christmas, colors by Tamra Bonvillian
This is the final chapter of Margaret Atwood's action-packed adventure, starring Angel Catbird aka Strig Feleedus, Cate Leon, Count Catula, Atheen-Owl, and the rest of the vibrant cast of characters that have gotten them this far. I had the opportunity recently to speak with Atwood about this book and the series overall, and how it pays homage to the Golden Age of comic books, including in this latest volume, the conclusion to the saga, which is nothing short of satisfying.
In it, we find Strig trapped in the lair of the evil Dr. Muroid, leader of a half-rat army, who is planning world domination. It's up to Strig's friends on the outside to come together despite their differences and save him. It was not lost on me that this rescue mission was led by the female characters, who manage to encourage their respective teams to set "the rules" aside, think of the greater good, and come together to try and achieve a victory for all. 
Josephine Baker (Self Made Hero); written by José-Luis Bouquet, and illustrated by Catel Muller 
Josephine Baker is someone who has always been a part of my life, thanks to the profound cultural impact she made, and how that impressed me from a very young age and up until today. While I was taught and recognized that Baker was always much more than her banana skirt and encouraged to imagine what a struggle her life must have been as she fought against systemic racism and sexism, I never imagined I'd see her story as elegantly illustrated as it is in this graphic novel. To call it a historical masterpiece is an understatement. It is also in an incredibly captivating story, due to impeccable writing and pacing, and serves as a window into a past that is uncannily like our present, for better and worse; the book is as empowering to read as it is insightful, which it to say: very.
Josephine's life springs from the pages, and it is easy to immerse oneself in her journey from rambunctious and jubilant child to commanding performer, woman, mother, and champion of civil rights. As I read, I found myself cheering her on with each triumph over the many challenges she faced—and I do mean many. Because this is an accurate depiction of the time period in which it takes place. It can be challenging to read, but it also provided me with a deeper respect and understanding of what an icon, historical figure, and downright queen Ms. Baker truly was.