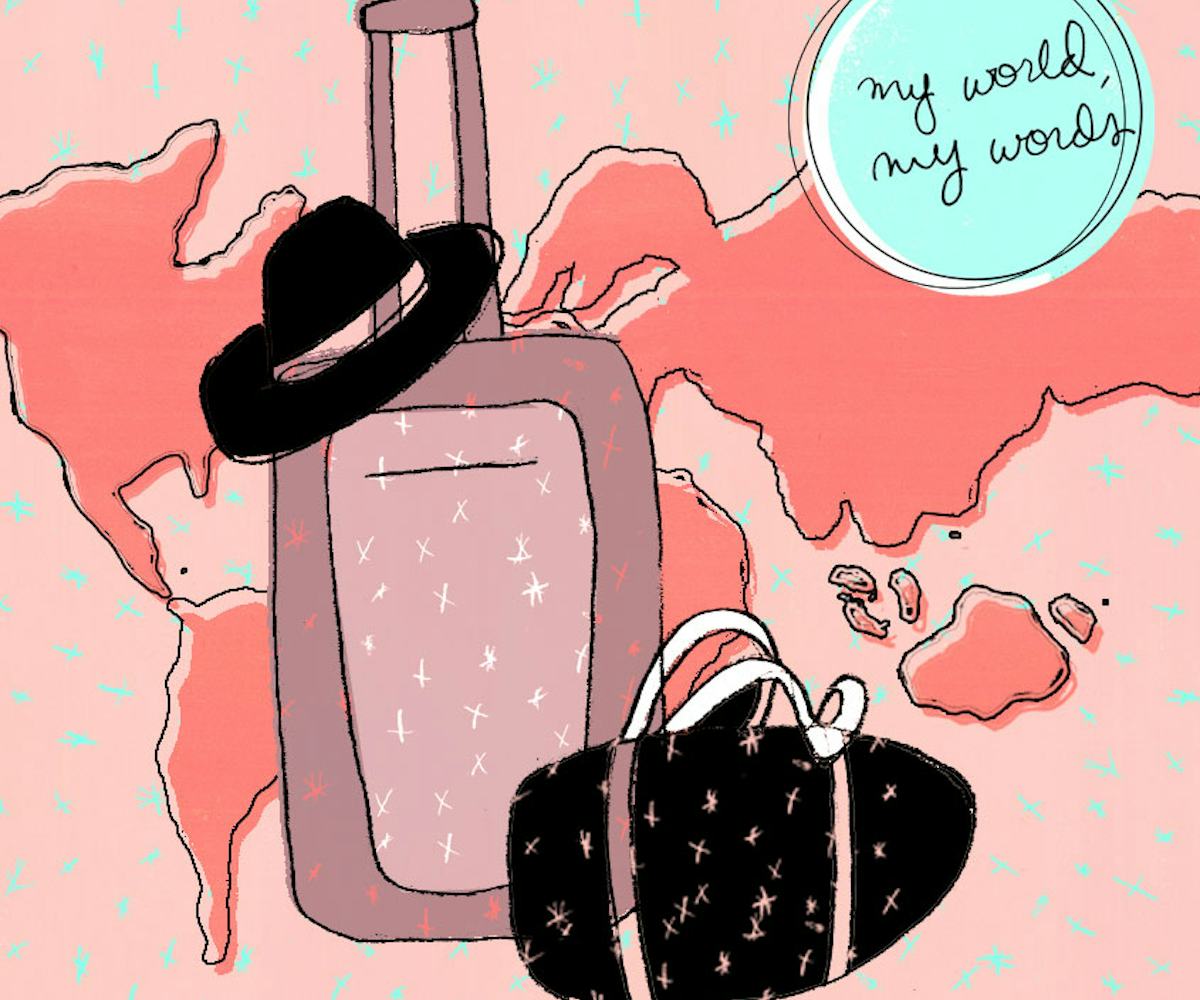 illustration by liz riccardi
i left nyc to travel the world alone
My World, My Words is a series of first-person essays featuring totally unique, inspiring personal experiences unlike anything you've heard before. The most interesting stories are also often the most overlooked, so we're on a mission to find them and share them with you. Written by people from all walks of life, these essays will move you in ways you might not expect—and that's the point.
Two years ago my life was chugging steadily along in the way I had always thought it was supposed to when I was struck by the sudden realization that everything was all wrong. I had an okay job, was in a serious relationship, and lived in a nice apartment with three roommates I didn't totally hate. But one day I woke up and something had shifted and I didn't want any of the things I had. That's simplistic, obviously, but it's also honest. I don't know why the yearning to leave took root, but once it wormed its way into my head I couldn't let it go. 
I felt selfish and ungrateful, but I also felt resolute. So after a few months of crying and quitting and crying and breaking up and crying some more, I left everything behind in favor of an adventure. I didn't think I was looking for anything in particular; I figured I'd make it all up as I went along.
When you don't make a solid plan, it's easy to focus on hypothetical fears. I find this to be true whether I'm planning an afternoon date or a weeklong road trip or the next decade of my life. I purposefully didn't want to plan for my spontaneous journey, but that did allow for some fears to wiggle their way into my brain as I was getting ready to leave. The most pervasive one was about loneliness. I was part of such a strong community in the life I was leaving behind–how would I find something similar on the metaphorical road? What would it be like to be entirely alone?
As it turns out, that's a question I can't answer. A lot has happened in fourteen months of movement, but the most important thing is that I've found the thing I did not know I was looking for, the thing that makes it easy to keep going every day: I've found a seemingly endless community of women who are all traversing paths entirely of their own creation. We are all over the world, and the strength of our support for one another as a group and as independent travelers is powerful.
*
I recently took a solo day trip, spending six hours in a car by myself, singing loudly into the silence as the radio wouldn't pick up a signal for most of the trip and I didn't want to use up the battery on my phone by playing music. I chose songs I know by heart, making my way through most of Taylor Swift's 1989 then moving on to Ani DiFranco's entire opus, giggling to myself as I made up the words I couldn't remember and screeched through the high notes I couldn't hit, pausing only to fumble with my water bottle or look down at my handwritten directions to make sure I didn't miss the turnoff. I was the only car on the road, Route 138 in Oregon, for most of the trip. This time of year the scenic byway is lined with tall green trees and intimidating snow-capped mountains. A couple of hours in I saw Diamond Lake on my left, a sparkling jewel below the concrete road. I followed the signs to a viewpoint, got out my car, stood on a picnic table, and stared at it for awhile. 
I let my thoughts wander, but my mind kept coming back to a singular phrase, thumping in my chest like my very own heart: This is your life. This is your life. This is your life. I nodded to myself, affirming the statement. "Yes, this is my life," I said to no one. Then I got back in the car and drove a little further, all the way to Umpqua Hot Springs, my destination for the day. The whole drive, I felt like I was getting away with something, like what could I have possibly done to deserve this adventure, this gift from the universe, this magic? How did things work out so that these sprawling days filled with wonder are, indeed, my life?
*
I remember waking up on a thin mattress on Ronen's cold tile living room floor one Tuesday morning last January and taking a minute to register exactly where I was: Israel. Mitzpe Ramon. The desert. Ronen's apartment. It had been less than a month since I'd left Boston and it was still surprising to wake up in a new location almost every morning, my embarrassingly large backpack at my feet and my headlamp inches away from my face, as if having access to a physical light at a moment's notice might help if I woke up feeling lost or scared. I never used the light–I don't tend to wake up in the middle of the night, and on occasion when I did I found my eyes quickly adjusted to the dark–but I liked having it close to me. It's funny how we rely so much on objects when we really only need ourselves. It's funny how hard it is to give up those objects even when we learn that lesson. I suppose it's one we need to keep learning, keep reminding each other, keep teaching ourselves. 
On that particular Tuesday, as I felt the cold seep through the mattress and my blanket into my pores, I reminded myself what my Tuesday mornings used to look like: racing to catch the subway, settling into my office, logging onto my computer, preparing for another day in my routine. I had no idea what this day would bring, only that my new friends Ronen and Raye and I were going on a hike. I let myself relish in the delicious unknown.
On the opposite side of the room, Raye was burrowed deep in her sleeping bag; from my angle on the floor I could peer between the legs of the small coffee table and see her face, half obscured by her dark hair. It was very early but the sun was already coming through the window, bathing the whole room in a buttery yellow glow, and when Raye felt me staring at her and opened her eyes, they gleamed bright blue like the ocean. She was awake instantly, smiling wide and filling the room with infectious laughter. 
Raye was the first traveling girl I fell in love with, the first one who struck me with her confidence, her self-assured stance, her wholehearted belief in herself, and also in me. She had been flying solo for so long, since she was 16, and simply being with her made me feel like I could do it too. I have felt this rush many times since then, when I met Hannah, Talia, Ruth, Charlotte, Jackie, Sigrid, Carrot, Chance, Jess, Katrina…the list goes on. The list is infinite. There's something magnetic about the fearless, badass women exploring our world, some charisma that draws me in. The feeling is not unlike a crush. I am just so in love with every single wild adventurous woman. I love them not just because they are rad and brave and fun and good company, though they are certainly all of those things, but most of all I love them because they inspire me. This is my life, they all seem to be saying steadfastly, their hearts thumping along in rhythm with my own.
*
I left Boston at the end of December 2013 with a plane ticket, my aforementioned large backpack, and a few vague ideas about my hopes and dreams for the future squished between too many pairs of socks and leggings. I wanted to see new places, meet different people, spend more time outdoors, learn skills that required my hands and my heart. Mostly I just wanted a change. My friends told me I was brave and inspiring; scared and uncertain seemed more accurate. What if I'm stupid, what if this is all a mistake, I scrawled in my journal on the plane ride to Israel, where I would spend the next three months. It was not a mistake. I don't regret a single day of this unknowable adventure. 
Dozens of women have approached me over the past fourteen months, wanting to bounce their ideas about solo travel around. I love talking about adventures, love hearing what these women want to see and do, how they want to live. I always tell them yes. Six months in Asia? Yes. A weekend road trip to California? Yes. Two weeks to visit your grandma in Ireland? Yes. Everyone's circumstances are different and it's a privilege to be able to travel at all, but when someone has worked out the practical aspects of going on an adventure and just needs the final mental push to take the leap, I want to always be the woman telling other women, yes, yes, yes. I am braver because of all the women who have said yes to me, who have taught me to say yes to myself. I want to share this secret with as many women as possible, because I don't know why it's a secret. There are so many reasons not to say yes to the adventure, and yet. You should. I want you to. If it's at all possible, do. This is your life. And we all deserve this magic.
For more My World, My Words, check out:
What It's Like To Be Genderqueer At An All-Women's Naked Spa