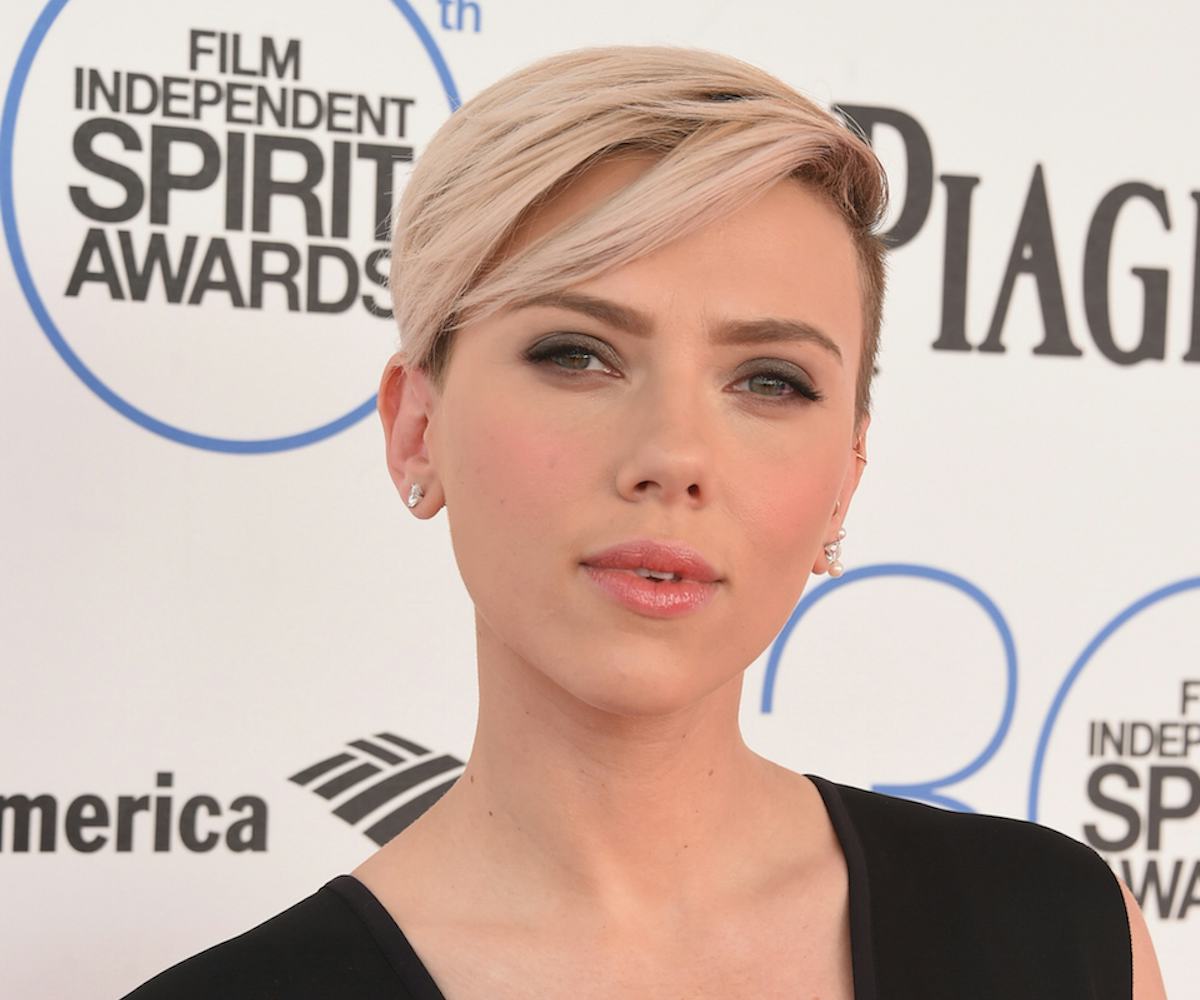 Photo Jason Merritt/Getty Images
See Scarlett Johansson Go Cyberpunk Goth For 'Ghost In The Shell'
The first photo for the upcoming Western adaptation of the popular manga and anime hit Ghost in the Shell is out and, yep, it's all Scarlett Johansson. Starring as a cyborg police captain, Johansson has adopted a gothy black bob cut with colorful streaks that echoes the look of Ghost's Japanese hero, Motoko Kusanagi. Granted, Kusanagi's tint was a pretty lavender, but this is nice, too.
Simply, Ghost in the Shell traces the adventures of Kusanagi through Tokyo in 2029, as she and her cyber-enhanced SWAT team chase around the Puppeteer, a shadowy villain who has been hacking into people's minds thanks to the technology of the day. Kusanagi, herself part robot, begins to suspect that the Puppeteer is in her mind and away we go. Sounds like fun, right? As someone who watched the animated movie and series, based on the original comics, I can tell you that it is and that Kusanagi is exactly the kind of driven, butt-kicking woman we've been seeing more and more of in blockbuster films.
While just about every comics/sci-fi fan is anticipating Ghost in the Shell, many have concerns about "whitewashing." The director is white and English (Rupert Graves of Snow White and the Huntsman), the screenwriters are white and American, and the leads are Johansson, Michael Pitt, and Lucy's Pilou Asbæk. Sure, there's a number of Japanese actors attached and we don't exactly know that Ghost is set in futuristic Japan or if her character's name will be "Kusanagi"… but still…
We'll all get a chance to see how it works out when Ghost in the Shell hits theaters April 17, 2017.
Image Via Paramount Pictures