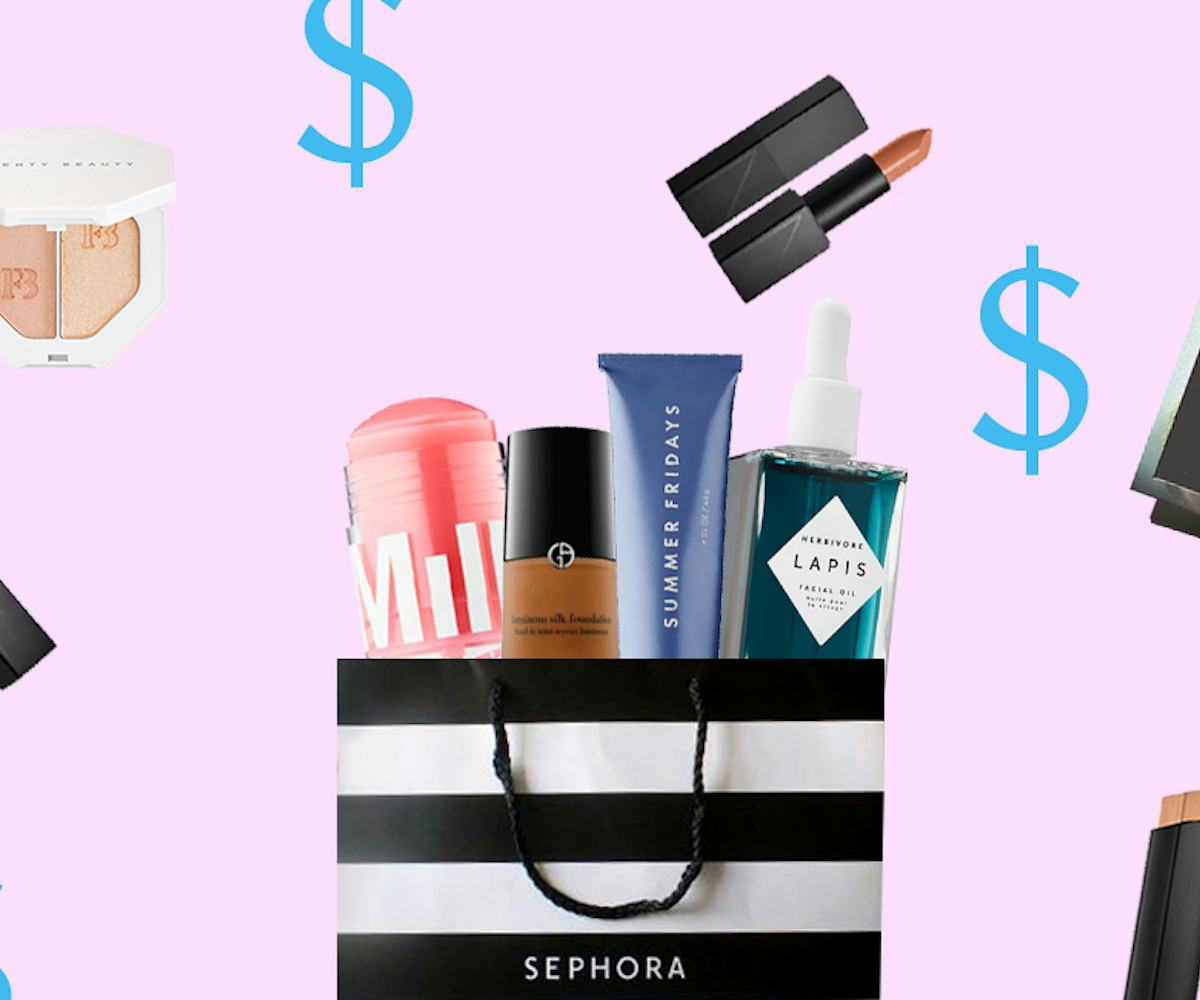 The 20 Things You Should Buy at the Sephora VIB Sale
Maybe you are the kind of person who marks your calendar for the big Sephora sale, or maybe you're not. But if you have any interest in exploring some new beauty products, now is the time to do it, with Sephora offering between 10 to 15 percent off for customers (for regular Insiders, it's 10 percent; for VIB and VIB Rouge, it's 15 percent) this weekend, April 20 to 23rd.
I'll be honest, last week, I didn't even know there was a Sephora sale, but then, over the weekend, thanks to an avalanche of YouTube videos by beauty bloggers raving about the Sephora sale, and providing detailed lists of what to buy, all backed up by scholarly research, and generating heated arguments in the comments section, I started paying attention. These people were so hyped about getting 15 percent off some beauty products, it was like they were anticipating some sort of second coming. After viewing about 20 videos, I, too, became convinced that this 15 percent off was a divine miracle, and there must be a mathematical formula to make the perfect purchase. 
But because I didn't know for sure what to get on my own, I enlisted the Nylon staff to round up their picks, which are all in the slideshow below. 
Me? I'm still sculpting my final cart, but I'm confident that all of these items will be in it. 
For how gentle this mask is, you won't believe how well it hydrates! You only need to use a small amount at a time, so this will last forever even if you use it every day.
Summer Fridays, Jet Lag Mask, $48, available at Sephora
One of our favorite vegan brands is now Stateside at Sephora! This heavy-duty moisturizer has helped cure our dry winter skin. Use as a daily night cream or as a mask for an extra boost of moisture.
Edible Beauty, Coco Bliss Intensive Repair, $44, available at Sephora.
Keep this on your nightstand, and apply before you go to bed. You will wake up with the most gorgeous lips, ready for anything. It comes in clear or lightly tinted shades.
Bite Beauty, Agave Lip Mask, $26, available at Sephora.
Milk Makeup's new serum stick is just what we need to get glowy skin on the go.
Milk Makeup, Watermelon Brightening Serum, $36, available at Sephora.
This facial oil from Herbivore is magic, especially for those with breakout-prone skin. But at $72, it ain't cheap. On sale, though, we wouldn't have to think twice.
Herbivore, Lapis Oil Balancing Facial Oil, $72, available at Sephora.
One of the newest launches from our favorite skin-care brand, this vitamin C-packed serum works to brighten skin and even its tone. It's currently available only on Sephora, which means you should get on it before it inevitably sells out.
Peter Thomas Roth, Potent-C Power Serum, $95, available at Sephora.
Don't @ me, but this is the best deep conditioning mask on the market. It's so good, I've been considering investing in the jumbo size so that I'm never without it (until, that is, I run out). Having it be on sale might just be the push I need to take the plunge.
Briogeo, Deep Conditioner, $115, available at Sephora.
Sure, you could just use the heat from your shower to open up your pores, but this is so much more fun (and legit!). It's great to use right before masking and will bring you to the spa without the hassle of going to the spa.
Dr. Dennis Gross, Steamer, $149, available at Sephora.
Yes, there are plenty of drugstore lipsticks that hit the mark, but this truly is the holy grail of lipsticks. The customer reviews don't lie.
NARS, Audacious Lipsticks, $34, available at Sephora.
This foundation is... lit. Its lightweight formula goes on easily and blends like a dream for a full-coverage look that gives your skin the appearance of glowing from within. Laura Mercier somehow managed to bottle the romance of being illuminated by candlelight. Ain't that something.
Laura Mercier, Candleglow Soft Luminous Foundation, $48, available at Sephora.
This is the best foundation that money can buy, so it's not entirely surprising that it, well, costs a lot of money. But that's all the more reason you should get it on sale, and stock up on several bottles while you're at it. We do.
Giorgio Armani, Silk Foundation, $64, available at Sephora.
Not only do these shadows have a gorgeous color payoff, they are incredibly easy to apply. Just one swipe and you've got yourself a shimmery look that will last all day.
Stila, Shimmer & Glow Liquid Eye Shadow, $24, available at Sephora.
Foundation sticks are so easy to use and, in our humble opinion, offer the best full coverage. This one from Hourglass works well for all skin types and will give you that "no-makeup" makeup look in a matter of minutes—no powder necessary.
Hourglass, Seamless Finish Foundation Stick, $46, available at Sephora.
The soft champagne sheen and shimmery peach shades in this highlighter duo from Fenty Beauty are the perfect way to achieve a subtle spring glow.
Fenty Beauty by Rihanna, Killawatt Freestyle Highlighter in 'Mean Money/Hu$tla Baby, $34, available at Sephora.
These creamy soft eyeshadows are full of pigment and easily buildable. Two of the palettes are perfect for elevating everyday looks, and the third offers some dazzling hues for those warm spring and summer nights!
Pat McGrath Labs, MTHRSHP eyeshadow palettes, $55, available at Sephora.
We've already raved about how this chic shower cap changed our life. Need we say more? Even without the sale, it's worth every penny.
SHHHOWERCAP, Shhhowercap, $43, available at Sephora.
Hair care brand and Brooklyn salon Amika puts out our favorite hair mask and dry shampoo. Given how affordable both of the products are, though, we would rather use the sale as an excuse to buy this foolproof straightener made for us lazy girls.
Amika, Polished Perfection Straightening Brush, $120, available at Sephora.
If you're as committed of a Clarisonic user as we are, you know you can never have too many replacement heads.
Clarisonic, Replacement Brush Head Twin-Pack, $44, available at Sephora.
There is a reason Drunk Elephant products are limited to three per customer. They are so, so good that they turn even the most normal people into total hoarders. If you haven't tried them yet, this facial is universally fawned over, but honestly, you really can't go wrong with any of the brand's products.
Drunk Elephant, Ready T.L.C. Sukari Babyfacial, $80, available at Sephora.
So it turns out we want all the Fenty Beauty products. Not only are they great, but they're perfectly packaged, too! Just look at these magnetic highlighters and brushes! If your purse is a black hole, like mine, this could really change things.
Fenty Beauty by Rihanna, Portable Highlighter Brush 140, $24, available at Sephora.