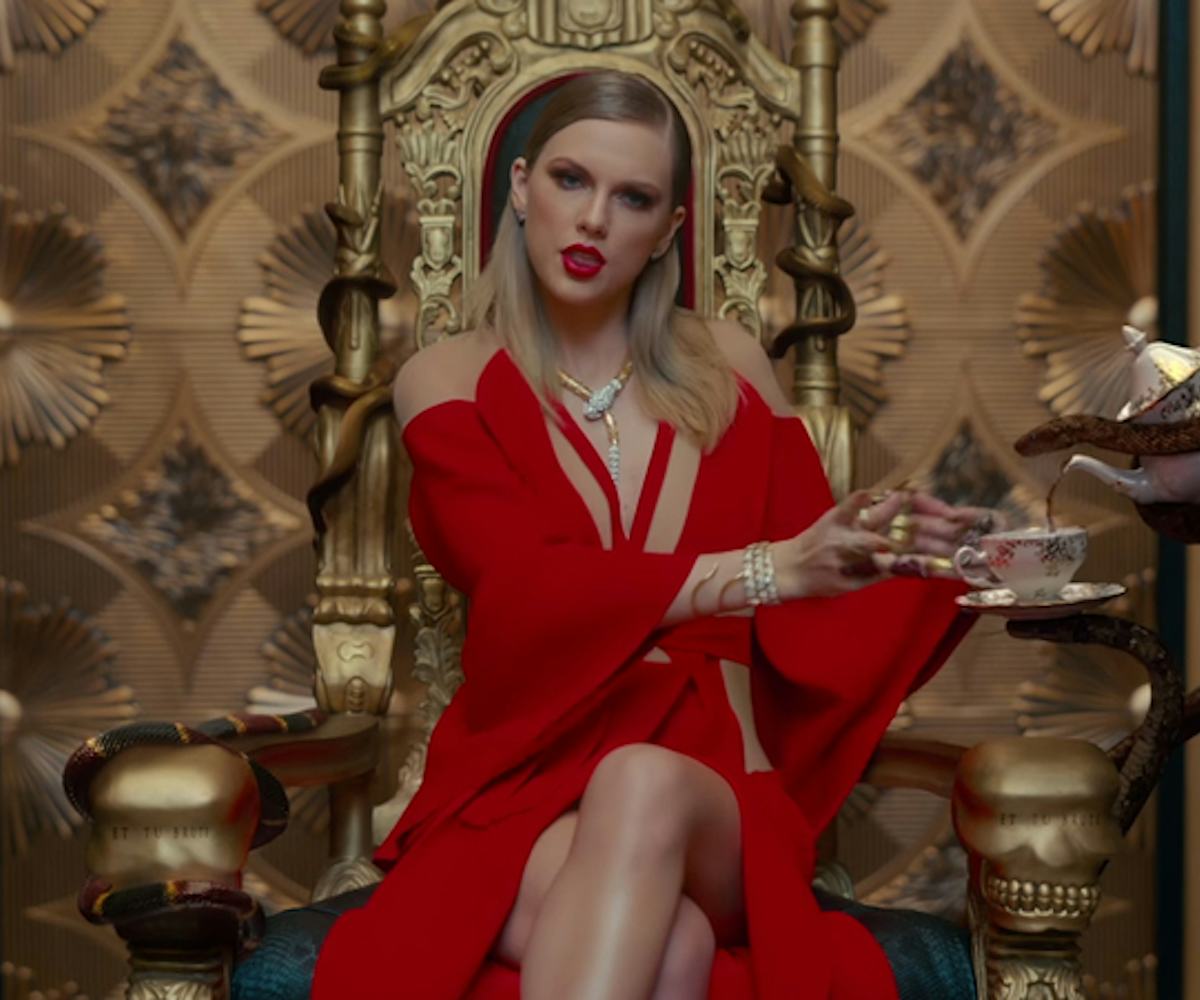 Photo courtesy of Big Machine Records
Is Taylor Swift's "Look What You Made Me Do" Actually Good?
Compositionally speaking, of course
Taylor Swift's first solo single in three years, "Look What You Made Me Do," arrived, according to Vulture (and many other outlets), "dead on arrival." Some have argued the song is reductive; Swift's obsession with her victimization and the narratives she wishes to be excluded from is exhausting. She doesn't just reclaim the snake emoji that marred her reputation following Kim Kardashian West exposing her alleged lies in regards to Kanye West's "Famous" lyrics, she exploits it—though it's been said that snake is more of an ouroboros than a viper. 
Anyway, despite the harsh media criticism "LWYMMD" has received, it's broken records, because, like, duh, it's Taylor Swift. With 84.4 million U.S. streams, it's surpassed Adele's record for the most streamed song in a debut week by a female musician, it (finally) knocked Luis Fonsi and Daddy Yankee's Justin Bieber-assisted "Despacito" off of its four-month-long No. 1 spot on the Billboard Hot 100 list, and it's made Swift the first woman to reach No. 1 in 2017. "LWYMMD" also broke Spotify's record for the most streams in one day, with 10,129,087 plays. Oh, and its music video was viewed 43.2 million times on YouTube in its first 24 hours, breaking yet another record. Whether these streams and plays were hate-driven is irrelevant. People are picking up what Swift's laying down, and will continue to do so for the next two years (album release cycle, tour, awards season, etc.).
But is it good? Like, musically good? Jack Antonoff produced the track, which makes it a surefire pop hit from the start. The first listen may make you cringe, but it's a brilliant earworm and, in time, grows on you. (It has, admittedly, grown on me.) 
Credit the song's chorus for that. Steve Milton, a founding partner of creative music agency LISTEN who has a master's degree in musicology from the New England Conservatory of Music, says the chorus is the first thing that jumps out at him. The similarities to Right Said Fred's "I'm Too Sexy" landed the band a writing credit, but it's the variation on the common practice of repeating a phrase that makes "LWYMMD" so interesting. "Swift chose to mix it up in a different way, whether she knew it or not, by borrowing a technique similar to classical Indian music, specifically rhythmic patterns known as talas," Milton says. "This is something we see jazz musicians tap into, but not so much pop stars. Basically, it involves repeating a sequence of numbers until the phrase lands on the first beat of the measure."
Swift, Milton points out, goes from a six-syllable phrase ("look what you made me do") to a seven-syllable phrase ("look what you just made me do"), which "requires her to repeat it twice before landing on the downbeat," a quirk that keeps the song in motion. Milton also cites the song's bridge, which uses "a very traditional chord progression—Am, G, F, E—known as the Andalusian cadence." It's a chord progression that's been used and popularized by a countless number of songs dating as far back as the Renaissance. The more you know!
Todd McCarty, the former senior vice president of sales at Sony Music and current proprietor of Heat On The Street, considers it, outside of Swift's reputation, to be a "well-crafted and catchy song." The fact that it's nearly a capella makes it stand out among the bombast of current pop. "It's not her catchiest, but it's A-level stuff, and the big hooks are there," he says." BrainStamp Music's Mella Barnes agrees it's not Swift's best song, "but it was designed to get us all talking." And, well, it did. "I do think the song is compositionally strong," she adds, noting its similarity to Meghan Trainor's "No"—another song that garnered a high chart placement.
"Much of her success is contingent upon listeners being unaware of how heavily derivative her music is," John Fahr, a production technician at FerebeeLane and a composer-songwriter, tells us, "which would make an album like 1989 feel more like daring artistry than the safe, calculated move it was." Swift's "LWYMMD" falls under the same umbrella. Fahr notes how Swift "doubles down on algorithmic pop simplicity by stripping down the arrangement to sparse electronic drums and synth, allowing her heavy-handed lyrics to dominate the mix as she briefly flirts with the idea of personal accountability." When you take into account the repetition of the spoken chorus and four notes of the verses, you have a sure pop win. "The unspoken goal of pop music being that you can memorize the chorus by the end of one listen," Fahr adds. 
The whole production of the song seals its successful deal. From a dynamic standpoint, "LWYMMD" gets louder as you listen to it. "Swift and Antonoff take their listeners from a sparse place and build it up in the pre-chorus, generating a nice dynamic shift downward, at the chorus, which is largely a capella other than a percussion accompaniment," David Philp, a pop music professor at William Paterson University, says. "She uses her 'Shake It Off' chops in the verses, shouting her message like cheerleaders, [as opposed to] singing. Then the pre-chorus comes back a second time with a stronger build than the first time." This is a song designed to not only worm its way into your ear but also blast your drums.
So, yes, "Look What You Made Me Do" is a compositionally strong song. It does what it was designed to do: sink deep into your psyche, so that it becomes enjoyable after enough listens—lyrical content be damned. Swift and her team know, deep down, melody, chord progressions, and the lot are what really get the people listening. Look what you made us do, Taylor.