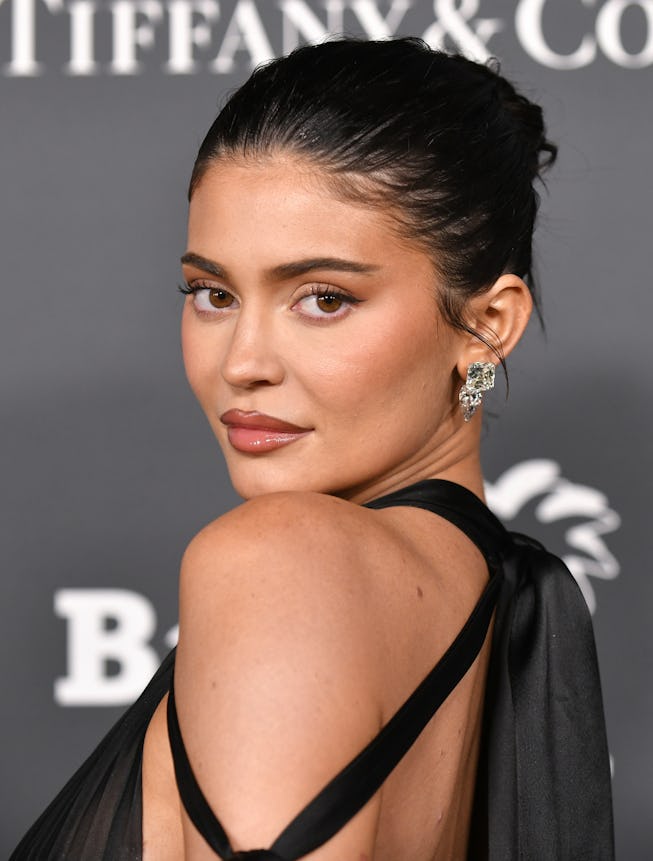 Rodin Eckenroth/Getty Images Entertainment/Getty Images
Kylie Jenner Is Bringing 1920 Finger Waves to the 2020s
The mogul opted for a retro hairstyle at Paris Couture Week.
Lately, Kylie Jenner has not only proven herself to be a fan of avant-garde fashion—by wearing a full-sized lion's head at Schiaparelli's couture show— but she's also opted to branch out from her usual hair looks with a new part. From puffed-up side bangs at photoshoots to sweeping Tumblr-era bangs during Paris Fashion Week this season, it seems like every day The Kardashians star and Kylie Cosmetics founder is making more of a commitment to the side part. Now, she's rocking 1920s-style finger wave side bangs for an even more daring look, fitting for a modern day femme fatale.
On January 25, Kylie stepped out for dinner in Paris wearing a black, bondage-style dress with heeled black boots. In a series of fit pics on her Instagram, she showed off the full look, complete with brick red lipstick and long hair in a side part, with a stylized bang covering her right eye. Kylie gave credit to her long-time hairstylist Jesus Guerrero for the daring new 'do with a flipped side part for extra volume and finger waves.
The finger-waved hairstyle was popularized in the 1920s and was often used as a way to style the iconic rebellious bob hairstyle of the decade. By pairing a section with finger waves with contrasting long, straight hair, Kylie is bringing the trend into the 2020s with a fresh spin. The star has been experimenting not only with more daring fashion looks, but also nostalgic hairstyles, including an opera-house-worthy up-do with faux bleached brows.
While in 2020 the side part was labeled "millennial" and declared over by TikTokers (alongside skinny jeans—which are also making a comeback), it's clear the Kardashian-Jenners are intent on bringing the style back into limelight—with Kim also switching parting sides in 2022. What is also clear is that Guerrero is delivering an effortlessly modern take on nostalgic hair styles again and again. More fashion week hair drama to be continued.