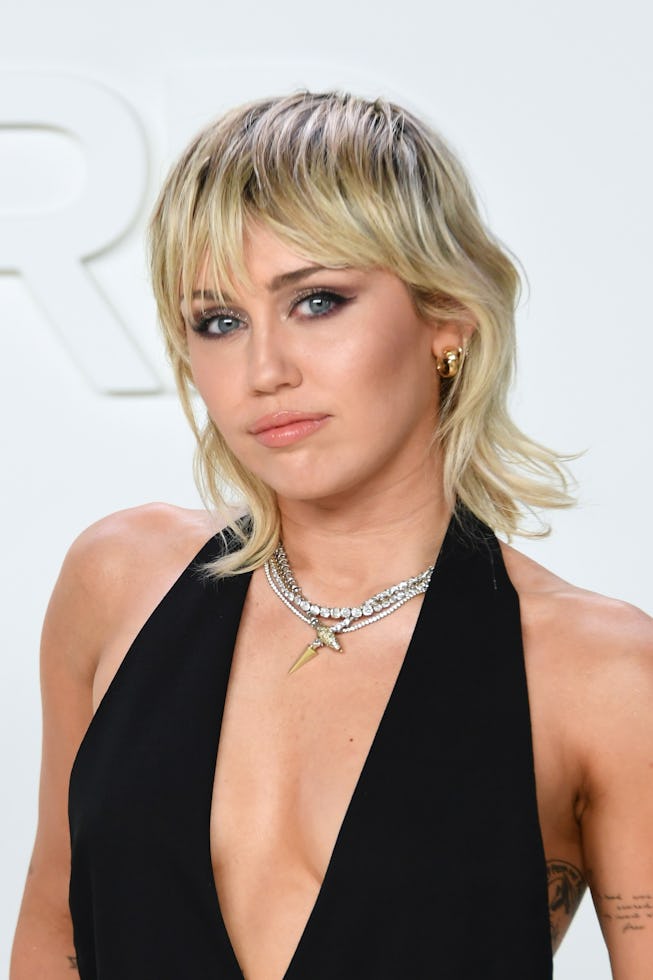 Mike Coppola/FilmMagic/Getty Images
Miley Cyrus Got A Fresh Quarantine Mullet Courtesy Of Her Mom
Desperate hair times call for mom to step in as stylist.
Many hair salons remained closed due to the COVID-19 pandemic, but that didn't stop Miley Cyrus from getting a little creative with her need for a haircut. The pop star entrusted her trim to her mom, Tish Cyrus, and with the video help of hairstylist, Sally Hershberger, the pair gave the Bright Minded host a new look.
Mere weeks after her latest trim drew comparisons to the Tiger King, and Cyrus debuted a freshly trimmed mullet. According to People, Cyrus had intended to visit Hershberger for latest 'do, but with social distancing restrictions remaining in effect, that couldn't happen. Cyrus decided to do the next best thing, and turned to FaceTime, calling up Hershberger to guide her mom through the cut.
Before the trim started, the professional hairstylist made sure Cyrus's mom had all the necessary tools. "Instead of just telling them the step-by-step instructions, I physically do the cut with them. I find that actually demonstrating allows the client to get the best results," Hershberger told People. "[We also] work gradually and take my time with small sections – less is more." In photos posted to People, the stylist demonstrated how she used a wig and mannequin head to lead the mother and daughter through the cut.
Although the haircut did turn out differently than the inspiration photo Cyrus had sent her stylist, it was confirmed that the star is pleased with the results. "Miley loved the final look as much as I did. It's so cool and daring to mesh together two styles into one that really expresses her own sense of style," Hershberger said.
The stylist also confirmed that Cyrus previously used her virtual haircutting services during quarantine, sharing that the two chatted back in April. "She commented on my Instagram post mentioning that she botched her bangs, so I set up a FaceTime call with her to walk her through fixing her bangs and giving herself a trim," Hershberger said. Despite the once botched style, it appears that all is well once again with Cyrus's hair. Since her trim courtesy of mom, she's shared a number of selfies, posing with her new pixie mullet.
See the new Cyrus-approved mullet, below.