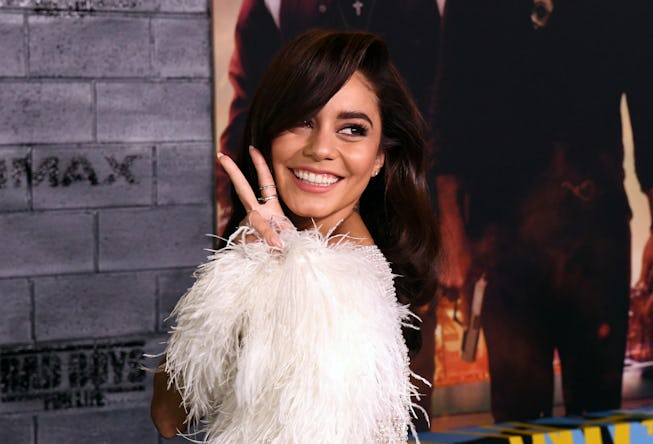 Photo by Kevin Winter/Getty Images
The Best Celebrity Halloween 2020 Beauty Looks, From Vanessa Hudgens to Megan Thee Stallion
Keep tabs on every sweet look.
The Halloween season, and all its many moody makeup releases, has arrived. Even during this time of COVID-19, your favorite stars found a way to celebrate, and while some chose to act as their own makeup artist, others left the glam up to the professionals. In case you missed out on even a single scary or beautiful look, check out some of the best in celebrity Halloween beauty routines from 2020, below.
From Cardi B's multiple makeup changes to Lizzo's recreation of a now unforgettable meme, this year wasn't short on memorable makeup moments. It's never too early to start planning for next year's spooky festivities, so go ahead and start scrolling through some of this year's best looks, below.
2020 Celebrity Halloween Makeup: Rico Nasty
Rico Nasty became the Joker for Halloween 2020, adding green hair, a bold red lip, and some lashes with serious volume.
2020 Celebrity Halloween Makeup: Kaia Gerber and Jacob Elordi
Kaia Gerber and Jacob Elordi swapped out their usual hair for a #TBT look that featured them becoming Priscilla and Elvis Presley.
2020 Celebrity Halloween Makeup: Normani
Normani took her Catwoman costume to the next level with the addition of bright red lipstick.
2020 Celebrity Halloween Makeup: Saweetie
Like so many other celebs, Saweetie had multiple costume changes, including a Destiny's Child moment.
2020 Celebrity Halloween Makeup: Bella Hadid
Along with wearing red hair for a Poison Ivy costume, Bella Hadid turned her face into a literal canvas, thanks to makeup artist Sam Visser.
2020 Celebrity Halloween Makeup: Lili Reinhart, Madelaine Petsch, and Camila Mendes
The trio of Riverdale besties added colorful hair accessories and matching outfits to become the Powerpuff Girls.
2020 Celebrity Halloween Makeup: Demi Lovato
Chronicling her Ulta haul on Instagram Story, Demi Lovato shared the Halloween look she created. "FACE BEAT BY ME (and hair and costume actually) I'm not in LA with access to a full glam squad like usual Halloween's but then again this ain't no usual Halloween!! Anyway - this is all me and I'm high key proud of myself," she wrote.
2020 Celebrity Halloween Makeup: Cardi B
Cardi B turned her hair into snakes, becoming Medusa with the help of a glam squad that included Tokyo Stylez. She later debuted a heroic Halloween costume, adding red lipstick and curls to her beauty routine to become Scarlett Witch.
2020 Celebrity Halloween Makeup: Rita Ora
Rita Ora decided to partake in the Halloween celebrations, dressing as "a devil gardener who drinks tea alone." Wearing bejeweled red horns and matching lipstick, she wrote, "Wasn't going to do anything for #Halloween then saw everyone's outfits and got fomo."
2020 Celebrity Halloween Makeup: Rosalía
Rosalía covered her brunette hair with a short orange wig, becoming Leelo from The Fifth Element.
2020 Celebrity Halloween Makeup: Kendall Jenner
Kendall Jenner donned two costumes, including a collaboration with her sister, Kylie Jenner.
2020 Celebrity Halloween Makeup: Lil Nas X
Lil Nas X fully embraced the Halloween season, going as Nikki Minaj. His look was a complete replication, right down to the colorful eye makeup, and bright eyeshadow.
2020 Celebrity Halloween Makeup: Ciara
Ciara went as a walking version of Cardi B's Invasion of Privacy cover.
2020 Celebrity Halloween Makeup: James Charles, Charli D'Amelio, and Dixie D'Amelio
Teaming up for a group video, this trio of friends went with scary for their Halloween costumes, adding wigs, and makeup.
2020 Celebrity Halloween Makeup: Lizzo
Lizzo added a seriously sharp eye wing and red lipstick to her fly costume, choosing to spend her Halloween as the fly on Mike Pence's headed from the 2020 Vice President debate.
2020 Celebrity Halloween Makeup: Kylie Jenner
Kylie Jenner teamed up with her friends to save the day, dressing as a group of Power Rangers. For her look, she wore a long red wig. She wore additional outfits throughout the weekend, even using a smoked out eye wing to compliment her cobra costume.
2020 Celebrity Halloween Makeup: Bretman Rock
Bretman Rock embraced his fashionable side for Halloween, wearing a wig, glasses, and long black jacket for his Edna Mode costume.
2020 Celebrity Halloween Makeup: Paris Hilton
The unofficial "Queen of Halloween," Hilton started the celebrations with a survey of her social media followers. Asking for their help on deciding on a costume, Hilton tried out looks that included a Playboy Bunny costume and a Hot Ghost.
2020 Celebrity Halloween Makeup: Meg Thee Stallion
Before revealing her full Halloween outfit, Megan Thee Stallion took a cue from her favorite anime for a recent Instagram photo. Using entirely Revlon makeup products, she transformed into Yumeko of Kakegurui. The transformation came with bangs, long dark hair that included streaks of red, and a dark red lip.
2020 Celebrity Halloween Makeup: Halsey
Truly embracing the terrifying nature of the season, Halsey created a Halloween edition of her Manic album cover. "MANIC, but make it Horror. Whipped this up this morning," she captioned the look, which featured the illusion of a bloodied, missing eye. She later shared a second look, dressing up as The Corpse Bride.
2020 Celebrity Halloween Makeup: Vanessa Hudgens
Vanessa Hudgens is the arguably the most prepared celebrity Halloween participant. She's spent much of October sharing look after look, donning makeup made to resemble a "Spooky Bratz" doll, and at one point, she tried her hand at a Moulin Rouge makeover. In one of her most elaborate looks yet, she created a routine inspired by Cabaret, complete with dramatic lip coloring and a starry headpiece.
2020 Celebrity Halloween Makeup: Charli XCX
Charli XCX paired a purple makeup palette with a single black glove, that featured matching slime. According to her Instagram caption, she wore the look as part of an appearance in Benny Drama's Night of Horror event.
2020 Celebrity Halloween Makeup: Anne Hathaway
Anne Hathaway didn't wait around for Halloween to try out this witchy look. Of course, the makeup was all for her upcoming role in the Witches reboot, but the purple lipstick and smokey cat eye could easily inspire your future Halloween beauty routine.
2020 Celebrity Halloween Makeup: Kourtney and Khloé Kardashian
As evident by their annual Instagram posts, the Kardashian family takes Halloween very seriously. Ahead of the holiday's actual arrival date, Kourtney and Khloé teamed up for a chic routine that featured "Vampira and Cruella."