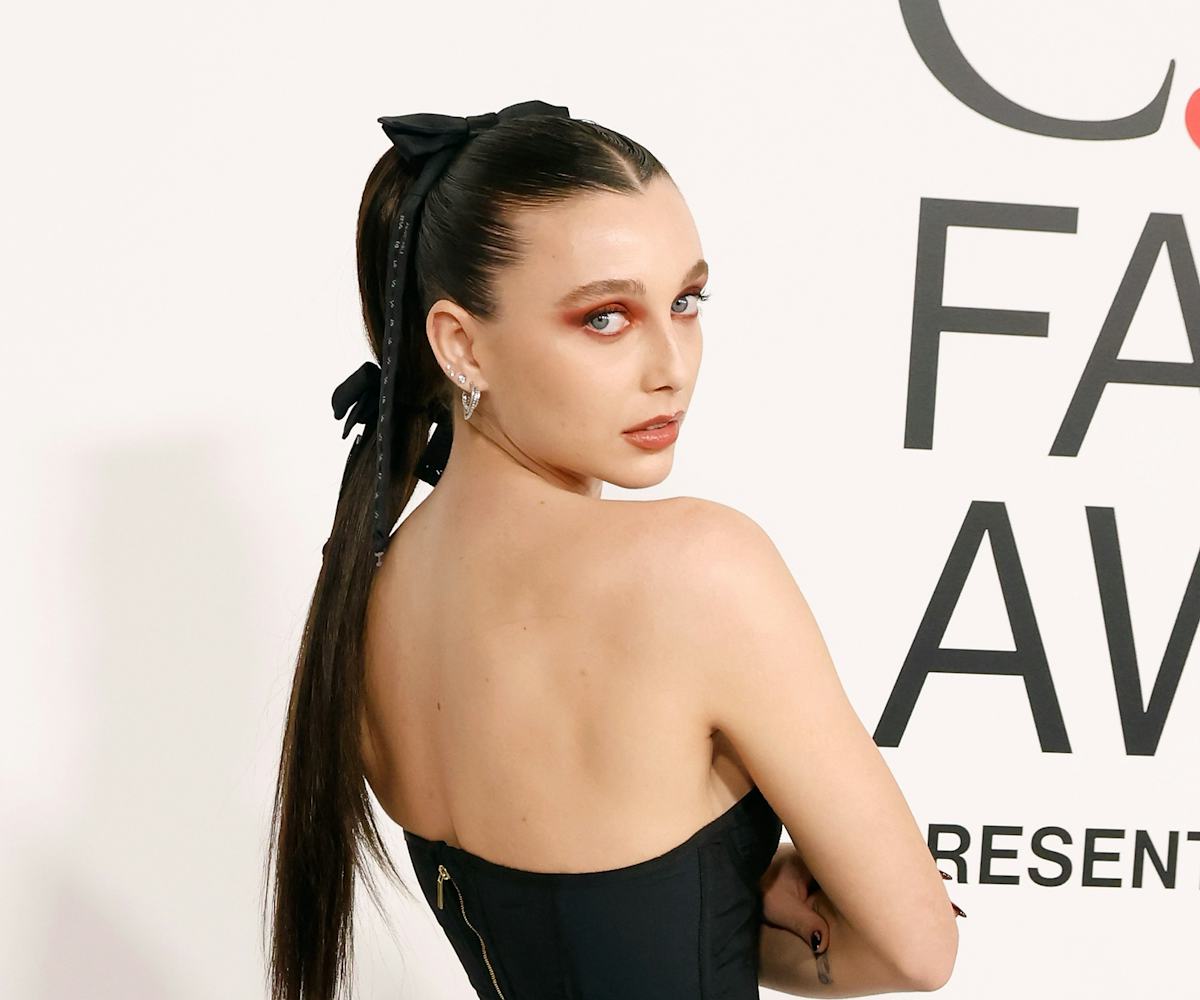 Taylor Hill/FilmMagic/Getty Images
Winter's Biggest Hair Trends Are About Making Bold Moves
Big bows, bixie cuts, and fresh new hair colors.
In the same week as the clocks went back across the US for daylight saving time, Dua Lipa debuted a new rockstar red hair color with the release of her new single, Houdini. And thus, the transition into winter—and winter hair trends—has officially begun.
In a year marked by major celebrity hair changes (think, Florence Pugh's pink buzzcut and Billie Eilish's bright red roots), it has felt as if celebrities have been extra restless when it comes to their hair lately. Career blondes might be taking the leap to try out new chocolate, chestnut, or caramel shades, while it seems like all the natural brunettes have been making the switch to red. It can be hard to keep up.
With a long winter ahead, there are no doubt more dramatic hair transformations still on the way. This season will challenge your preconceptions of practical low-maintenance colors and frizz-defying styles suitable for cold weather. Winter 2023's biggest hair trends are bigger, bolder, and more attention-grabbing than you might be used to.
To get ahead of the upcoming winter curve, NYLON spoke to five hair colorists and stylists to share the trends they are expecting to take over this season.
Winter Hair Trend #1: Going Gold
James Devaney/GC Images/Getty Images
Taylor Hill/FilmMagic/Getty Images
Rosario Cannata, a master colorist at Warren Tricomi Salon, says we can thank our reignited love of Pamela Anderson for the return of this golden blonde shade. The warm blonde hair color she had in her Baywatch days is still her signature today. "It's the perfect amount of warm and neutral tones," says Cannata, "and it has elements of the legendary Brigitte Bardot's cozy, soft, lived-in, rooted color." He says that this blonde is complimentary and easily customizable for everyone. It also takes advantage of hair's tendency to go warm due to exposure of natural, everyday elements, meaning your hairdresser no longer has to fight against those tones. "Throw away your purple shampoos because warm and golden tones are back with a vengeance," adds Cannata.
Winter Hair Trend #2: Valentine's Red
Rachpoot/Bauer-Griffin/GC Images/Getty Images
Unique Nicole/Getty Images Entertainment/Getty Images
As the flaming hair color continues to trend, it's clear red isn't going anywhere just yet. But this winter expect to see more luxe, rich palettes of reds, says R+Co Collective colorist Richy Kandasamy. He calls the deep, near- burgundy shade, as seen on Dua Lipa, "Valentine's Red". He explains fall's diverse mix of soft reds and copper hues will influence the upcoming season as well: "These reds can range anywhere from traditional shades, to multi-dimensional hues, and color combinations."
Winter Hair Trend #3: Lush Hollywood Curls
Steve Granitz/FilmMagic/Getty Images
Jason LaVeris/FilmMagic/Getty Images
"There have been many different takes on this look, but as the years go on Hollywood-style curls have always remained a classic," says celebrity hairstylist Ricky Fraser. But this winter, Priscilla Presley hair tutorials on TikTok and the reinvigorated obsession with Sofia Coppola's archive and Marie Antoinette's hair, are making way for even bigger, bouncier, and more voluminous curls. "I love the style because it adds a touch of sophistication to any look," says Fraser.
Winter Hair Trend #4: The Bixie Cut
Samir Hussein/WireImage/Getty Images
Monica Schipper/Getty Images Entertainment/Getty Images
Jennifer Korab, a New Jersey-based hairstylist says this season will see the rise of the "Bixie"— a combination of the bob and the pixie haircuts. "These styles with be loaded with volume, movement, and texture," she adds, as the look is meant to be soft and playful, not severe, despite the short length. Plus, the cut complements winter's scarves, turtlenecks, and thick sweaters.
Winter Hair Trend #5: The Tint Back
Alessandra Benedetti - Corbis/Corbis Entertainment/Getty Images
Claudio Lavenia/Getty Images Entertainment/Getty Images
Hairstylist an co-founder of IGK, Chase Kusero, says it's true that most people go for darker, richer brunette shades in the winter, but the key to making the look work is figuring out how to keep some of your summery, highlighted dimension. To do that, "we aim to match up the mid-lengths and ends of the hair to the roots," says Cannata, "but only tinting it back [darker] by a half-to-one level shade lighter than their root." The overall effect is everything is "tinted down" for a softer and more fluid connect, says Cannata.
Winter Hair Trend #6: Messy Buns With Side Bangs
MEGA/GC Images/Getty Images
Taylor Hill/FilmMagic/Getty Images
"We saw this look on the runway this past season and are seeing it more and more," says Korab. It works for casual outfits but is also equally appropriate for formal events adding a laid-back element to going-out looks. A side-sweeping bang (or achieving the same look with a tendril) gives the style an effortless finish, Korab adds.
Winter Hair Trend #7: Luxe Bows
Dimitrios Kambouris/Getty Images Entertainment/Getty Images
Taylor Hill/FilmMagic/Getty Images
Gilbert Flores/WWD/Getty Images
Cindy Ord/Getty Images Entertainment/Getty Images
A simple ribbon is the easiest (and cheapest) hair accessory, that can completely transform an entire look. Tying a bow around any bun, pony, or half-up hairstyle makes it instantly more flirty and festive, by adding an element of thoughtful effort. We love bows of all shapes and colors, but a midsize black bow is particularly chic for holiday season.