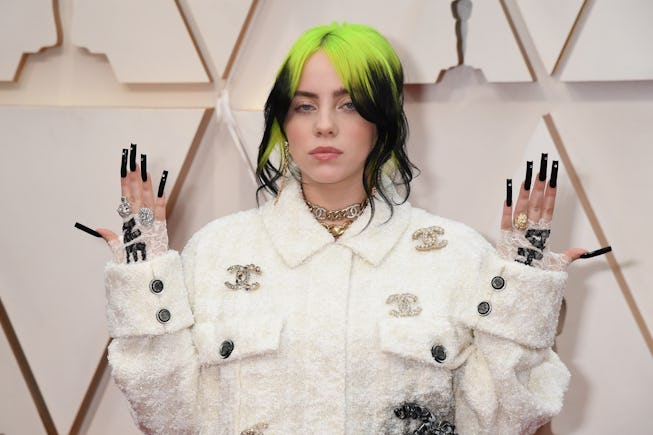 Jeff Kravitz/FilmMagic, Inc/Getty Images
Billie Eilish Went Back To Her (Colorful) Roots
This time in a hot new color.
Many Billie Eilish fans first fell in love with the artist while she had slime-green roots with black hair. The look became her signature, before she went platinum blonde in 2021 and then had red hair for a week in 2022 before going back to jet black in February last year. Since then, the musician has kept to her single shade (without her previous fluorescent roots). That is, until just this August 3. Before performing at the 2023 Lollapalooza Festival in Chicago, Billie posted an Instagram hair reveal with the caption: "Remember me?".
Billie's new hair color is a throwback to her (neon) roots, with a bright red color at the base of her head, with black hair following after the initial inch of the accent color. For the performance, she styled her long hair into messy space buns and matched the hair color to her look for the stage—a black and red baggy Chicago Bulls tank.
The red hot new look comes courtesy of Billie's go-to colorist Jess Gonzalez of Benjamin Salon in Los Angeles. The colorist also posted the singer's new 'do to her Instagram, captioned with three dynamite emojis.
Naturally, Billie fans were excited to see the artist return to the best known style of her younger self, with people commenting "bloody roots" and "THERE SHE IS" of the look. Others are calling it a return to her "root era". "ROOT ERA IS BACK ROOT ERA IS BACKKKK," one fan commented on the Instagram post.
When Billie first dyed her roots electric green, she only added the vibrant color to a small section of her hair, then as time went on she ended up with more of the color as it "grew out" (taking up almost half of her overall hair, over time). For now, Billie's brought back her roots in a brand new color at a similar length to the start of her green era. So it's safe to say her red root era is just beginning.