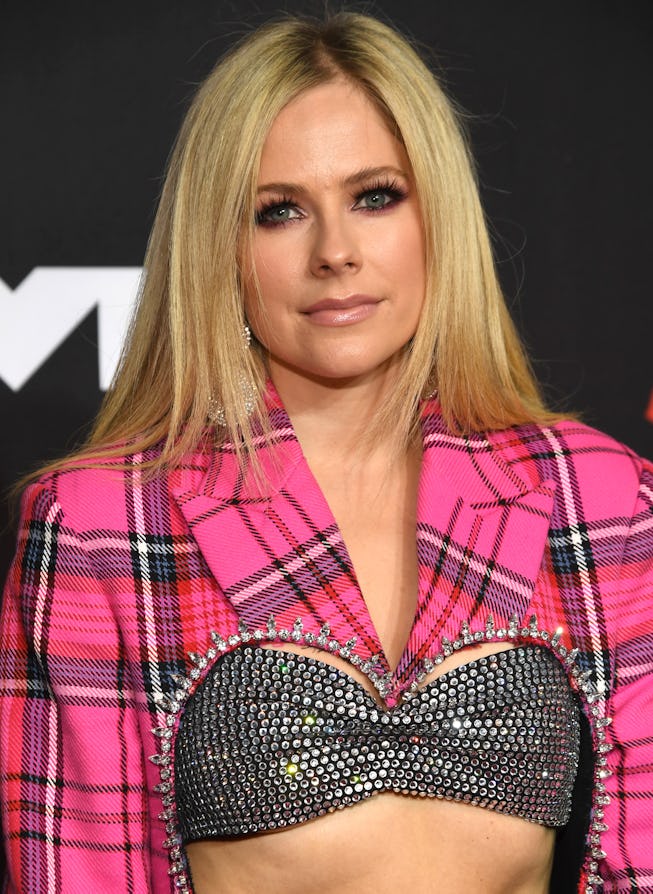 Kevin Mazur/MTV VMAs 2021/Getty Images Entertainment/Getty Images
Avril Lavigne Reschedules 2022 European Tour To 2023
See her new tour dates below.
Avril Lavigne has once again rescheduled her upcoming 2022 European tour in support of her 2019 album Head Above Water and upcoming Love Sux album. Originally scheduled to take place in 2020, the dates were rescheduled for 2021, then for spring 2022, and have been pushed for the third time to 2023 due to ongoing restrictions.
Lavigne will now be hitting the road from April through May 2023, stopping at major cities in Italy, Germany, and the U.K., including three shows in London and one in Manchester. Lavigne will still be playing some live shows in 2022 but only in her home country of Canada. Her Bite Me 2022 Canada Tour, kicking off May 3 is still set to happen.
Lavigne released Head Above Water in 2019 as her sixth studio album, and the latest full-length release since her 2013 self-titled album. The 12-track record was written about her battle with Lyme disease, a diagnosis that she revealed to the public in 2015. "I was bedridden for five months," she told People magazine about the severity of her symptoms at the time. "I felt like I couldn't breathe, I couldn't talk and I couldn't move[...] I thought I was dying."
In the time since, Lavigne has experienced a resurgence with her career timed alongside a pop-punk renaissance in pop culture. In 2020, she released new music with her boyfriend, MOD SUN, and Willow, the youngest Smith. Their very 2000s music video for their joint track "G R O W" was released in 2021. Lavigne has also been gearing up to release her anticipated next album titled Love Sux which will usher in a return to her pop-punk roots and is expected to drop on Feb. 25.
Below, find everything you need to know about attending the European leg of her 2023 tour.
Avril Lavigne 2023 Tour Dates
12, April 2023 — Paris
14, April 2023 — Amsterdam
15, April 2023 — Berlin
17, April 2023 — Hamburg
18, April 2023 — Offenbach
20, April 2023 — Munich
21, April 2023 — Zurich
23, April 2023 — Padova
24, April 2023 — Milan
26, April 2023 — Prague
27, April 2023 — Vienna
28, April 2023 — Stuttgart
30, April 2023 — Lodz
3, May 2023 — Cologne
4, May 2023 — Brussels
6, May 2023 — Manchester
7, May 2023 — London
9, May 2023 — London
10, May 2023 — London
How to buy tickets to Avril Lavigne's 2022 Tour
General admission tickets are on sale now via Avril Lavigne's website.