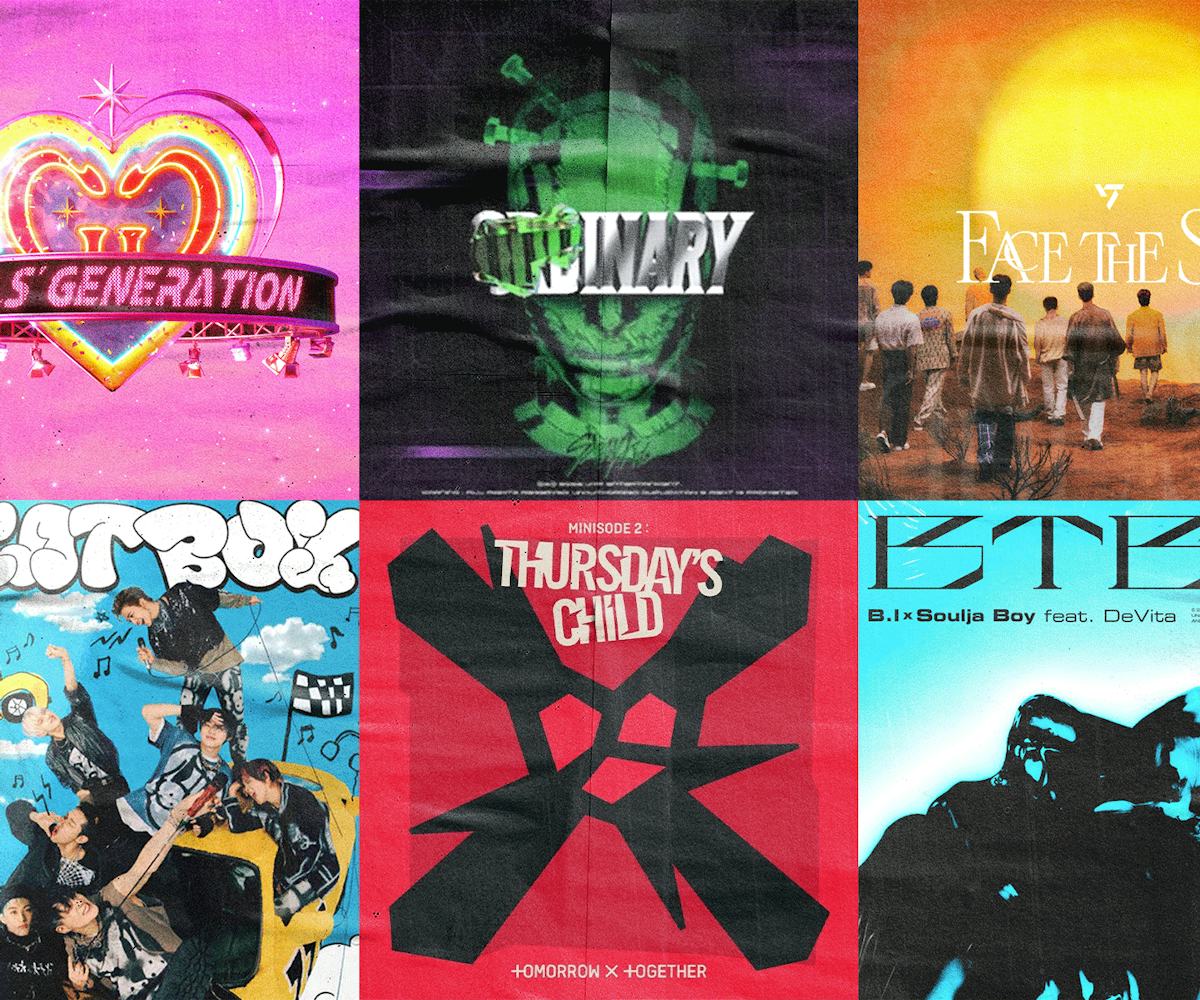 Lais Borges/Nylon
The 20 Best K-Pop Releases Of 2022
From Stray Kids' Oddinary to NewJean's "Hype Boy" — here are the best K-pop albums and songs of 2022.
Years from now, the world will look at 2022 as a transformative year for K-pop.
Girl groups dominated — selling millions of albums, topping South Korea's digital music charts and gaining significant global attention. K-pop's 4th gen found their footing and emerged as a commanding force in the industry. Rookie girl groups broke through the noise, scoring major hits by eschewing tired girl-crush trends and being unapologetically themselves (some even pioneering their own genres along the way). Meanwhile, established acts surprised us by embracing a myriad of soundscapes, from glitchy house to mesmeric R&B to languid power ballads.
Girls' Generation celebrated 15 years together with a multifaceted masterpiece. SEVENTEEN faced their inner shadows; and AKMU's Lee Chanhyuk reintroduced himself as a solo artist. Artists like Tomorrow X Together and NCT Dream confronted their coming-of-age woes by embracing nostalgia, while Stray Kids channeled their distinct flair into Billboard number ones.
In a year defined by exciting new acts, the best K-pop releases of 2022 were grounded in introspection — the kind of weathered world-building and intimate contemplation that comes with truly knowing yourself. Below, in no particular order, here are our favorite K-pop albums and songs of 2022.
Albums
Beatbox - The 2nd Album Repackage by NCT Dream
Of the groups under SM Entertainment's amorphous NCT collective, NCT Dream have always been the easiest to define. A listen to their prismatic discography will find songs reflecting youth in its many phases. On Beatbox - The 2nd Album Repackage, a re-release of their stellar Glitch Mode LP, NCT Dream grow up without losing their spark, balancing their signature exuberance with tightly wound urgency and introspection. The industrial "Neo vibe" can be heard on songs like "Fire Alarm" and "Glitch Mode," but it's the way they harness pop nostalgia — the warm synths of "On The Way" and the '90s boy band harmonies on "Teddy Bear" and "To My First" — that makes Dream shine.
Forever 1 by Girls' Generation
On Forever 1, Girls' Generation's first album in five years, the legendary group sound as adaptable as ever, traversing various genres and soundscapes with assured agility and newfound perspective. From the euphoric electro highs of "Forever 1" to the playful R&B of "Seventeen" (co-written by Sooyoung and Tiffany), it's a kaleidoscopic testament to their legacy — one that continues to push them into fresh sonic territory. Standout track "You Better Run" revisits a familiar devil from their past as GG recast themselves as the ones inflicting pain, delivering a satisfying act of payback over a decade in the making.
Oddinary by Stray Kids
A portmanteau of "odd" and "ordinary," Oddinary finds Stray Kids embracing their uniqueness to show that being odd is completely normal. It's the kind of nonconformist spirit fans have learned to expect from the octet, who kicked off their momentous year with the release of Oddinary, the first of their two EPs to top the Billboard 200. Their success hinges on their sincerity, expressed through potent lyricism and dexterous production. On Oddinary, producer trio 3RACHA nurture their craft with self-indulgent dubstep bangers ("FREEZE"), sweeping rock anthems ("Lonely St."), and moody trap flows ("Venom"), all while doubling down on their beguiling braggadocio ("Charmer"). Yet, the album's biggest swing is also its most prophetic; "Muddy Water" allows rappers Changbin, Han, Hyunjin, and Felix to flex over a boom-bap beat, asserting themselves as the new generation eager to rinse away the status quo.
Face the Sun by SEVENTEEN
The brighter the light, the darker the shadow. On their fourth studio album, Face the Sun, SEVENTEEN strive to become a force more powerful than the luminary by embracing the darkness within. "I don't want to hide you, I want to hold your hand," they sing over twinkling synths and liquid drum and bass on "Shadow," casting a rhythmic push-and-pull between them and their inner demons. They blaze ahead on "Don Quixote," a sublime ode to following their own path, and set fire to their past selves on "Ash." Bolstered by its heavy trap beat and laced with AutoTune, the experimental track from rapper Vernon points SEVENTEEN in a thrilling new direction — as if they stood so close to the sun, they were reborn in its flames.
Minisode 2: Thursday's Child by TOMORROW X TOGETHER
A broken heart is a powerful thing. Just ask Tomorrow X Together, whose Minisode 2: Thursday's Child depicts the turbulent stages of first heartbreak. What makes TXT's music so potent is that it speaks directly to a generation of young people experiencing similar woes. They're haunted by love on the magnificently moody "Opening Sequence," crying out to the ghost on their lips. "Trust Fund Baby" is a breathy pop ballad about socioeconomic challenges, its cynicism quelled by finger snaps and gentle piano. It's all broody sad boy musings until the luminous "Thursday's Child Has Far to Go," a megawatt synth-pop track from Beomgyu, Soobin, and Taehyun. Here, they've survived the heartbreak and re-emerged stronger than ever.
PSY 9th by Psy
"Long time no see, huh?" is how Psy opens "That That," his first single in five years. Produced by and featuring BTS rapper Suga, the song is a relentless earworm that demands you "do what you wanna, say what you wanna." That's the vibe the iconoclast brings to PSY 9th, a dizzying fantasia of sounds spanning piano-driven grooves ("Celeb"), frantic '80s synths ("Now"), and massive, prog house ("Everyday"). The thing about Psy is that he isn't the industry's best rapper or singer, hence the album's stacked lineup, including Jessi, Tablo, Crush, and Heize. But what makes him so singular is his vision. In 2012, he brought K-pop to the global stage with an absurd song that offered people respite from reality. Ten years later, that's still his style: bold, unabashedly loud, and determined to have a good time.
The ReVe Festival 2022 – Feel My Rhythm by Red Velvet
There's nothing like pressing play on a Red Velvet album for the first time, anticipation bubbling to the surface. You never quite know which flavor to expect. Sinuous R&B? Off-kilter pop? Symphonic sampling? On The ReVe Festival 2022 – Feel My Rhythm, the K-pop queens deliver all that and more with a cacophony of winsome melodies, feathery falsettos, and luxurious harmonies. Its frenetic title track fuses Bach's "Air on the G String" with trap beats and clamorous percussion; the lush "In My Dreams" demonstrates the quintet's unbeatable vocal prowess; the fluttery R&B of "Rainbow Halo" catches Red Velvet at their most magical and enticing. It's a prismatic treat for all senses.
Error by Lee Chanhyuk
For Lee Chanhyuk, death is just the beginning. With his debut solo album, Error, Chanhyuk kills off the successful singer-songwriter we thought we knew, one-half of the chart-topping brother-sister duo AKMU, to usher in someone new. A skilled storyteller, he weaves lyrical resonance into tales of regret ("Goodbye, stay well"), hubris ("Castle in my dream"), and loneliness ("Missed call"), all sung with quiet intensity and pulsing with an artful synth-pop groove. A gospel choir joins him on closer "Funeral hope," wrapping him in a warm embrace with a jovial "hallelujah." Error is a journey through life and death, as much a celebration as it is a remembrance.
Apocalypse: Save Us by Dreamcatcher
Dreamcatcher are rock stars first and foremost. Wailing guitar riffs, crashing drums, and soaring vocals are the pillars of their rock-infused oeuvre. Apocalypse: Save Us elevates the group's sound without disrupting their mystical charms. "MAISON" is a dramatic headbanger, an alchemy of heavy guitars, punchy rhythm, and Gregorian-like chants. They explore new sonic depths, with sparkling synths ("Starlight"), simmering breakbeats ("Together"), and balmy piano melodies ("Winter"). The members separate for individual turns on the LP, illuminating their diverse sensibilities. Apocalypse: Save Us is a full-bodied experience that conjures up Dreamcatcher's most ambitious work to date.
INVU by Taeyeon
On INVU, one of the industry's singular voices reckons with love and all its jagged edges. Each song is an intimate rumination. "I think I lost my mind, but it's my kind of love," Taeyeon muses on the project's mesmeric lead single. On "Cold As Hell," she grows distant with a lover, her voice carrying over chromatic chimes and distorted industrial bass. "Toddler" looks inward telling the story of a girl who once relished in fairy tales and who as a woman has been hardened by lost love. Some of pop's most prolific women have released their most defining work in their thirties when they seize control of their own narratives. INVU isn't just a love story; it's a tale of perseverance.
Songs
"BTBT (Feat. DeVita)" by B.I
It may sound reductive to describe a song as a vibe, but that's exactly what B.I was aiming for with "BTBT." On the hypnotic track, he uses the Korean expression 비틀비틀, which roughly translates to "staggering," to convey the flushed feeling of instant attraction. It lulls and sways like a person drunk with love, beckoning you to dance. Released in the early days of summer, the collaboration with Soulja Boy and Korean-American singer DeVita arrived a time of year when the temperature rose and time slowed down —and the vibes were good.
"Antifragile" by LE SSERAFIM
Whereas most pop acts express confidence through explicit bangers and juvenile rebellion, rookies and HYBE'S first girl group LE SSERAFIM (an anagram for "I'm fearless") take a more sleek and sophisticated approach. While their first single, "Fearless," emphasized mood and minimalism, their second, "Antifragile," a rhythmic clap-back with a thumping reggaeton beat co-written by Isabella Lovestory, boasts one of the stickiest hooks of the year. Its visual finds the five members dancing through a cataclysmic event — a testament to staying cool in the face of adversity.
"LOVE DIVE" by IVE
As pioneers of the "chaebol-crush" concept, IVE carry themselves with an untouchable elegance. Just look at South Korea's music charts where the atmospheric "LOVE DIVE" sat atop the Gaon Digital Chart this spring. Unlike their earwormy debut single "Eleven," there's a darkness brewing beneath the surface of "LOVE DIVE" as they lure you into the icy depths of their siren song. "Narcissistic, my god, I love it," Wonyoung sings on the pre-chorus, her distorted voice adding an almost-mystical texture to the track. The melody serpentines with ethereal oohs and taunting lalalas, easing the listener into a trance. IVE have you right where they want you: all eyes on them.
"Hype Boy" by NewJeans
The element of surprise is often underutilized in K-pop so when NewJeans released "Attention" without warning on a random Friday in late July, everyone took notice. That track's refreshing, laid-back R&B sound and Y2K aesthetics made an immediate impact. But it was "Hype Boy," the group's second pre-release single, that became an instant sensation among fans and Korean celebrities alike. (Even BTS's RM knows all of the lyrics.) It's a bubbly love song that will follow NewJeans throughout their promising career; the kind of debut that not only defines a young group's seismic potential but also dictates the future of an entire industry.
"Glitch" by Kwon Eun-bi
A constellation of neuro bass sounds, "Glitch" is emblematic of what's made K-pop so intriguing. It pieces together various sonic elements — groovy U.K. garage, frisky future house, and skittery trip-hop — to create a glossy soundscape for singer Kwon Eun-bi to luxuriate in. Her voice is as delicate as glass, piercing through sparse verses and syncopated house piano, before launching into a mechanical maelstrom of electronics in the song's stunning final minute. Since debuting as a solo artist in 2021, the former IZ*ONE leader has never been afraid to play with genre; her sound is always gloriously in flux. She's that glitch, and she knows it.
"O.O" by NMIXX
NMIXX made waves when they sailed onto the scene with "O.O," a thrilling mishmash of baile funk, pop-rock guitar riffs, and big bass synths. They call it "MIXX POP," or the blend of multiple genres in one song. The dissonance between verses proved polarizing for listeners: It's loud and abrasive, the K-pop equivalent of a Sour Patch Kid; It's also the year's most ambitious release. K-pop's tremendous global expansion over the past few years has led to a surplus of acts and a lot of sameness. "O.O" is a bold introduction to a group that, by design, will never bore you. In today's pop landscape, that counts for a lot.
"CHIQUITA" by Rocket Punch
Newtro synth waves are everywhere, especially in K-pop, but they've never sounded so electric and alive as they do on "CHIQUITA." The lead single off Rocket Punch's Yellow Punch EP, "CHIQUITA" is sparkly synth-pop in its purest form: with the synthesizer front and center. That soaring sound is the real star of the track, illustrating how a flashy production flourish can elevate a relatively simple pop melody to galactic heights. As the polyphonic riff intensifies on the exuberant chorus, Rocket Punch's deft sprinkling of winding oohs and snappy chiquita chiquitas cast an alluring effect. It's anthemic and vibrant, a bit of '80s pastiche served with a punch.
"RUN2U" by STAYC
Everything about STAYC's music is calibrated for replay-ability. Enter "RUN2U," a satisfying entry to their pitch-perfect discography which combines the retro synths of their stellar debut, "So Bad," with the earworminess of last year's inescapable "ASAP" for a futuristic pop concoction. "RUN2U" is playful in its exploration of all-consuming young love, and its springy chorus allows the members to flex their agile voices. Their confidence is most brilliantly executed by teen rapper J, who delivers the saucy declaration, "You know, I'm not a poser," with just the right amount of self-assured condescension.
"GingaMingaYo (the strange world)" by Billlie
A maximalist treasure, Billlie's "GingaMingaYo (the strange world)" is as strange as its title would suggest. With its chanted chorus, scattershot verses, and nursery rhyme melody, "GingaMingaYo (the strange world)" is all over the place like a kid running around a playground. The energetic track reflects the strangeness of growing up — gingaminga is a Korean expression for "not sure," while schoolyard chants and gurgling bass synths suggests that surreality. Where this song really shines, though, is on stage: A fancam of Tsuki and her strong expressions accumulated over 11 million views. That kind of joie de vivre is irresistible, strange or not.
"Still Life" by BIGBANG
Seasons mark the passage of time, so it's fitting then that BIGBANG would emerge from a four-year dormancy to signal the arrival of a new spring. Released in April, "Still Life" isn't the rousing banger some might have anticipated from the industry titans; it's a more lyrical look at the bloom of their years together. "Goodbye now to my beloved young days," Daesung sings, his voice like chocolate. "Our beautiful spring, summer, autumn, and winter." On this pensive, soft-rock ballad, their voices are as distinct and striking as ever, stirring deep-seated emotions. As they long for the warmth of days past, they also cherish their idiosyncratic journeys knowing that no season can last forever.