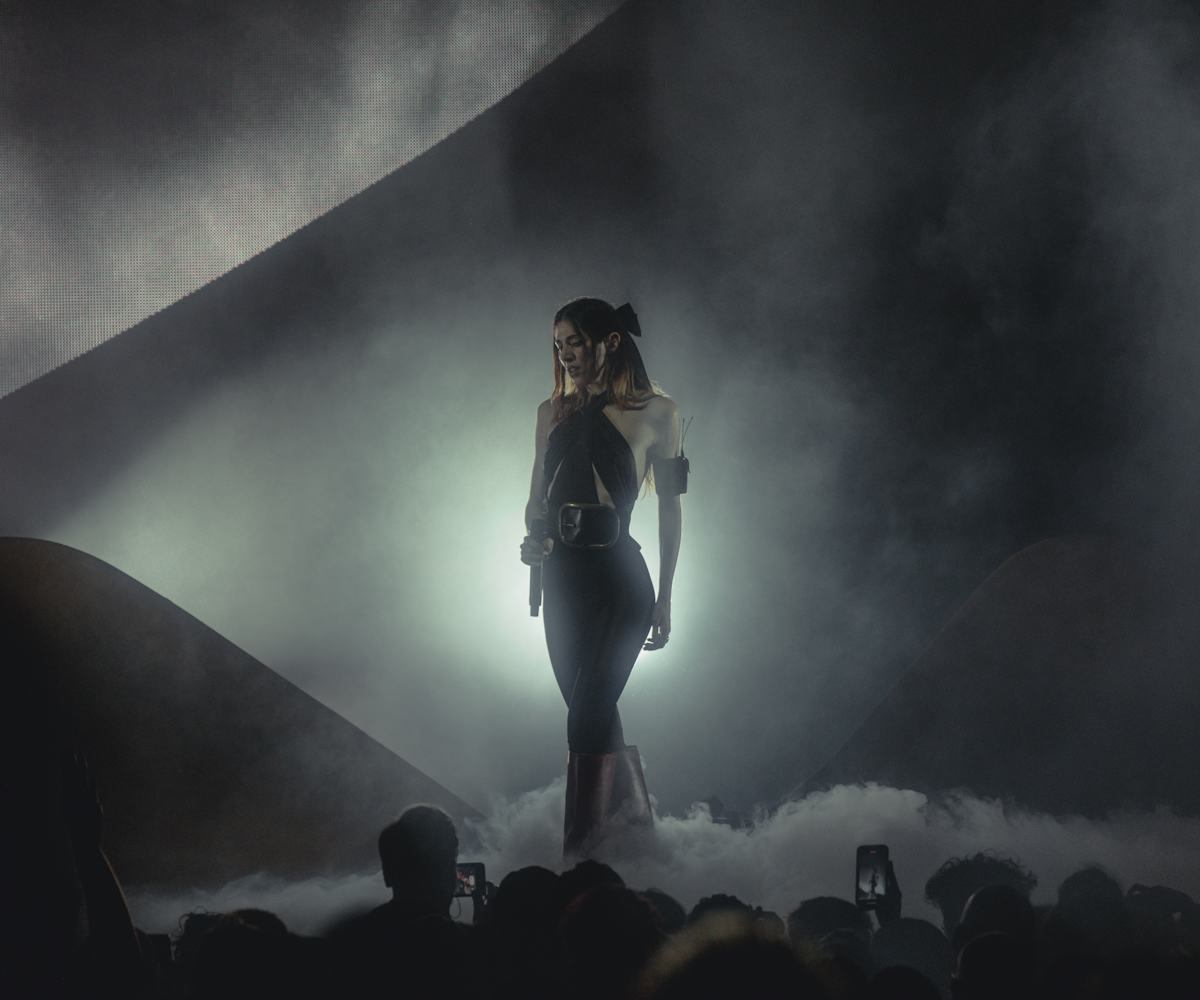 Courtesy of Imogene Strauss
Volcanos, Hills, & A Dome Of Stars: How Caroline Polachek's New Live Show Came Together
Stage director Imogene Strauss breaks down the dazzling spectacle.
On stage at Caroline Polachek's "Spiraling" tour looms a massive 16-foot volcano. Intermittently throughout the show, its belly glows and lights up orange or seafoam green, diffusing an ominous and powerful presence over the stage. Rising from the floor are miniature sand dunes (or maybe they're hills), and at the show's midpoint when she sings "Butterfly Net," a magnificent dome of golden stars materializes to shower the stage. Fog and smoke roll in constantly. This is Polachek's version of the apocalypse, Hell, the desert, or some liminal, indeterminable place in between.
If you attend Polachek's brand new live show, which kicked off on Feb. 10 in Brighton, U.K. in support of her sophomore album, Desire, I Want To Turn Into You — this fantastical tableau is what you'll see. The nearly 90-minute spectacle is a theatrical wonder that's leagues beyond her 2019 touring effort for Pang. Outside of the volcano and various stage props, there are fire-igniting spinning stars and flying lava sparks, as well as slick new routines of choreography that cleverly play off the dramatic and shifting lighting throughout the show. Polachek's music is all about world-building, and the one she's debuting on stages across the U.K., and soon, the U.S., is already turning out to be a must-see on the circuit right now.
Working closely with Polachek to bring this vivid world to life was stage director and show designer Imogene Strauss. The 33-year-old music manager-turned-creative director — who's helped produce live shows for Clairo, Dominic Fike, and Charli XCX — considers this to be the biggest project she's worked on. "We were trying to put together all the motifs and visuals and concepts that [Polachek] had, and turn that into something that feels really cohesive and succinct, but also multidimensional and unique and interesting and captivating." Below, in Strauss' own words, she explains how renaissance paintings, 3D props, and earthly motifs coalesced to form Polachek's dazzling new show.
Imogene Strauss:
I've known [Caroline Polachek] for probably 13 years now, so I've really watched her full transition from indie Chairlift darling to full-blown megastar.
We collaborated across the board on every single detail, but we actually soft launched this show at Coachella last year where we had the volcano set, but we didn't really have any of the lighting or the low fog or any of the new music with all the new video content.
We had come up with [the volcano] last year as a way to glimpse into the new world that she was establishing with this new record before it came out. [During those shows] she previewed a few of the songs, like "Smoke" and "Bunny Is A Rider," and "Billions." Towards the end of last year was when we decided that we wanted this show to really have a full life in a venue. It felt like it had been to some festivals and it was amazing and worked really well at festivals, but we just felt it had more to give in a venue than we had done for it yet. We wanted to see the set do its full thing.
[Adding] lighting was a big, big part of this show, in addition to smoke and low fog and all these special effects that, even though we tried at a couple festivals to do stuff like that, it's very uncontrollable in those environments.
Courtesy of Imogene Strauss
We kind of took a very theatrical approach to it as opposed to a typical concert approach. [We] wanted every song and look to have a moment and a feel to it as opposed to just constant flashing lights from everywhere. Caroline has developed really amazing choreography for the show, which was something that was really fun, the playoff with the lighting. Once we got to see toward the very beginning of rehearsals how she would move, we would very much use the lighting to react to that. I think one of the big successes of the show is the interplay between the choreography and the lighting.
[The] dome of stars… People have asked me like, "How did you do that?" And I'm like, "Oh, it's really just LED wall content." It's a total visual illusion that I think really plays well, especially in photos, but it's just LED wall content from a reference that Caroline found from a renaissance painting that we both loved and we transformed into this video content.
We both came to the table on our first couple of meetings with just a bunch of references that honestly were so across the board, and I wouldn't say most are as specific as a renaissance painting. Most are just things we've both found and collected over time that felt right to the show. From photographs to just weird things in the back of an image of a painting that we zoomed in on and were like, "That detail. That feels like the right thing."
Courtesy of Imogene Strauss
[The volcano] we fabricated with the company NuCalifornia in L.A. It is three separate pieces. Each piece has dimensionality to it, so inside we are able to put lights inside the volcano. It's fabricated from metal pieces and a hand-dyed piece of fabric, so it has a very unique texture to it because of that dyeing process. When it's lit from inside you can see all of that, and then it's the bent metal frame that folds down and packs up. I think when we originally designed it, we were like, "Oh God." But [it was] actually so easy [to make].
[The volcano] was something from Caroline. Having these motifs and visuals sort of laid out already for this album campaign, and we sort of went through a bunch of them and were together deciding what felt like it would be the best and strongest visual for a live show, and that was the winner. So yeah, she's very visually planned out well in advance of all the things actually getting made. So I think the vision for what it was going to look like and how it was
The other set pieces, in my mind, they're like little hills that are the lower parts of the mountain, which I love because they help hide all the busyness on stage: the wires, the cables, and the light fixtures and things like that. They add some dimension to the stage in a pretty unique way [and] they're constructed very similarly to the larger [volcano].
I think the most challenging part is really no matter how much you plan and you have prepared in advance of getting into rehearsals, once you see everything together, you kind of want to change a million things. We changed some lighting fixtures, changed some video content that even though we thought it would work in the beginning. We felt later that it wasn't exactly right and just made new stuff.
My favorite song is "Crude Drawing of an Angel." That's the one with the black, kind of cross-like stars that hang down and have these shadow effects going with them, and then they light on fire at the end. That song in particular really comes alive when you see it live. It's become one of my favorite songs on the album because I love it so much live. [It's] just video content, and our video content guy is actually really amazing at making that stuff look really real. He's someone that Caroline's worked with for a long time who did the Pang visuals as well. I remember I actually saw the Pang show and they had a fire effect in that. I was like, "Is that real? How did they do that?" I had to ask her team afterwards cause I literally thought it was real, and I obviously understand how these things work, but it still fooled me.