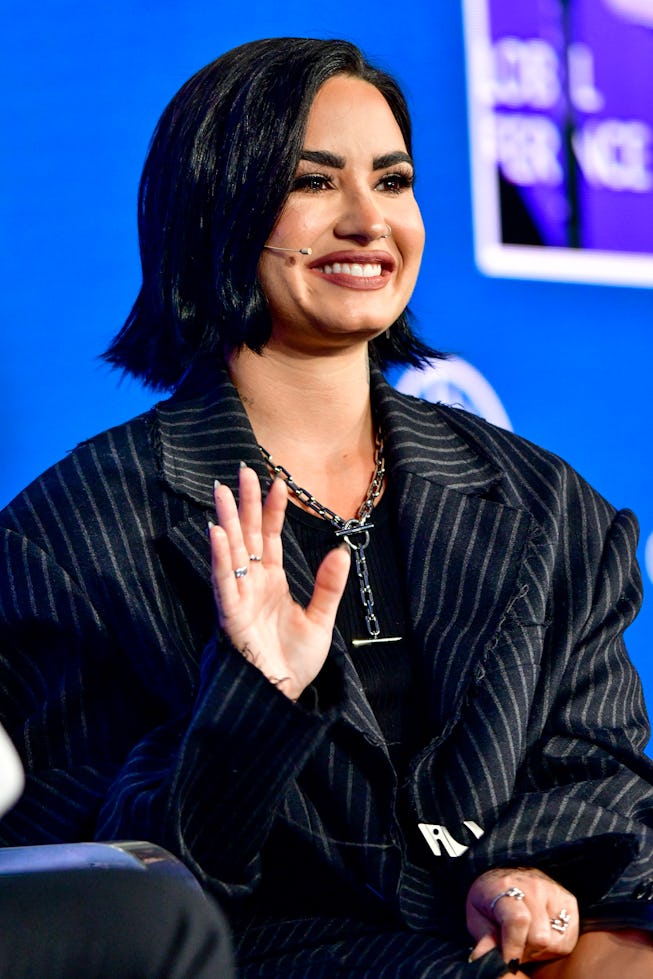 Jerod Harris/Getty Images Entertainment/Getty Images
Demi Lovato Says Educating People About Pronouns Is "Exhausting"
The singer is back to using she/her pronouns.
Anyone who's ever had to educate someone on pronouns knows what a thankless task it can be. Although the idea of pronouns is nowhere near new in 2023, there's still a segment of the population that can't seem to grasp or get on board with the concept. Now, even Demi Lovato has chimed in on the discourse, calling the constant education of pronouns "absolutely exhausting."
In a new interview, the singer — who used to go by they/them pronouns until as recently as 2022 — revealed her frustration with having to explain her use of non-binary pronouns, saying that it was a large factor in why she decided to revert back to she/her pronouns.
"[I] constantly had to educate people and explain why [I] identified with those pronouns," she told GQ Spain. "It was absolutely exhausting. And that is one of the reasons that have led me to also feel comfortable with the feminine pronoun. I just got tired. But for that very reason I know that it is important to continue spreading the word."
Lovato first announced that she was going back to using she/her pronouns back in August 2022, when she updated her pronouns on her Instagram page, and later expounded on that decision on the Spout podcast. At the time, she explained that the decision stemmed from internal factors, like feeling more "feminine."
"Recently I've been feeling more feminine, and so I've adopted she/her again," she said on the podcast. Elsewhere, elaborating on her fluid sense of gender identity, she added, "I felt like, especially last year, my energy was balanced in my masculine and feminine energy so that when I was faced with the choice of walking in a bathroom and it said 'women' and 'men' I didn't feel like there was a bathroom for me, because I didn't feel necessarily like a woman. I didn't feel like a man. I just felt human. That's what they/them is for me. It's just about, like, feeling human at your core."
Given her most recent comments, it seems a large part of Lovato's decision was also due to external factors — a sign that, perhaps, society still has a ways to go when it comes to truly accepting non-binary and gender fluid individuals. (And yes, Lovato can still be non-binary even while using she/her pronouns.)
Lovato first came out as non-binary in 2021 on her podcast, alongside announcing that she'd changed her pronouns to they/them.
While those pronouns might now be in the past for Lovato, she says that she still sees herself as sitting outside of the male and female binary. "I see myself conditioned to choose woman because there is nothing more. I think this has to change. Hopefully with time there will be more options."