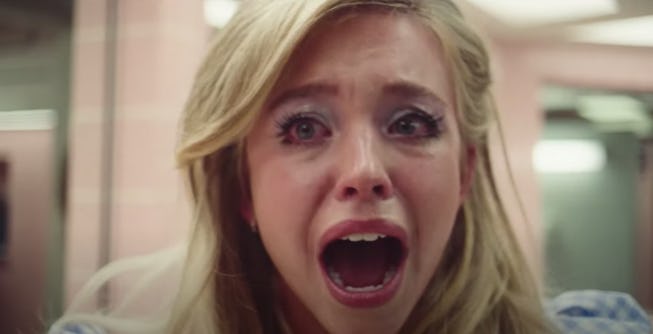 Screengrab via Youtube/HBO
The New 'Euphoria' Trailer Has It All: Pregnancy, Break Ups & Drug Deals Gone Bad
The second season of the Zendaya-starring series debuts on HBO Max next month.
Warning: spoilers ahead for Euphoria
Euphoria fans rejoice, your favorite teen drama will be back before you know it! The show officially returns for its long-awaited, COVID-delayed second season on Sunday, January 9, 2022 at 9p.m. ET on HBO Max.
A new full trailer for season 2 shows that wild times are in store for Rue and her fellow students at East Highland High. The official season synopsis reads: "Amidst the intertwining lives in the town of East Highland, 17-year-old Rue (Zendaya) must find hope while balancing the pressures of love, loss, and addiction."
Read on for everything we know about Euphoria season two:
The trailers for Euphoria season two finds the characters descending into chaos.
Each new teaser for Euphoria season 2 has included increasingly more chaotic scenes. From drug deals gone wrong, to Rue getting arrested, potential break ups and hook ups, it looks like East Highland High is as crazy as ever.
Watch the official trailer for season two, released on Monday, December 20, 2021:
Season two of Euphoria will likely pick back up where we left off.
Season one ended on a cliffhanger, with Rue and Jules planning to run away together before Rue backed out at the last minute. After their teary goodbye, she returned home and relapsed before the episode ended. Many fans wondered if the scene alluded to an overdose, but Euphoria's bonus episodes shut down that theory.
The episodes, which were created to bridge a gap between season one and two, provided an in depth look at Rue and Jules characters. Rue spent hers at a diner on Christmas, where her sponsor Ali (Coleman Domingo) advised that she confront her addiction and codependency head on. Meanwhile, Jules' episode brought viewers into a therapy session where she unpacked their relationship.
Perhaps those specials were meant to create space for the other characters' stories to develop in the next season. After all, the finale also showed Nate and Maddie ending their relationship, Kat potentially starting one with Ethan, and Cassie getting an abortion with the help of her mother.
In an interview with Stylecaster, Sydney Sweeney, who plays Cassie, hinted at some major drama for her character. "When you ask about season two, my heart drops. In a you-guys-have-no-idea-what-you're-going-to-watch way," she said. "Cassie really needs to get her shit together. I can't say anything else. Cassie has a crazy storyline in season 2 that I did not expect. Every time I read a new episode that Sam writes, my jaw is on the ground and I can't believe this is something coming out of someone's mind."
Season two will feature a new lead character in addition to the original Euphoria cast.
The original cast is returning for Season 2, but we're getting at least one new character as well.
A listing on Backstage revealed that Euphoria was looking for a "Black male actor, aged 18 - 25" to play the role of Jamieson. Not much is known about his character, except that he might have a drug problem like his fellow classmates.
However Euphoria's creator, Sam Levinson, was reportedly also writing a role for Kelvin Harris Jr. The actor was supposed to be in the original ensemble in 2019, but had to back out due to scheduling conflicts. According to Teen Vogue, Harris officially joined the cast this spring, but we can't confirm if he's playing Jamieson or someone else.
Euphoria season two has a January 2022 release date.
The second season of Euphoria hit plenty of bumps and snags due to COVID delays, but on Tuesday, November 23rd, Zendaya tweeted that the show would finally premiere on January 9, 2022.
New cast members have been confirmed.
Minka Kelly, Demetrius "Lil Meech" Flenory Jr. and Dominic Fike will join Zendaya and Hunter Schafer, and the rest of the cast for Season 2. Read more on that here.
This article was originally published on