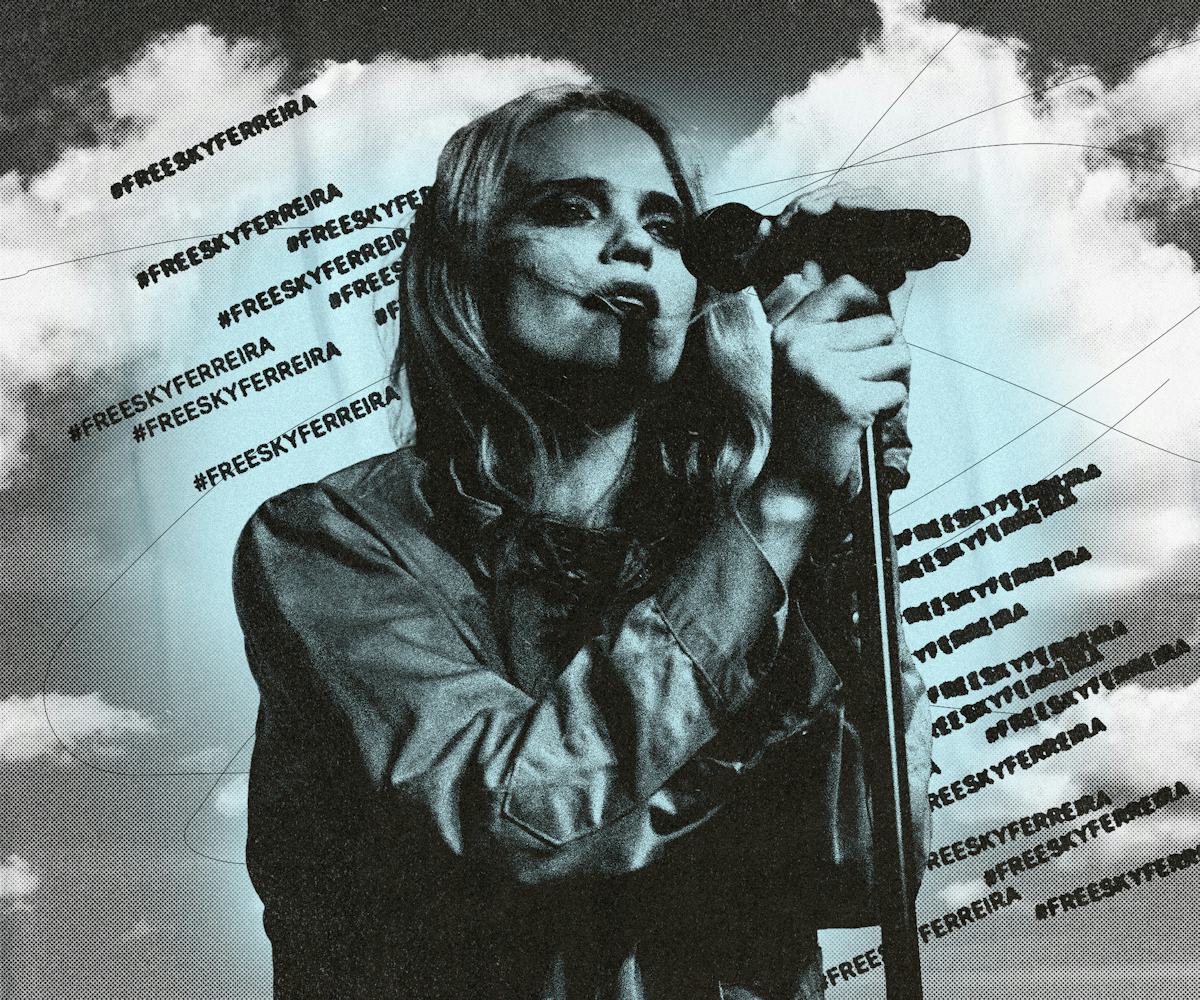 Lindsay Hattrick/Nylon; Lorne Thomson/Redferns/Getty Images
Why Sky Ferreira Stans Have Always Held Out Hope
After the singer claimed her record label was blocking new music, a group of devout fans are fighting for her freedom.
Not many artists can say they've truly defined an era, but Sky Ferreira — who released one full-length album a decade ago — can.
After sharing music on MySpace, the Los Angeles artist was discovered, signed to a label, and released a debut EP (the now wiped-from-streaming 2011 project As If!) all while still in her teens. But by the time she dropped "Everything Is Embarrassing," the second single from her sophomore EP Ghost, in 2012, something shifted. The pop phenom was no longer just generating buzz from music bloggers and the fashion world, who knew her as a rising model. Her forlorn alt-pop had found an audience in a generation of lonely teens connecting with each other on Tumblr — and Ferreira's soft-grunge look, as seen in the song's low-budget, black and white video, was their utmost style inspiration.
Ferreira was the Tumblr artist during the site's early 2010s prime. A multihyphenate with an innocent yet hardened look and a closet full of American Apparel and Saint Laurent, she was the effortlessly cool North Star for moody teens who aspired to be hipsters but would never admit it. (Even today, TikToks nostalgic for "2014 Tumblr" cite her as style inspo.)
"The platinum blonde hair, the outfits, and the whole 2013 grunge Tumblr aesthetic — I believe a lot of it was pioneered by Sky, and she doesn't get enough credit for that," says Jay, a 24-year-old London-based fan of 11 years who ran @SkyFUpdates, a Twitter fan account with 11k followers, until earlier this year when he retired it to focus on his professional career.
Beyond her look, her 2013 landmark debut, Night Time, My Time, became the vulnerable, rebellious guide to many fans' experiences of feeling misunderstood, coming of age, and stepping into their own agency. It's what then 21-year-old Ferreira was doing herself on the record both lyrically and creatively; as she explored self-loathing and independence on its songs, she was only able to release the album by financing it with her own money because it wasn't the bubblegum pop her label had requested.
Night Time, My Time was lauded upon its release — and fans and critics alike have been clamoring for its follow-up for years. Her sophomore effort, Masochism, has been in the works since 2014 and was officially announced in 2015, intended for a 2016 release — but it's still nowhere to be found. The project is now a meme for how many "Most Anticipated Albums of the Year" lists it's appeared on. Ferreira, on the other hand, has shared snippets of songs online, but has alleged that her label, Capitol Records, is blocking the release.
One would think that with so many shifting release dates, Ferreira's decision to focus on acting for a period (she had roles in Baby Driver, Twin Peaks: The Return), and the lack of new music over the years, save for collaborations and one-off singles (2019's "Downhill Lullaby"and 2022's "Don't Forget"), her fans' faith in Masochism would waver. But it's quite the opposite: Because she unlocked something in the Tumblr generation and shifted culture then, her fans are certain she could do just the same now — and are holding out hope for the alt-pop antihero.
"That's one thing I appreciate about Sky: She wants to make her own music, she wants to be herself, she has her own ideas, and she clings onto them."
Jay says he was first introduced to Ferreira when he saw her open for Charli XCX at The Troubadour in L.A. in 2012 and was instantly fascinated by how "anti-pop princess" and "raw" the performance was.
"Sky was one of the first artists I fell in love with without any external influence, just purely through the internet and my interests," he says. "I remember it being this sort of renaissance where I was finally finding my own identity, likes, and interests as a teenager, and Sky was very much at the core of what I was idolizing over."
The singer's prominence on the internet was integral for many fans getting into her music. Both Josh, a 26-year-old L.A.-based recording artist, and Alex, a 23-year-old fan from outside of Paris, were introduced to her in the early 2010s after seeing her image on Tumblr, where they reblogged different GIFs of the "Everything Is Embarrassing" music video or blurry shots of her on the street. "I wanted to be her so bad," Josh says.
But it was the way that Ferreira was unapologetically herself that ultimately stuck with and inspired them. Alex attributes her "timeless" sound and "cult following" to the grittiness and honesty in her music.
"That's one thing I appreciate about Sky: She wants to make her own music, she wants to be herself, she has her own ideas, and she clings onto them," Alex says. "She never really intended to be a pop star anyway. [But] she should because the results are great, the quality is there."
Xera, a 31-year-old fan from outside of Salem, Massachusetts who became familiar with Ferreira when she released the single "One" in 2010, agrees. "So many people emulate that energy she has, but the thing is, she's not putting anything on. She's herself."
Ferreira has touched her legion of fans so deeply that a devout group has now spearheaded the #FreeSkyFerreira movement. After closely following the delays she's experienced over the years, they hope to bring attention to her claims and do what they can to get her music heard.
Alex started the movement on Instagram in March 2021, after Ferreira replied to a comment on her page saying that Capitol Records was aware fans were eager for new music but "refused to acknowledge it." Inspired by the Free Fiona movement in the 2000s, when Fiona Apple fans demanded Sony Music/Epic Records release the singer-songwriter's third album, #FreeSkyFerreira tries to "[spread] the word about Sky's situation," Alex says.
"As long as Sky tells us she has new music to share with us, but she can't now because of other people, why would I give up on her?" she adds. "She's fighting for her music, for herself, and I believe that if she had more support from her fans and the public, the release process could maybe be faster."
Xera, who is also part of the movement, explains there's a group chat of active members and that they're even frequently in contact with Ferreira's mother, who supports their work. "Her mother is a part of our movement," they say. "Her mom has spoken to [the group] and confirmed, 'Yes, [Sky's] editing stuff. Yes, stuff has been done."
They've launched an online petition, printed and shared posters, and frequently bombard Capitol Records' social media comment sections asking where Masochism is — so often that hundreds of fans, Xera included, have been blocked by the label online.
Ultimately, the #FreeSkyFerreira group trusts her allegations, especially considering how Night Time, My Time was also delayed until she invested her own resources into it. Xera notes it feels like "she's being disregarded for who she is [as an artist]."
Now, with the memeification of Masochism, they hope to also "show Sky that there are still many people who love her, believe her, are still waiting for new music, and they have not given up on her," Jay says.
Recent developments, like Ferreira's upcoming mini tour — the first string of live dates she's played in years, aside from festival stops — have offered them hope that new music is on the way, and that she'll ultimately be able to carry on with her creative vision with the industry support she deserves.
Come July, Josh will be in the audience of her L.A. show, after he set an alarm to get tickets as soon as they went on sale. He's lucky, too, considering they sold out almost instantly.
"I'll ride for her forever," he says. "I take a lot of inspiration from her and always will."