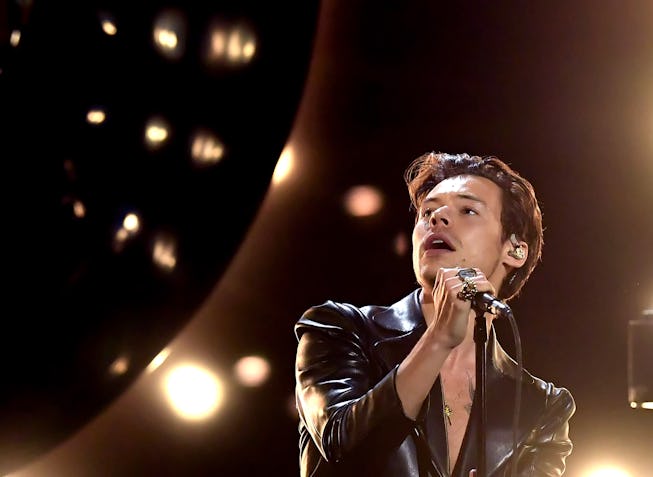 Kevin Winter/Getty Images Entertainment/Getty Images
Harry Styles Announces Third Solo Album, 'Harry's House'
It's a whole new era of Styles.
Drop everything, a new Harry Styles era is upon us. The Grammy Award-winning artist just announced the arrival of his newest album, Harry's House — his third solo studio album to date.
Though Styles is still in the middle of his Love on Tour concert series, it appears he's also been working on new music. It's been nearly three years since his last record, Fine Line, was released, and with a slew of new life changes in place — like his burgeoning acting career and relationship with Olivia Wilde — fans have wondered what's next for the artist.
Luckily for us, it's another record. Keep reading for everything you need to know about Harry's House.
Hear first single "As It Was"
The first song from Harry's House has arrived. "As It Was," a bright and whimsical track with indie pop sensibilities, seems to be about his search for human connection and coming to terms with the ways the world is changing.
There are lyrics about being online ("Go home, get ahead/ Light speed internet") and familial disconnect ("Your daddy lives by himself/ He just wants to know that you're well"), and general malaise ("Answer the phone/ 'Harry, you're no good alone. Why are you sitting at home on the floor? What kind of pills are you on?'"). The song's hopeful hook, however, pulls all these disparate ideas together into one comforting conclusion: "In this world/ It's just us/ You know it's not the same as it was."
It's a mature turn for Styles, with "As It Was" feeling like the more incisive and sharp big brother of his debut single, "Sign Of The Times." In its accompanying music video, shot by Ukrainian director Tanu Muino and created with the assistance of a Ukrainian creative team, Styles dances with a partner on a spinning disk, coming together and falling apart, embracing and reaching for the other in turns. Other tableaus depicting physical connection — of Styles and the other dancer finding each other on a Escher-esque platform or holding hands while sprawled out on the floor — make-up the video. It's simultaneously touching and visually captivating.
Watch "As It Was" below.
When will Harry's House be released?
Thankfully we won't have to wait too long to see what the Golden singer has been working on, because Harry's House will be available to stream this spring. According to Columbia Records, the album is slated to drop on May 20th, 2022. Mark your calendars!
How many tracks are on Harry's House?
The upcoming album will feature 13 songs. Alongside "As It Was," the album will include tracks titled "Music For A Sushi Restaurant," "Grape Juice," "Little Freak," "Boyfriends," "Love Of My Life," and more.
See the entire tracklist below.
Harry's House Tracklist
Music For A Sushi Restaurant
Late Night Talking
Grape Juice
As It Was
Daylight
Little Freak
Matilda
Cinema
Daydreaming
Keep Driving
Satellite
Boyfriends
Love Of My Life
How can I watch the album trailer for Harry's House?
The first look at Harry's House was released this afternoon on Youtube. The video is less than a minute long and features a brief sneak peek at some of the motifs that may be included in the album. First there's a shot of flowers, then a bustling city, followed by clips of a concert tour, and finally Styles walking into a theater — wearing bell bottoms and a flowy top — while a house set rises behind him.
See for yourself, below.