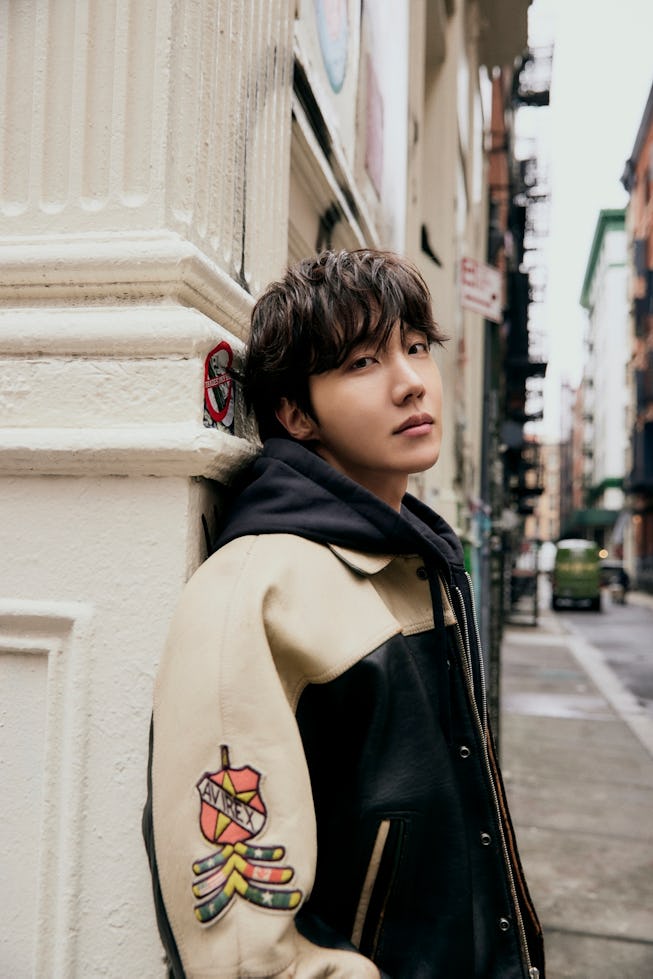 Bighit
J-Hope's "On The Street" Thanks Fans For All They've Done
The J. Cole-featuring, feel-good track pays homage to his B-boy roots and ARMY.
J-hope is pulling even more things out of Pandora's box of surprises. With the 29-year-old's enlistment into the Korean military to come possibly later this year – following fellow BTS member Jin who entered in December – the musician surprised fans with new single, a not farewell, but see-you-later-of-sorts, titled "on the street."
The release arrives seven months after his debut solo album Jack In The Box, on which he unapologetically captures his emotions of fiery agony and passion as an artist. His latest track, on the other hand, encapsulates the opposite: feelings of gratitude and empowerment, and features blazing additives from none other than fellow rapper, and j-hope's longtime cited personal hero, J. Cole. (Fun fact: Cole also made a cameo in j-hope's j-hope In the Box docuseries.)
In the accompanying "double J" music video, the BTS rapper is seen in a New York alleyway, high-fiving a kid before the melody starts, a soothing lo-fi tune. He's seen bouncing and dancing through the concrete jungle and into the Bowery subway station to the sound of his flow and a self-recorded whistling backtrack.
According to the musician via BigHit's official release, j-hope had a hand in the songwriting and choreography for the release. He wrote "on the street" to convey his candid feelings toward his career. The title of the song includes that word, "street," which could be interpreted as a place where many people's everyday lives pass by and a metaphor for life. It also doubles as a reference to hope's street dance origins, where his dream to become an artist began. What comes from reminiscing about his B-Boy roots is a warm-hearted song in pure appreciation for his fans — ARMY.
It's known that BTS has sacrificed much of their personal lives for their careers for over a decade, and their accomplishments run deep into a record-breaking list of feats. But in true humility and self-awareness — things the group has always exhibited — j-hope acknowledges much of that endurance came from his fans, and the song's lyrics pay homage to that.
On the opening chorus and first verse, the rapper insinuates that everything he's done has been because of the fans: "Every time I walk/ Every time I run/ Every time I move/ As always, for us/ Every time I look/ Every time I love/ Every time I hope/ As always, for us/ Even my walk was made of your love and your faith."
For his verse, he raps in Korean about wanting to give back to them for all their support on his journey with good music. "My two feet walk willingly, anywhere/ J in the air/ For the path I'm on to become one of hope, I give my all/ Even my walk was made of your love and your faith/ To repay you even from afar, just like a butterfly," goes the English translation of the lyrics.
J. Cole jumps into the track a minute and a half in, continuing the song's feel-good message. In the music video, he's seen overseeing the Manhattan Bridge and New York City's famous skyline, and his verse is equally as existential and omniscient right off the bat, as expected from an artist like J.Cole. Nothing's a coincidence, according to the rapper, and he starts on a poetic note of perseverance: "All hail the mighty survivor of hell, Plopped down from heaven to sell/ Holy water that I scooped from the well/ Fought tooth and a nail, Just to prevail mongst, it's ruthless."
Cole verse then transitions into his acknowledgement of a higher power, a message that also must resonate somehow with j-hope, too: "I got a friend smart as f***, but he stupid as hell/ He swear that God ain't real, Since it ain't no way to prove it his self/ As if the universe ain't enough, as if the volcanoes ain't erupt/ As if the birds don't chirp, as if a trillion nerves don't work in the human body/ Who would I be? Without the creator of this theater/ Beside me to gently guide me?"
In the context of the song, Cole's invocation of God is more than religious allusion. It paints his path as an artist as a predetermined destiny, that despite all of life's unpredictability it's something he trusts in, even if he comes to a point where he may have to walk away from it — a crossroads j-hope, and his fans, may find themselves at right now. "Somedays I wonder if I need to pick a different hobby/ I'm deep in with this rappin/ It's all a n**** know/ I never did nothin better, it's hard to let it go/ But like a father, watching his daughter, walk down the altar/ With tears in his eyes, you gotta let her grow."
The two seamlessly flow and complement one another on the song, and while some fans might feel J.Cole's verse takes up more space than j-hope's (Cole's is a minute-and-a-half-long versus hope's 20 seconds), it's simply j-hope sharing the spotlight with a friend and beloved musician. As we know, there's always enough room in "hope world."
As potentially the last song fans will hear from j-hope until 2025, "on the street" accomplishes one mission: to make sure his appreciation for his fans' support echoes all over the world. He wants all his fans to be happy not only with the group's next direction and chapter, but with themselves. The fact that J. Cole joins him on this release, fulfilling one of j-hope's childhood dreams, adds an even greater warm and bittersweet aftertaste. We don't think hope's emptied out his box of surprises just yet — if not anything, this is just the beginning.