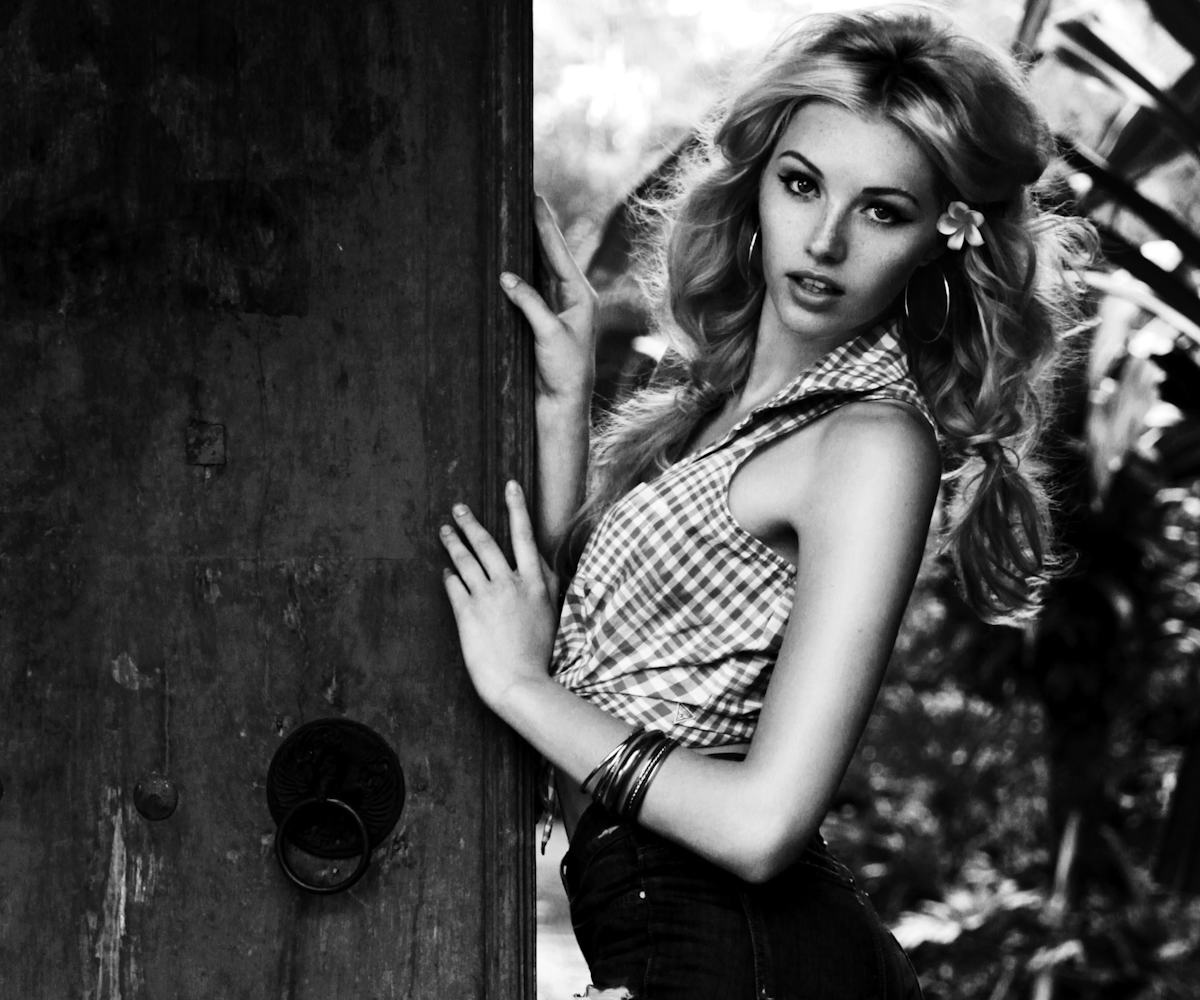 Photo by Yu Tsai/Pottle Productions Inc.
Jourdan Wins America's Next Top Model
Hear what she thinks about winning cycle 20.
The wait is finally over! Tonight on America's Next Top Model, we saw Jourdan Miller crowned as the winner of Cycle 20, proving once and for all that Team Girls rules. We couldn't be more psyched about featuring Jourdan in our December/January issue, but until then, check out our interview with the Oregon native below, where she dishes on what made her America's Next Top Model.
NYLON: Hey Jourdan! So, why did you choose to audition for ANTM?
JM: I chose to audition for America's Next Top Model because I started modeling at a really young age. I wanted to be a child actress when I was 13. I went to a talent scout conference in Seattle, and they said I had a really good frame for being a model, but I needed to grow up and come back in a couple years. So I did, and I started really getting into modeling when I was about 15 and 16.
I was signed with an agency for a little bit, and then they closed their doors, so I came back to Oregon and decided to just quit the modeling thing for a little bit because I wasn't sure if it [was] what I wanted to do. I was really young at that point, and I wanted to spend time with my friends a little bit and have a normal childhood. Then I got to be about 19 years old, and I was a telemarketer and really did not like my job at all. I saw that America's Next Top Model was doing a casting and decided to go. I went to the casting and made it through to the top 26, and then top 16, and finally made the top 14. Just making that top 14 alone was incredible. 
NYLON: What did it feel like when Tyra said you were going to be on ANTM this season?
JM: Being in front of Tyra in general is nerve-racking because she's just so beautiful and perfect, and she looks like a Barbie. I always think back to that movie she was in when she did play a life size Barbie! When she told me that I was going to be on America's Next Top Model, I just started crying, went up and gave her a big hug, and got my ANTM cycle 20 necklace on the Guess runway. I just couldn't believe how lucky I was to be where I was standing. 
NYLON: Which shoot was your favorite? 
JM: My absolute favorite shoot was the very last one where Tyra took pictures of us. I knew it was coming. I was just waiting for it. I was like, "Doesn't Tyra always come and take pictures of all the contestants?" Having her behind the camera made me really nervous, but also really excited because I knew she was going to give me all the direction I needed. I'd have to say that was hands-down the best photoshoot of my entire life. 
NYLON: Which was the most challenging shoot or challenge?
JM: I struggled with the casting challenge, and I didn't book any shows. At that moment I was like, "Well, if I can't book a runway show, that's scary. I don't know if Tyra's going to like that." I thought I could have been going home that week, but I didn't. When she called my name at panel, I was like, "Oh my gosh, I cannot afford to make any mistakes at all." That's when I realized that I have to show my personality. I can't stay inside my box anymore. No matter how nervous I am in front of a client, I just have to be bubbly and just show them who I am, and if they like me, they'll book me.
NYLON: How did you stay focused throughout the competition? There were definitely a lot of distractions between the boys and the pranks that went on in the house. 
JM: I do remember everyone staying up really late talking and having fun. I was always the girl [who] was in bed first. I knew that I needed to look good for my photoshoot the next day, and I was constantly focusing on what was going to happen next and what I needed to be ready for. I would take every piece of criticism to heart when it came to panel, too. 
NYLON: Which judge do you feel like gave you the most insightful criticism?
JM: I would have to say that Kelly Cutrone gave me the most informative criticism about the way the industry is run in real life outside of the competition. I took that all in, absorbed it like a sponge. It was her extra-hard comments that really got me in line and brought my focus back where it needed to be. 
NYLON: Speaking of judging, I feel like you always had a good sense of "model style." How you dress is how I see models dress in real life. 
JM: Thank you! I started modeling when I was about 16 years old, and I learned how to dress like a model by sitting in the casting rooms and watching how the other models dressed. If you want to look like a model, just make sure you have a really good pair of dark wash or black skinny jeans that show off your legs, and make sure you have simple tank tops. I usually wear black, white, or gray because the client wants to look at you and see a blank canvas. You always want to make sure you don't have too many accessories or too much makeup on. I always have a pair of combat boots and a leather jacket — anything really grungy and kind of street cool. You can't really go wrong with that.
NYLON: Are there any models working today that you really look up to?
JM: Karlie Kloss is my biggest inspiration. I started following her career at 15 years old and watched her blossom into a supermodel from before she was famous. She proved to everyone that you can't be too tall to be a model. I know that there was a little bit of an industry norm where if you were over 5-foot 11-inches it was bad because you would be so much taller than the other girls. Just the fact that she has done so well for herself is just absolutely inspiring. 
NYLON: What was going through your head during the finale?
JM: I remember walking down that runway and just thinking to myself "strong." I wanted to make sure that I did that runway walk like it was the last walk I was ever going to do. I just wanted to stomp it out, give them the fiercest, juiciest look I could give, and prove to the judges that I am America's Next Top Model. In my head I was thinking that no matter what happened, I was going to be happy with myself. That's the most important thing. 
NYLON: Who do you think was was your toughest competitor?
JM: Out of the girls, I would have to say that Nina was my biggest threat. Even though Renee had a strong walk, she didn't win best photo, and Nina won best photo twice. Nina's quirky, weird look is so high fashion, and that really scared me into thinking that she could win. Out of the guys, I would have to say that Chris H. was really strong throughout the whole competition. He just has this deepness and darkness behind his eyes that I think draws people to his pictures. 
NYLON: Tell me about how it felt when the judges brought back the old contestants and only Chris chose to be on your team.
JM: It didn't feel great that the friends I thought I had didn't choose to be on my side. It really hurt seeing Nina come out in pink because I was really close to her the entire competition. When nobody chose my color except for Chris, I was upset and I was pissed off that Chris chose my team, but then I had to take a second to humble myself and realize that he chose me because he believed in me. He didn't just choose me because he wanted to make me mad or anything, he chose me because he believed I could be America's Next Top Model. The fact that he did choose me allowed me to have so much more respect for him.
NYLON: Why do you think the judges chose you to be America's Next Top Model?
JM: I think that the judges chose me to be America's Next Top Model because week after week, I proved to them that I'm willing to take their criticism and apply it to my craft. I won best photo five times. I think that they just saw the dedication that I had. I just really kept my head in the game, and they could see I was ready. I think that's why they chose me. 
NYLON: What do you hope to achieve as America's Next Top Model?
JM: I have ideas running out of my ears about the things that I want to accomplish. I really want to work with any type of nonprofit organization or group that helps out battered women or anyone who is is a victim of domestic violence. I didn't even realize that I was in a harmful, abusive relationship until I got out of it. I think that just being able to share my experiences with people might give someone that hope or that inspiration to get help or leave the situation they're in. I also just want to be a really good role model ... That's what it all comes down to: the power of women. 
NYLON: What advice would you give to a new model?
JM: The advice I would give to anyone who is aspiring to model is to be yourself and show your personality. Don't be afraid to be goofy, but also know when to be professional. It's all about self-control and knowing when the right moments are to have fun with it. You have to go with the energy. Feel out the environment when you're in a casting room. You also can't take the criticism personally. ... It's important to believe in yourself and also research as much as you can about the industry so that you can speak knowledgeably about photographers and designers. Have the confidence know that if three doors are closed, that just means that there is just one more at the end of the hallway waiting to be opened.