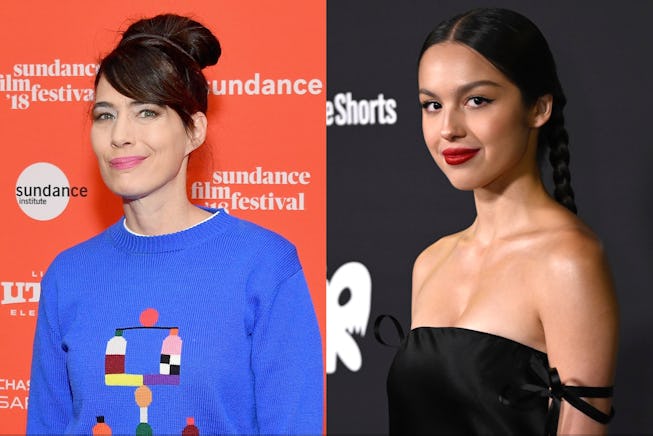 Getty Images
Kathleen Hanna Praised Olivia Rodrigo For Channeling Riot Grrrl
There are only a few more weeks until the world gets to hear Olivia Rodrigo's highly anticipated sophomore album, GUTS. Leading up to the release, the pop star has already dropped two singles, "vampire" and "bad idea right?" — songs which insinuate that the record will be more of a rock-and-guitar-leaning affair than her pop and synth debut album, SOUR.
In promotional interviews, Rodrigo's already cited a slew of bands she was listening to while creating the record, including Rage Against the Machine, Sweet, and Bikini Kill (the latter's lead singer, Kathleen Hanna, is largely considered to be the pioneering mother of the '90s riot grrrl movement).
Hanna's influence can especially be traced on Rodrigo's backsliding banger "bad idea right?," as well as the many punk-y plaid skirts and arm warmers Rodrigo wore during her SOUR tour. Unlike some of Rodrigo's idols in the past, the Le Tigre and Bikini Kill frontwoman actually gets that imitation is the sincerest form of flattery — and in a recent interview, directly revealed that she's proud that Rodrigo is continuing her legacy.
In a New York Times profile about Rodrigo published on Thursday, Hanna gushed about the young star, calling her a "revelation." "To be my age and cry at something that someone so young wrote," she said, "[I was] like listening to 'Drivers License' for the first time and sobbing in my car."
When it comes to Rodrigo channeling the spirit and "iconography" of riot grrrl, the 54-year-old music icon explained that she's excited to see her carry the torch. "It's a fascinating thing to watch these young women, and especially Olivia, because she seems to be so advanced as a songwriter, expressing themselves in these really complicated ways," Hanna said.
Per the Times, she also praised Rodrigo's 2022 Glastonbury Festival performance where the "good 4 u" singer spoke up about abortion rights and the overturning of Roe v. Wade onstage before dedicating a joint performance of "F*ck You" with Lily Allen to the U.S. Supreme Court; a huge tenet of the riot grrrl movement is combining the music with strong feminist and political messaging.
"That's so great, to see this underground musical style being graphically referenced in the mainstream by a person who's actually a music lover," said Hanna.
Rodrigo's GUTS will have more where "bad idea right?" came from. An unreleased song titled "All-American Bitch," the Times describes, is full of "fuzzy power chords" and "f-bombs" — another track that just from its title seems like it'll capture the riot grrrl spirit.
Per the Times, Rodrigo said that the rock sound and writing the album aided in helping her put words to turbulent feelings she otherwise wouldn't be able to express. "For me, that's what music is, it's expressing those feelings that are really hard to externalize, or that you feel aren't societally acceptable to externalize," she said. "Especially as a girl."