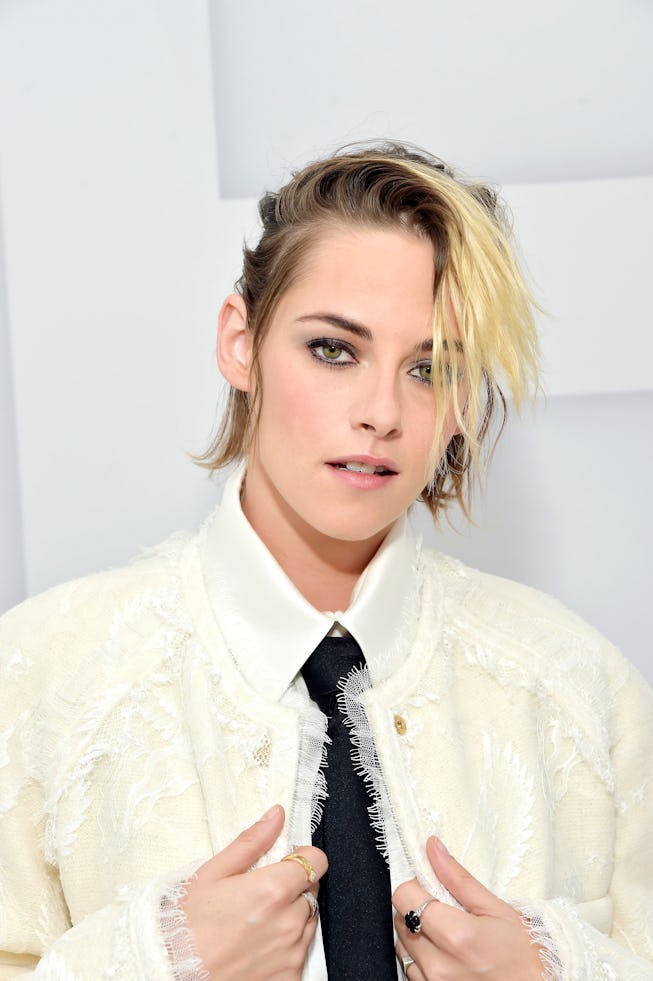 Photo by Stefanie Keenan/Getty Images for CHANEL
Kristen Stewart Makes An Uncanny Princess Diana In 'Spencer'
See the first photo of K.Stew as the late royal.
The first look at Kristen Stewart as Princess Diana in Pablo Larraín's biopic, Spencer, just dropped, sending Twitter into a frenzy and our breathing into overdrive.
Spencer is already Stewart's most-talked about role to date, and the renewed interest in Diana following Emma Corrin's uncanny portrayal of the late monarch in Season 4 of The Crown only compounds the ongoing fascination pop culture has with the people's princess.
Larraín also directed Natalie Portman in the cult-favorite Jackie, another historical biopic about a fashionable female figurehead with tragedy waiting in the wings. The first look at K.Stew as Diana, courtesy of Neon, shows her gazing forlornly and very Diana-ishly out the window from beneath a black veil, wearing an iconically red coat. (Though this movie takes place two years prior, the outfit is similar to one Diana wore for her royal Christmas duties in 1993.)
A synopsis for the film reads: "December 1991: The Prince and Princess of Wales' marriage has long since grown cold. Though rumors of affairs and a divorce abound, peace is ordained for the Christmas festivities at Sandringham Estate. There's eating and drinking, shooting and hunting. Diana knows the game. This year, things will be a whole lot different."
The "whole lot different" likely refers to Diana's internal battle over that critical weekend with her decision to dissolve her marriage to Prince Charles.
"Spencer is a dive inside an emotional imagining of who Diana was at a pivotal turning point in her life," Stewart said in a release. "It is a physical assertion of the sum of her parts, which starts with her given name: Spencer. It is a harrowing effort for her to return to herself, as Diana strives to hold onto what the name Spencer means to her."