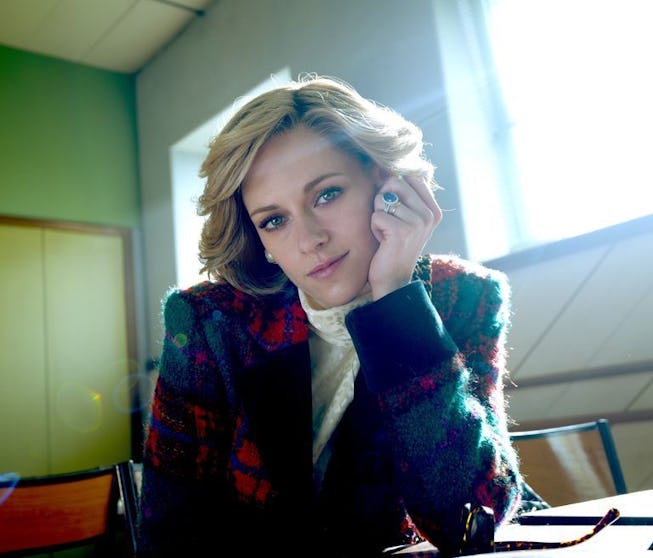 Neon/Topic Pictures
Everything We Know About 'Spencer' Starring Kristen Stewart
'Spencer,' which stars Kristen Stewart as the late Princess Diana in 1991, hits theaters this fall.
Spencer, the upcoming biopic starring Kristen Stewart as Princess Diana, will officially be out this fall, THR reports. Back in January, audiences got a first glimpse of Stewart as Diana, and the resemblance is stunning. Now, the first trailer for the film is here, and it's a dark, one-minute glimpse at what looks to be a heart-wrenching story. Read on for everything we know about the highly-anticipated film:
The first two trailers for Spencer show Diana struggling to conform to royal life.
Both trailers — the first dropped on August 26 and the second, September 23, show Princess Diana struggling to conform herself to the strict confines of royal life. The film takes place during a three-day period over the Christmas holiday in 1991, when Diana's marriage with Prince Charles was already falling apart. Both trailers show Stewart-as-Diana looking absolutely miserable at Sandringham Estate, the Queen's country home — wincing at getting her photo taken, stalking down massive hallways, trailed by attendants, running furiously through a foggy field, and finally at the end, saying that the royal family, presumably, doesn't "know everything."
Of the film's unique three-day timeline, Stewart told Jimmy Kimmel, "It's this really poetic, internal imagining of what that might have felt like, rather than giving new information."
Watch the both trailers for Spencer below:
Spencer is now due out this fall.
Spencer, originally meant to debut in 2022 to mark the 25th anniversary of Diana's death, will now hit theaters on November 5, 2021. The film will also show at the Venice and Toronto International Film Festivals prior to major theater release.
Kristen Stewart will play Diana opposite Jack Farthing as Prince Charles.
Spencer is already one of Stewart's most-talked about roles to date, and the renewed interest in Diana following Emma Corrin's uncanny portrayal of the late monarch in Season 4 of The Crown only compounds the ongoing fascination pop culture has with the people's princess.
Stewart told InStyle last year, "I think there is sort of an unbridled, open, and intimate exchange that she had with the public that was so striking for people that were used to a sort of different face to the royal family. That's not something I grew up with. I always thought this person was stolen from us and I always had a curiosity about her. Every day that I unfold this story the more emotionally invested I get."
Jack Farthing will star opposite Stewart as Prince Charles. The 35-year-old actor has starred in Netflix romantic comedy Love Wedding Repeat, as well as on TV series "Blandings" and the BBC One drama "Poldark."
Chilean filmmaker Pablo Larraín directed the film.
Larraín also directed Natalie Portman in 2016's Jackie — another historical biopic about a fashionable female figurehead with tragedy waiting in the wings. At the time, Jackie producer Darren Aronofsky said to the New York Times of Larraín's vision, "Sometimes the most interesting perspective comes from the outside."
Of Jackie Kennedy's story, Larraín presciently told the NYT, "Icons have always been involved in shaping their own legends, but often it ends up going somewhere else where they can't control it. There's a gap, and that gap is the uncontrollable moment, and that's what you want to look at."
The plot will stick to a three-day timeline.
The first look at Stewart as Diana, courtesy of Neon, shows her gazing forlornly out the window from beneath a black veil, wearing a bright red coat. (Though this movie takes place two years prior, the outfit is similar to one Diana wore for her royal Christmas duties in 1993.)
A synopsis for the film reads: "December 1991: The Prince and Princess of Wales' marriage has long since grown cold. Though rumors of affairs and a divorce abound, peace is ordained for the Christmas festivities at Sandringham Estate. There's eating and drinking, shooting and hunting. Diana knows the game. This year, things will be a whole lot different."
The "whole lot different" likely refers to Diana's internal battle over that critical weekend with her decision to end her marriage to Prince Charles.
Stewart also explained the meaning behind the film's name, saying in a release, "Spencer is a dive inside an emotional imagining of who Diana was at a pivotal turning point in her life. It is a physical assertion of the sum of her parts, which starts with her given name: Spencer. It is a harrowing effort for her to return to herself, as Diana strives to hold onto what the name Spencer means to her."