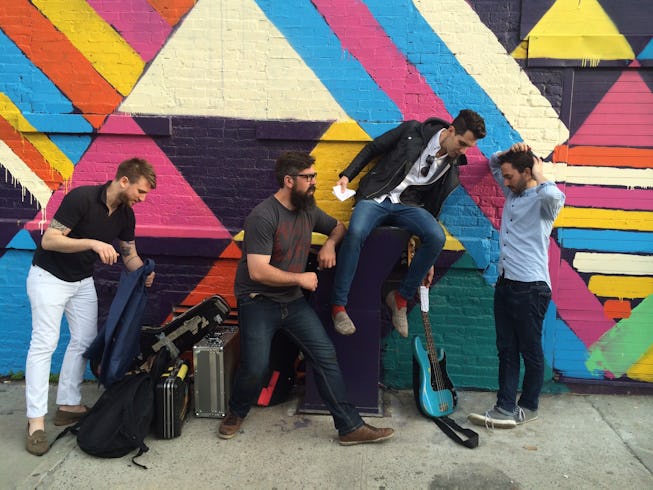 Midtown's Gabe Saporta On Covering Pavement & Giving Fans New Music
The lead singer breaks down the band's new EP "We're Too Old to Write New Songs So Here's Some Songs We Didn't Write."
Getting the band back together is a double-edged sword. On one hand, it's the ultimate fantasy for fans: your long dormant, or indefinite hiatus-ed, or "taking some time to focus on other projects" favorites have reunited, and the pipe dream of seeing them on the stage is alive. But Stans can be greedy. Soon enough comes the inevitable question: "Will there be new music?"
When Midtown reunited in March 2022, the band's lead singer Gabe Saporta was already resolute in his answer: "Part of the thing about writing music is that it helps you figure things out. It's like some kind of self-therapy. Now, we're all remarkably well-adjusted human beings for having been these crazy, debaucherous people," he told me at the time. "That gives us a little bit of an impossible choice, which is write something that's authentic and true to who you are and end up with something that has nothing to do with the brand of what Midtown is and what Midtown was about. Or force yourself to go back into that space to write something, and then it feels false. And I think that's why it usually fails."
Now, a full year later, that statement stands — but they're not leaving fans hungry. In February, the band announced a new EP, "We're Too Old to Write New Songs So Here's Some Songs We Didn't Write," a project Saporta calls more of a tribute than a covers album. The EP, out May 26, will consist of four songs that deeply impacted the band over the course of its history. The first single, "Know It All" by Lagwagon, debuted back in February; on Friday, they dropped the second: Pavement's "Cut Your Hair."
Here, Saporta talks about his brief attempt to write new music, introducing beloved songs to new listeners, and why you shouldn't hold your breath for a Midotwn cover of "Stars Are Blind."
I hear it's still raining in LA — I was there a few weeks ago for this Paris Hilton event and it was pouring.
Dude, it's been like that since you've been here. I don't know what you did. I actually saw a photo from that [event]. I was like, "What's Paris Hilton doing?"
She has a collaboration with Klarna so they did this pop-up. The DJ had "Stars Are Blind" ready to play while she walked in, but no one knew the exact timing, so it just played on loop for, like, 25 minutes.
That is amazing. Honestly, my dream is to have "Stars Are Blind" playing every time I'm walking.
Maybe for the next round of covers. Are you guys planning to do more after this EP?
I want to, yeah. It was really fun. By the way, onto this, you know who spawned this idea?
That's my next question.
You did. When we spoke last time, you were like, "Do you guys have new music?" I started to think, "Huh, how do we solve this issue?"
Wow, I'm honored.
Then the question after that and doing all these interviews was like, "When's the music coming?" We're like, we really have no plan to do it. And everyone was so disappointed by that. But seriously, I think in our interview I was like, "I just feel like if you start writing songs again, you have to put yourself back in that place where you were." And it's inauthentic when you do it that way. So there's really not a good solution. So I thought this was a good way to do it.
It's funny, I had a song that was never finished and I tried working on it. I was just not feeling it. And then we're like, let's just do songs that we love. It kind of serves two functions. One, it allows us to put out new music, which is something people seem to want. And then it also allows us to share our influences and do a tribute to artists that inspired us and also do our own takes on stuff. So it allows us to be creative without having to force anything.
How did you land on these songs specifically for the EP?
We had a lot of conversations about it. It had to be songs that we were listening to in some way, either during Midtown or before Midtown, or that inspired Midtown in some way, connected to us in some way. I also wanted them to have variety. For example, Lagwagon is a band that we weren't really part of the same scene, but I remember right before starting in a band, I was listening to that a lot. I snuck backstage to a Lagwagon show when I was 15, and I pretended that I was a writer from a zine just to get an interview with Joey Cape, the singer of Lagwagon, and pick his brain about what it's like to do music for a living. A couple years later, I gave him some demos and wanted him to produce our record and he passed; then we ended up playing with his side project a few years after that. He's like, "Dude, I shouldn't have passed, that record's so good." That meant the most to me.
What was the connection with Pavement for this new release?
Pavement I have no connection to whatsoever. I've never met Stephen Malkmus or anyone else in Pavement. When you're an artist, you go from being just a fan to being like, "Oh, I could actually see myself doing this," and there's certain bands that inspire you to do that. When Pavement was coming out, there was this kind of revolution in music, the kind of post Nirvana, college, indie grunge world that happened. It was like, "Okay, you can do this too." Because before Nirvana, the world of music was very theatrical. Guns N' Roses and Mötley Crüe and all these bands that everything felt like it was expensive. It's high production value. It's theater. It's a whole thing. And you're like, cool, this is fun to watch, but this isn't something I could ever do. And then these bands that are coming out were just like, "No, we just look normal and we rehearse in a garage and this is how we started."
The Lagwagon song you released earlier this year was more of a niche hit, while "Cut Your Hair" is so widely beloved by Pavement fans. Did you feel the pressure of that when recording?
Maybe someone will say we f*cked it up, or our version sucks. My feeling is, I'm not doing this for the people who actually know who Pavement are, which is like, people my age and my generation. I'm really doing it for a younger audience who are discovering this music and need anchor points to help connect the dots back. That's the fun of music. When I was a kid, I would read liner notes to find out about other artists. You didn't have the Spotify recommended artists. You really had to dig. I hope this also helps with that process.
When you go to record the song, how much are you thinking about sticking to the original sound versus making it sound like a Midtown song?
The idea was to make it like Midtown and have that kind of sound to it, but also keep what was unique about the song. I wouldn't say we had a plan in advance. We tweaked it until we found a way to have it all make sense.
For your next round of songs, are you planning on keeping this "formative songs" idea, or are you going to switch it up?
Definitely formative. I think it's a way for us to do tributes to artists that inspired us and also shine a light on these artists for newer fans. So even though doing "Stars Are Blind" would be really funny, I wouldn't do something like that. I wouldn't do a modern song or anything like that. This is really just about sharing what was amazing about our era and a lot of the songs that went undiscovered.
It's not Punk goes Pop redux.
It's definitely not that. I don't even love calling it "covers." It's more of our tribute to these great songs.